Falafel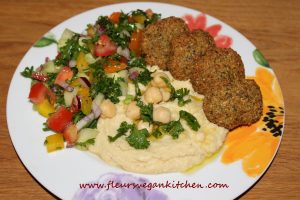 For approx. 40 – 50 pieces
500 g chickpeas, soaked in water for about 12-15 hours
4-5 tablespoons  cold water
1 medium onion, finely chopped
5-6 cloves of garlic, mashed
1 parsley bunch, finely cut
1 coriander bunch, finely cut
3 tablespoons flour
1 teaspoon baking soda
2 teaspoons coriander powder
1 teaspoon  cumin powder
1 teaspoon paprika powder
1/2 teaspoon of cardamom powder
chili powder, to taste (optional)
salt
sesame seeds, for coating (optional)
sunflower oil for frying
Process the chickpeas with a food processor, add the water, until a paste is obtained, but not mushy and holds itself together (you can also use a mincer/grinder, repeat the process 2-3 times).
In a bowl, mix all the ingredients by hand until smooth and uniform. Refrigerate for at least an hour.
With wet hands form balls (or patties) the size of a walnut and press them well. Cover them with sesame seeds and fry  on both sides, in hot oil, until  brown (3-4 minutes on each side).  Fry first one piece, if it  won't hold together, add more flour to the mixture and try again.
Serve hot with hummus , pita bread, tahini sauce and mix salad/pickles.