Thursday June 5th, 2014
Eggplant and chickpea Curry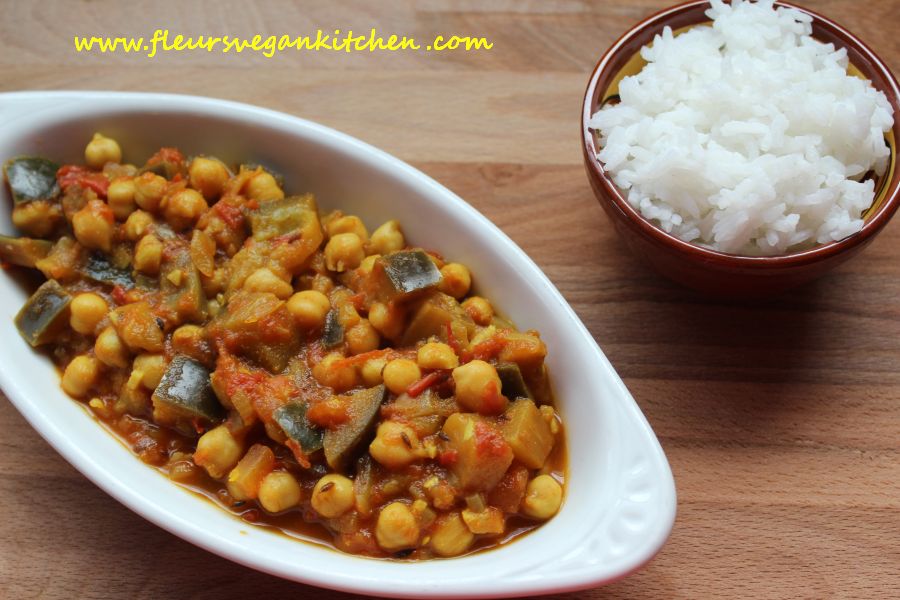 Posted in :
Main dishes
,
Weight loss recipes
on
by :
fleur
Tags:
mancare indiana
,
mancare vegana
,
retete naut
,
retete vegane
,
vinete
For 4 servings:
2-3 eggplants, cubed
300 g cooked chickpeas
1 onion, chopped
3-4 cloves garlic, finely chopped
2 cm fresh ginger, grated / 2 tsp. ginger powder
7-8 tomatoes, finely chopped / 1 can diced tomatoes  (400g)
1 teaspoon cumin seeds
1/2 teaspoon turmeric
2 tsp. coriander powder
chili / cayenne pepper, to taste
salt, to taste
1 tablespoon oil
Heat the oil in a pan and add the cumin seeds. Fry for 2-3 minutes until they begin to pop. Add the onions, stir fry for few minutes then add the eggplants, garlic, coriander, ginger, chili and the tomatoes and a little bit of water if needed. Cover and simmer on medium heat, stirring occasionally, until the sauce has reduced and the eggplants are done. Add the cooked chickpeas and turmeric, cook for another 2-3 minutes. Add salt  to taste.
Serve with basmati rice/biryani and/or naan bread.