Monday August 25th, 2014
Grilled seitan & vegetables skewers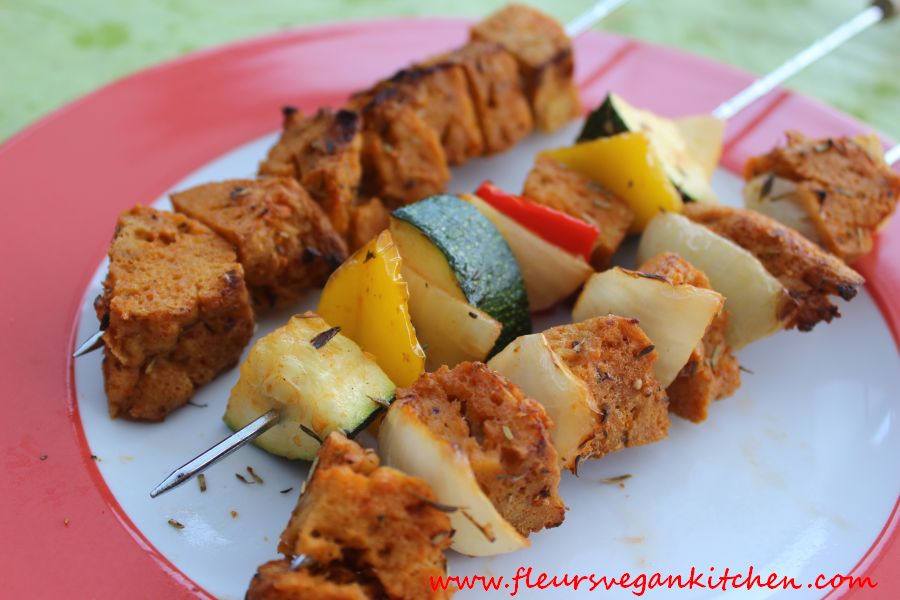 Posted in :
Appetizers
,
Main dishes
on
by :
fleur
Tags:
aperitive vegane
,
mancare vegana
,
retete dovlecei
,
retete vegane
,
seitan
For 6-8 servings:
seitan
2 zucchini
2-3 onions
2-3 sweet peppers
For the seitan:
1 kg flour
1 teaspoon paprika powder
1/2 teaspoon onion powder
1/2 teaspoon garlic powder
2 bay leaves
10 peppercorns
The preparation of seitan is described here.
Cook the seitan, whole, in water with the bay leaves and peppercorns, for about 30-35 minutes. Drain well then cut into approx. 3 x 3 cm (1 x 1 inch) pieces.
For the marinade:
6 cloves of garlic, mashed
2 tablespoons olive oil
2 teaspoons thyme
1 teaspoon oregano
1 teaspoon paprika powder
salt and pepper, to taste
Mix all ingredients.
Wash the vegetables and cut into pieces.
Pour the marinade over the seitan and vegetables, mix well and leave to marinate for at least one hour (the longer, the better).
Thread the seitan pieces  and vegetables on skewers.
Grill the seitan and vegetables skewers, on each side, on a pre-heated grill pan.