Sunday December 29th, 2013
Orange cake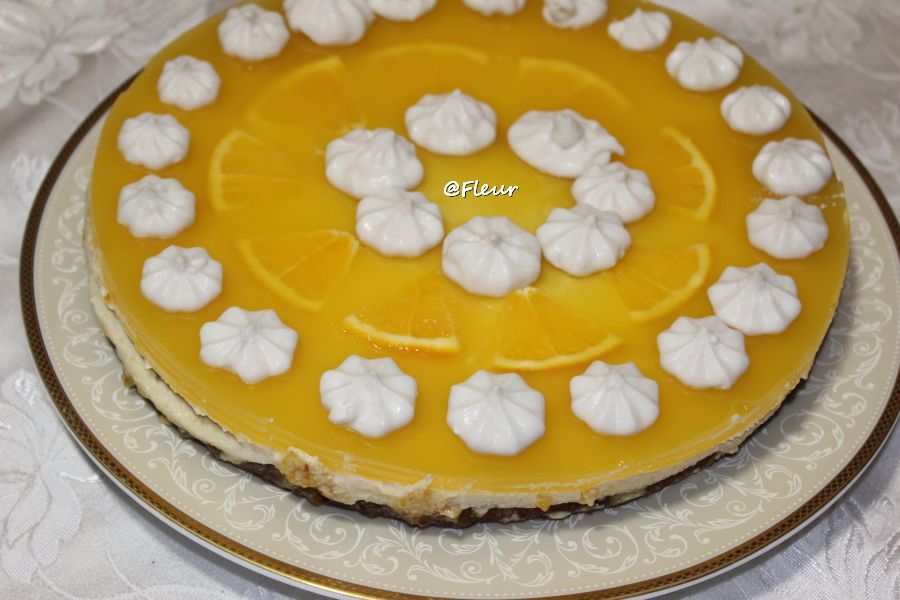 Posted in :
Christmas menu
,
Desserts
on
by :
fleur
Tags:
deserturi vegane
,
mancare vegana
,
retete vegane
,
tofu
Springform
250 g orange jam
For the base:
1 1/4  cup flour
½ cup raw sugar
½ cup oil
½ cup water or soy milk
1 ½ teaspoons baking powder
zest of an orange
1 teaspoon amaretto
Mix the oil, water and sugar and whisk until the sugar dissolves. Add the rest of the ingredients and mix everything thoroughly . The composition should have the consistency of cream otherwise add a little bit more water / flour as necessary.
Pour it into the baking springform and bake it, in the preheated oven, for approx . 30-40 minutes. Check with a straw if it's baked inside.
Allow it to cool (it can be prepared the day before).
For the cream:
2 packs silken tofu (600 g )
½ cup raw sugar
zest of an orange
2 tablespoons amaretto (optional )
2 teaspoons carob (locust) bean gum ( for thickening )
Mix all the ingredients  until a smooth paste is obtained and the sugar is melted .
For the jelly:
Orange juice from 6 oranges
½ cup raw sugar
1 teaspoon amaretto (optional )
5 g of agar – agar
Strain the orange juice and cook it together with the sugar and stirring occasionally. When it starts boiling add the agar ( dissolved in a little bit of orange juice, otherwise it will form into lumps. Boil it for 2 minutes still stirring, remove it from the heat and add the amaretto. Allow to cool, checking and stirring regularly because it hardens relatively quickly.
Whipped cream for garnish (see recipe here )
Assembling the cake :
Remove the base from the springform and wash the form (to prevent sticking later).
Replace the base cake in the springform, add the orange jam on top and spread it evenly. Add the  tofu cream and also spread evenly .
Garnish as desired with orange pieces .
Pour the jelly on top and refrigerate it.
Before serving remove the cake from the springform ( use a knife on the sides of the form ), place the cake on a platter and garnish with coconut cream .
Note: Use only the zest of  bio oranges .