Monday December 30th, 2013
Tofu masala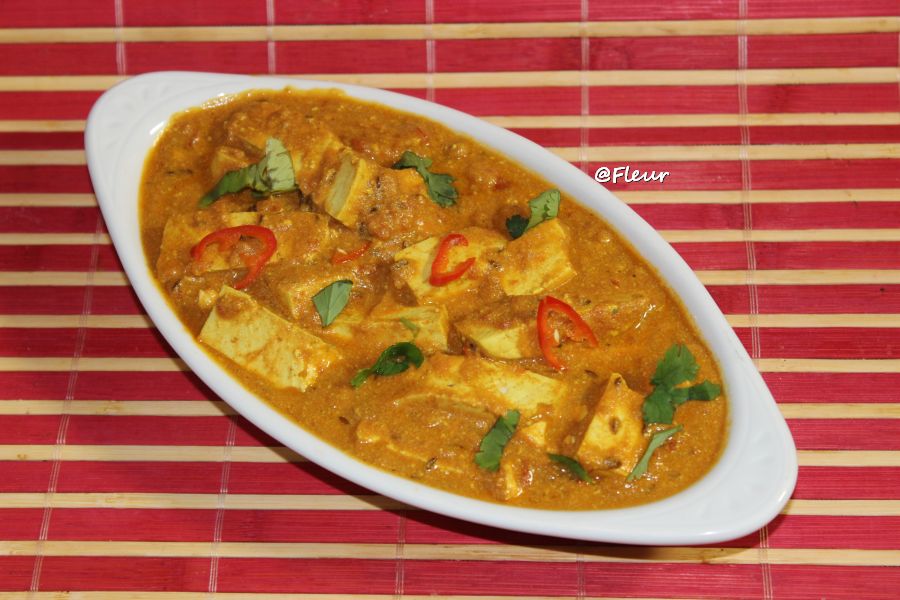 Posted in :
Main dishes
,
Weight loss recipes
on
by :
fleur
Tags:
mancare indiana
,
mancare vegana
,
retete vegane
,
tofu
For 3-4 servings:
150 g tofu, cubed
2 tomatoes
chilli / chilli powder
2 cm ginger
4 tablespoons soy yogurt
1 tablespoon oil
1 teaspoon cumin seeds
1 tsp coriander powder
½ teaspoon turmeric
½ teaspoon garam masala
1 tablespoon flour
fresh coriander and chilli for garnish (optional)
Blend the tomatos, chilli/chilli powder (to taste) and ginger with a blender / food processor.
Mix the tomato sauce wih the yogurt, coriander powder and the flour.
Heat the oil in a pan and add the cumin seeds. Fry for 2-3 minutes, until they begin to pop. Add the sauce and simmer approx. 5 minutes, stirring frequently.
Add the tofu, turmeric and the garam masala. Cook for another few minutes.
Garnish with finely cut fresh coriander and/or chilli.
Serve with basmati rice / biryani and / or naan bread.