Thursday July 10th, 2014
Stuffed peppers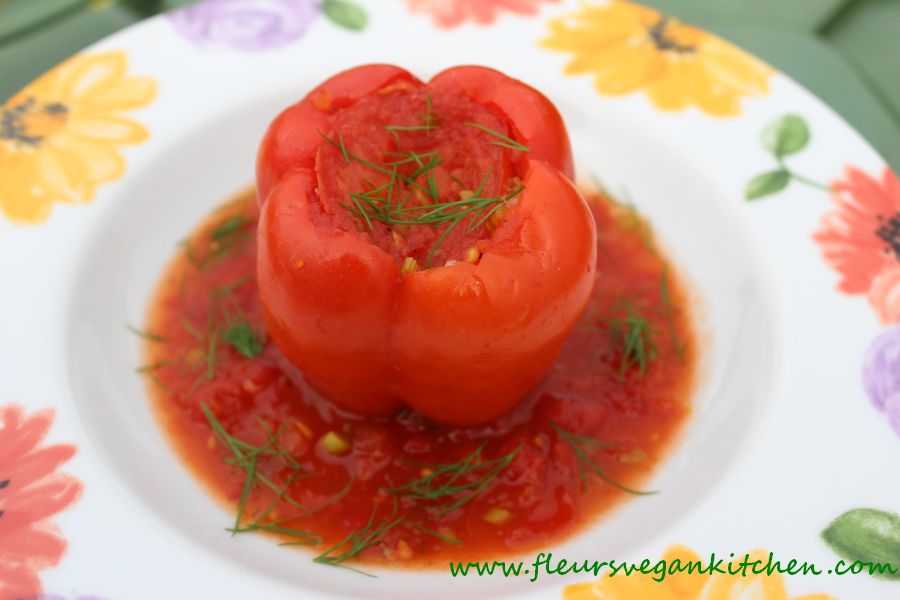 Posted in :
Main dishes
on
by :
fleur
Tags:
mancare vegana
,
retete orez
,
retete vegane
,
romanian recipes
For 2-3 servings:
7-8 small  or 4-5 big peppers
1/2 cup rice
2-3 carrots, grated
1 large onion, finely chopped
2 tablespoons oil
1 bunch dill / parsley, finely chopped (use the leaves for the rice mix and the stalks for the sauce)
salt and pepper, to taste
6-7 large tomatoes
Remove the top of peppers, seeds and membranes.
In a saucepan stir fry the onion and carrots, in oil, for about 3-4 minutes. Add the rice and 1 ½ cup water. Cook the rice half. If needed, add a little water. Add salt and pepper and  the dill / parsley leaves.
Stuff the peppers with rice mixture. Cover each pepper with a slice of tomato. Stand peppers upright in a saucepan.
Prepare a sauce of blended tomatoes, a cup of water, the dill/parsley stalks, salt and pepper. Pour over peppers.
Cook on medium heat for about 30 minutes. Add more water to the sauce if needed.
Serve warm or cold with salad or pickles.