Friday July 11th, 2014
Courgette sour soup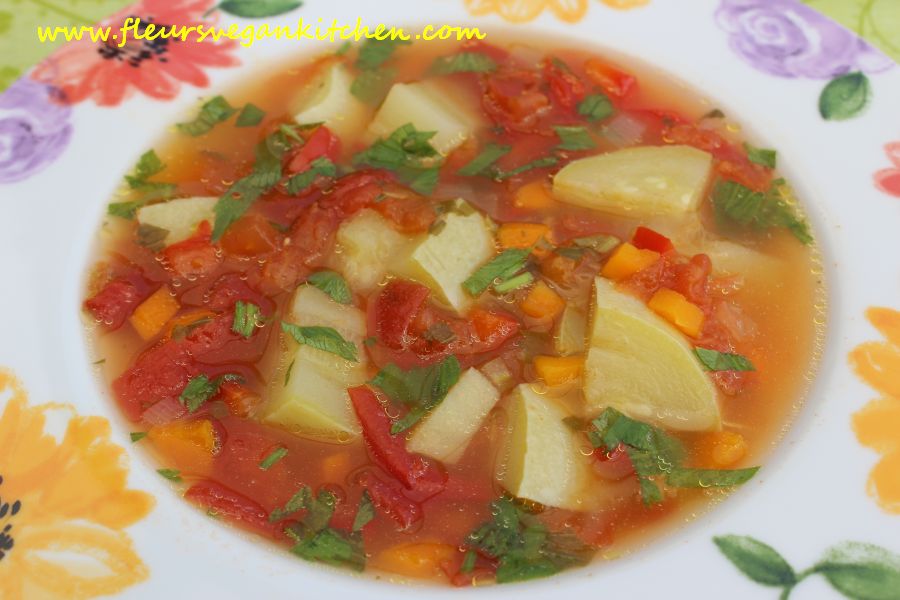 Posted in :
Soups
,
Weight loss recipes
on
by :
fleur
Tags:
mancare vegana
,
retete dovlecei
,
retete vegane
,
supe/ciorbe
For 5-6 servings:
1 large courgette, cut in medium pieces
1 onion
2 carrots
1 potato
1 bell pepper
2 celery stalks
5-6 large ripe tomatoes, peeled and finely chopped 
1,5 l water
juice of 1-2 lemons, to taste
lovage, finely chopped
salt, to taste
1-2 tablespoons olive oil (optional)
Finely chop the onion, carrots, bell pepper, celery and potato. Put the vegetables in a soup pan with 1.5 l water.
Cover and cook for  few minutes than add the tomatoes. When tomatoes are almost cooked add the courgette.
When the vegetables are done add salt and lemon juice to taste (add a little bit more water if needed). Cook for another few minutes.
Garnish with lovage and olive oil.
Note: you can use parsley instead of lovage.