11 July, 2014
Courgette sour soup Ciorba de dovleceiCourgette zure soep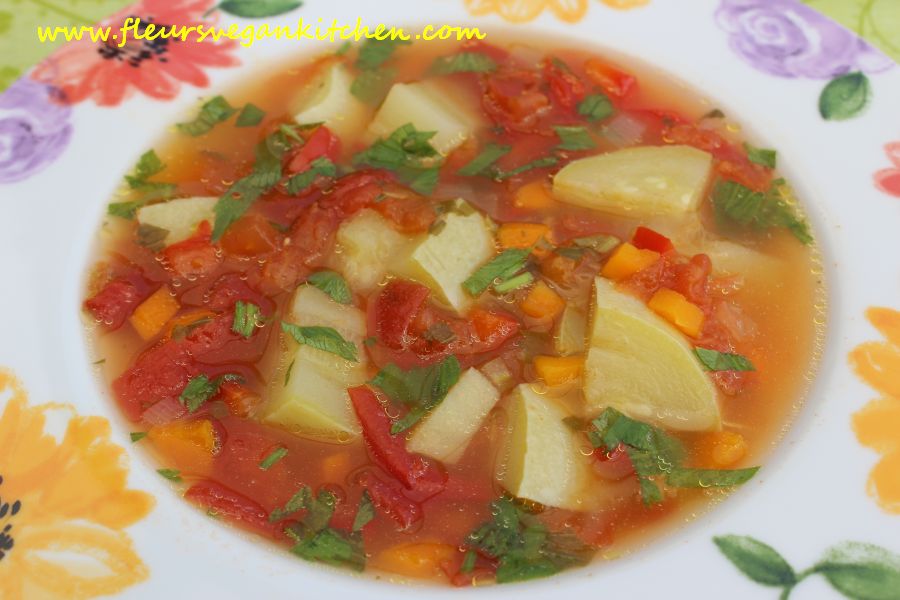 Posted in :
Soups
,
Weight loss recipes
on
by :
fleur
Tags:
mancare vegana
,
retete dovlecei
,
retete vegane
,
supe/ciorbe
For 5-6 servings:
1 large courgette, cut in medium pieces
1 onion
2 carrots
1 potato
1 bell pepper
2 celery stalks
5-6 large ripe tomatoes, peeled and finely chopped 
1,5 l water
juice of 1-2 lemons, to taste
lovage, finely chopped
salt, to taste
1-2 tablespoons olive oil (optional)
Finely chop the onion, carrots, bell pepper, celery and potato. Put the vegetables in a soup pan with 1.5 l water.
Cover and cook for  few minutes than add the tomatoes. When tomatoes are almost cooked add the courgette.
When the vegetables are done add salt and lemon juice to taste (add a little bit more water if needed). Cook for another few minutes.
Garnish with lovage and olive oil.
Note: you can use parsley instead of lovage.
Pentru 5-6 portii:
1 dovlecel mare, taiat bucati potrivite
1 ceapa
2 morcovi
1 cartof
1 ardei gras
2 tije de telina
5-6 rosii mari, foarte coapte
1,5  l apa
0,5  l bors/ zeama de la 1-2 lamai
o legatura leustean, taiat fin
sare, dupa gust
1-2 linguri ulei masline (optional)
Se taie ceapa, morcovul, ardeiul gras, tijele de telina si cartoful marunt. Se pun la fiert, intr-o oala, in 1,5 l apa.
Se acopera cu un Capac si se  fierb cateva minute. Se adaugă roșiile decojite și tăiate foarte fin. Cand rosiile sunt aproape fierte se adauga dovlecelul.
La sfarșit se adaugă borșul / zeama de lămaie (dacă se va folosi zeamă de lămaie atunci se va mai completa cu apă daca este nevoie). Se lasă să dea cateva clocote.
Se adaugă leușteanul tăiat fin, uleiul de măsline si se potriveste de sare.