31 December, 2013
Masala sauceSos masalaMasala saus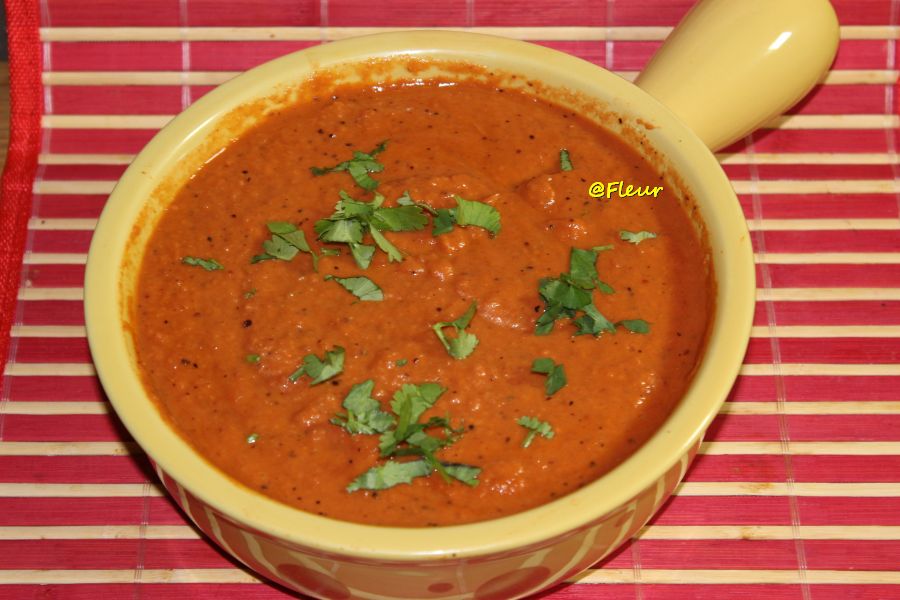 Posted in :
Sauces/Creams
,
Weight loss recipes
on
by :
fleur
Tags:
mancare indiana
,
mancare vegana
,
retete vegane
,
sosuri vegane
4-5 onions, sliced
2 cans diced tomatoes
2 tablespoons oil
3 cm ginger, finely chopped (or 2 teaspoons ginger powder)
5 cloves of garlic, finely chopped
1 teaspoon cinnamon powder
1 teaspoon mustard seeds
1 teaspoon garam masala
3 teaspoons coriander powder
1 teaspoon cumin powder
fresh chilli /chilli powder , to taste
salt
Heat the oil in a pan and add the mustard seeds. Fry for 2-3 minutes until they begin to pop. Add the onion and cook for 2-3 minutes. Add the canned tomatoes, ginger, cinnamon, coriander powder, cumin powder and the chilli. Cook approx. 10 minutes than add the garlic and garam masala. Continue cooking for another 2-3 minutes. Add salt to taste.
Blend with a hand blender/blender until a smooth paste is obtained.
This sauce can be served with basmati rice/biryani, naan bread and any Indian dish.
Also, you can add marinated vegetables ( in oil/soy yoghurt and the herbs above) and simmer until the vegetables are soft.
4-5 cepe
2 conserve roșii
2 linguri ulei
3 cm ghimbir ras ( sau 2 lingurițe ghimbir pudră)
5 căței de usturoi, pisați
1 linguriță scorțișoară
1 linguriță semințe muștar
1 linguriță garam masala
3 lingurițe coriandru pudră
1 linguriță chimion pudră
ardei iute/boia iute, după gust
sare
Se încinge uleiul într-o cratită și se adaugă semințele de muștar. Se prăjesc 2-3 minute până când încep să sară. Se adaugă ceapa tăiată potrivit și se călește 2-3 minute. Se adaugă conservele de roșii, ghimbirul, scorțișoara, coriandrul pudră, chimionul pudră și ardeiul iute/boiaua iute. Se fierbe aprox. 10 minute după care se adaugă usturoiul și garam masala. Se continuă fierberea încă 2-3 minute. Se potrivește de sare.
Se mixează totul cu ajutorul unui blender/robot de bucătărie până când se obține o pastă fină.
Acest sos poate fi consumat alături de orez basmati/biryani, pâinici naan și oricare mâncare indiană.
De asemenea, se pot fierbe în sos diverse legume marinate câteva ore  în ulei/iaurt de soia împreună cu condimentele de mai sus.