Tuesday December 31st, 2013
Samosa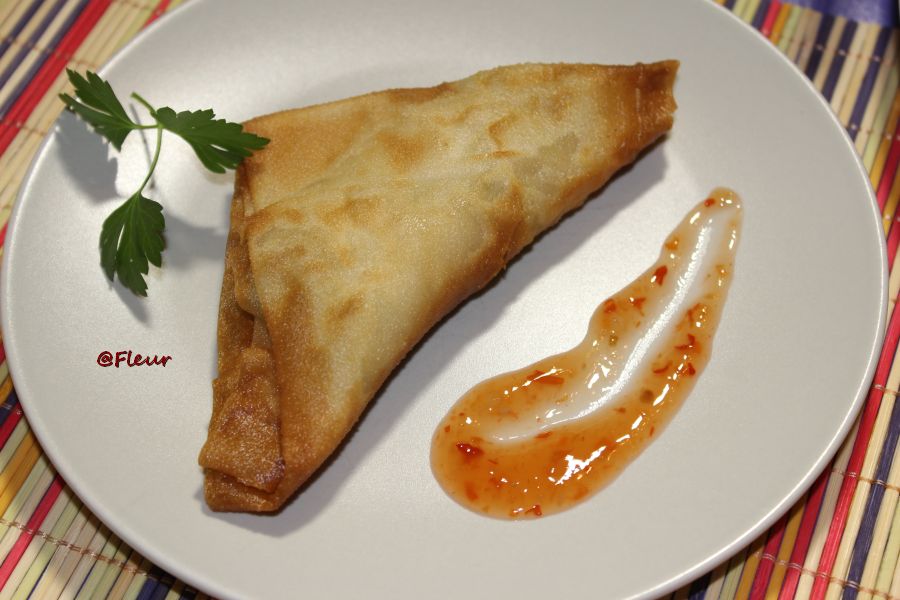 Posted in :
Appetizers
on
by :
fleur
Tags:
aperitive vegane
,
mancare indiana
,
mancare vegana
,
retete vegane
For 15 to 20 pieces
filo pastry (defrosted if frozen)
For the filling:
3 potatoes, diced
2 carrots, diced
100 g green beans, diced
100 g (frozen) peas
3 onions, finely sliced
1 teaspoon mustard seeds
½ teaspoon turmeric
½ teaspoon garam masala
chilli pepper/chilli powder, to taste
2 tablespoons oil
salt
Oil for frying
Heat 2 tablespoons of  oil in a large pan and add the mustard seeds. Stir fry for about 2-3 minutes until they begin to pop. Add the onions. Cook further another 2-3 minutes then add the potatoes, ​​carrots, green beans and  peas along with 2-3 tablespoons of water.
Cover and cook for 15-20 minutes, stirring occasionally and add more water if needed. When the vegetables are tender add the turmeric, garam masala, chilli and  salt to taste. Cook for another 2-3 minutes.
Set aside to cool.
Fold each sheet of pastry  in half lengthways to give two layers and cut into strips measuring approx. 25 cm / 7 cm.
Add a tablespoon of filling on the pastry at the left end. Fold the pastry over the filling to form a triangle. Glue the pastry ends moistening with a little bit of water.
Fry in hot oil, on each side, until golden brown (3-4 minutes).
Allow to drain on  kitchen paper to remove the oil excess.