Friday September 13th, 2013
Vegan bitterballen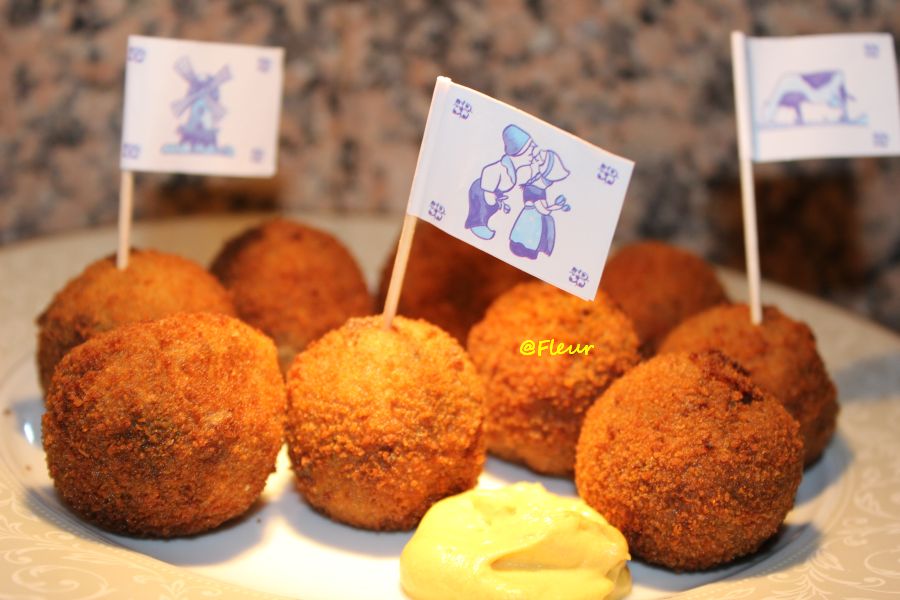 Posted in :
Appetizers
on
by :
fleur
Tags:
mancare vegana
,
retete vegane
,
soia
For approx. 15 pieces (3 cm in diameter):
For the mix:
50 g of soy granules
150 ml water/vegetable broth
2 tablespoons flour
2 tablespoons oil
250 ml vegetable broth
1 teaspoon agar – agar
1 tablespoon mix seasoning
1 teaspoon paprika powder
a pinch of cayenne pepper (optional)
1 tsp nutmeg powder
2 tablespoons fresh parsley, finely chopped
salt and pepper, to taste
3-4 tablespoons flour
2 tablespoons unsweetened soy milk
5-6 tablespoons breadcrumbs
Soak the soy granules for 10 minutes in 150 ml  cold water/vegetable broth (or as indicated on the package).
Heat the oil in a pan and add 2 tablespoons of flour. Stir fry for 2-3 minutes. Add, little by little, 250 ml of vegetable broth, stirring continuously until the sauce thickens. Add the agar-agar and cook for another 2 minutes.  Set aside and add the soya granules, the spices, the parsley and salt and pepper to taste. Mix well.
Put the soya mixture on a baking tray, spread it evenly and let it cool, for at least an hour, in the refrigerator.
Divide the soya  mix in equal parts, with a knife, and form little balls (with wet hands).
Roll each ball first through the flour, than through the soy milk, and then through the breadcrumbs.
Fry in hot oil until crisp (note: they brown very quickly).
Serve hot with mustard.
Note: Bitterballen is one of Holland's favorite snacks. It is served as appetizer and you'll find it in any restaurant/pub in the Netherlands.