13 September, 2013
Vegan shoarmaShoarma veganaVegan shoarma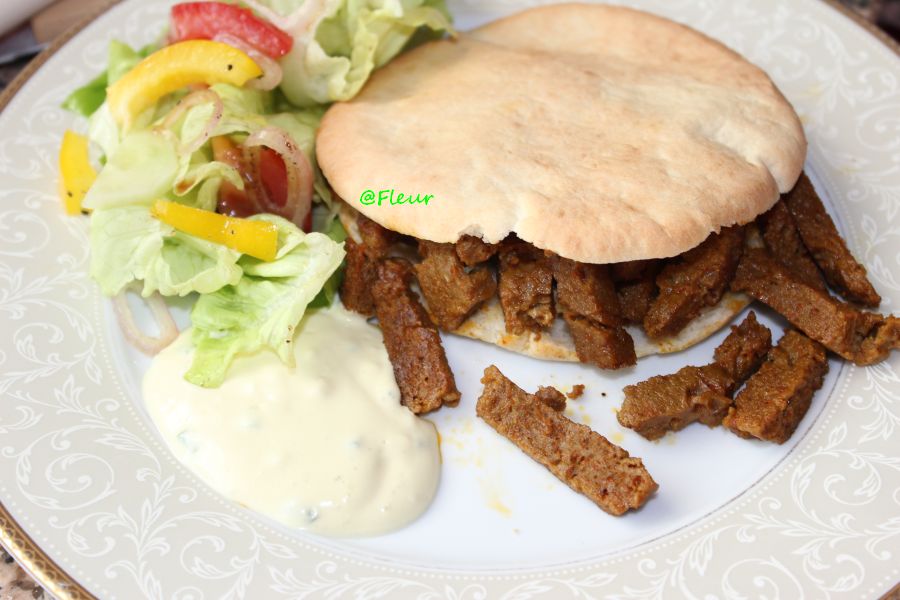 Posted in :
Main dishes
on
by :
fleur
Tags:
mancare vegana
,
retete vegane
,
seitan
For 4-6 servings:
For the seitan:
seitan  (see recipe here)
1 teaspoon garlic powder
1 teaspoon onion powder
1 teaspoon paprika powder
1 tsp carob powder (optional, for the color)
When you make the seitan dough add the  ingredients above. Further follow the steps from the seitan recipe.
After cooking, drain the seitan well then cut into  pieces approx. 3-4 cm long and 0.5 cm thick.
For the marinade:
shoarma spices (shop bought)
or:
½ teaspoon cumin powder
1 teaspoon paprika powder
a pinch of cayenne pepper
½ teaspoon nutmeg
¼ teaspoon white pepper
¼ teaspoon fennel seed powder
¼ teaspoon ground cloves
½ teaspoon ginger powder
¼ teaspoon fenugreek powder
2 tablespoons olive oil
salt
Mix all the spices with the olive oil.  Pour over the seitan, mix well  and  marinate for at least an hour, in the refrigerator.
Before serving fry it in a little bit of oil until brown.
Serve with pita bread, garlic sauce  and: lettuce, tomatoes, cucumbers, bell peppers, etc .