19 May, 2015
Vegetables-tempeh souflakiSouflaki de legume si tempehGroenten-tempeh souflakiSouflaki di verdure e tempeh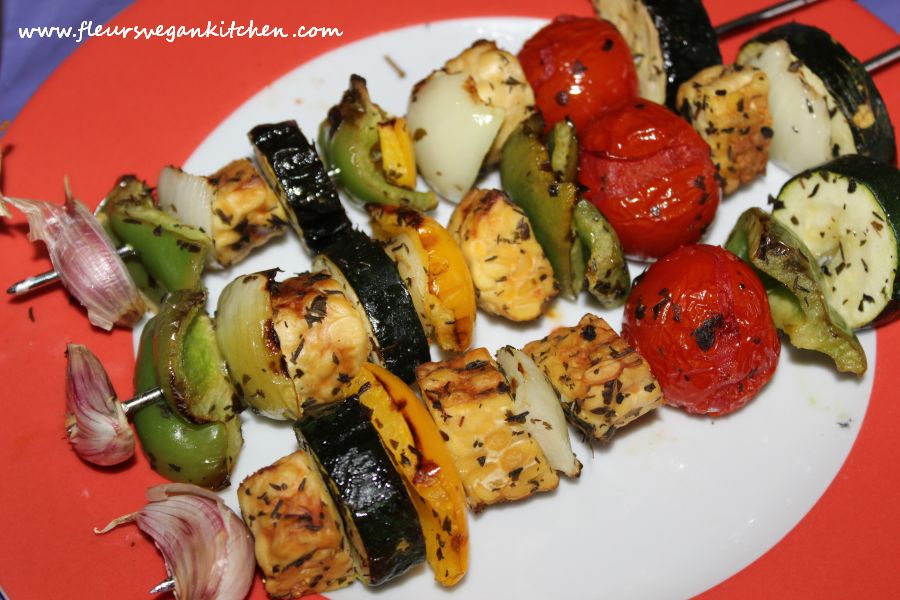 Posted in :
Main dishes
on
by :
fleur
Tags:
mancare vegana
,
retete vegane
,
tempeh
,
vegan recipes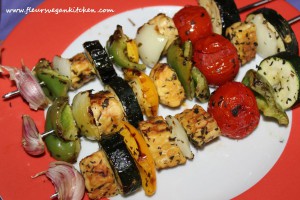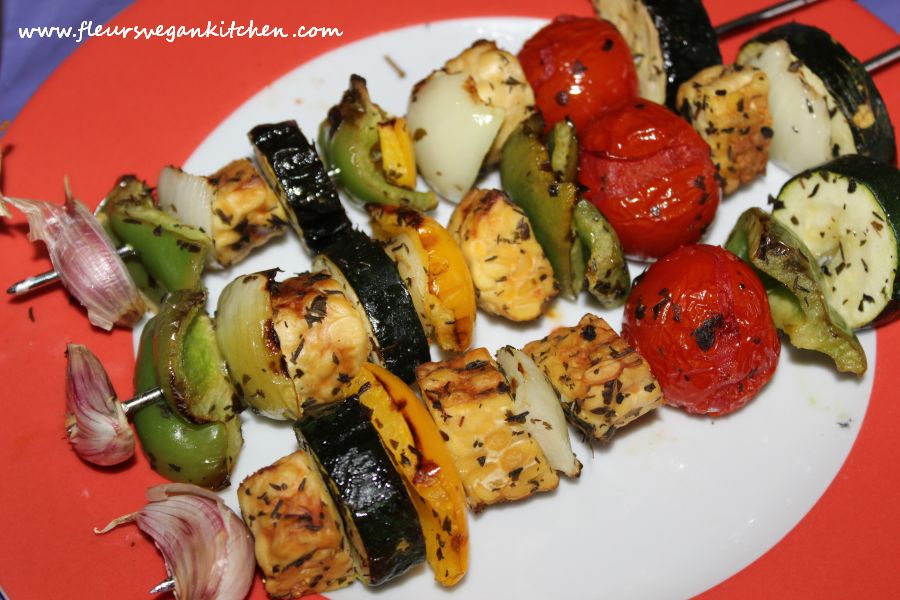 For 4-6 servings:
300 g tempeh (can be replaced with tofu)
2 bell peppers
1 zucchini
2-3 onions
10 tiny tomatoes
a few cloves of garlic (optional)
For the marinade:
3-4 tablespoons olive oil
juice of one lemon
2 tablespoons oregano
2 tablespoons thyme
salt and pepper, to taste
Prepare a marinade mixing the lemon juice, oil and spices. Cut the tempeh (or tofu) and the vegetables  into medium pieces and mix them with the marinade. Let it marinate in the fridge for at least 2 hours.
Soak the wooden skewers in water for about 15-20 minutes.
Thread the tempeh and the vegetables on skewers and grill for a few minutes on each side.
Serve with different side dishes and / or salad.
Variation: you can also use other vegetables like mushrooms, eggplant, etc.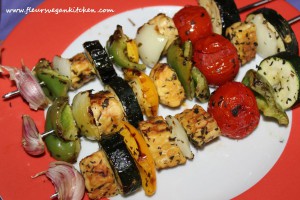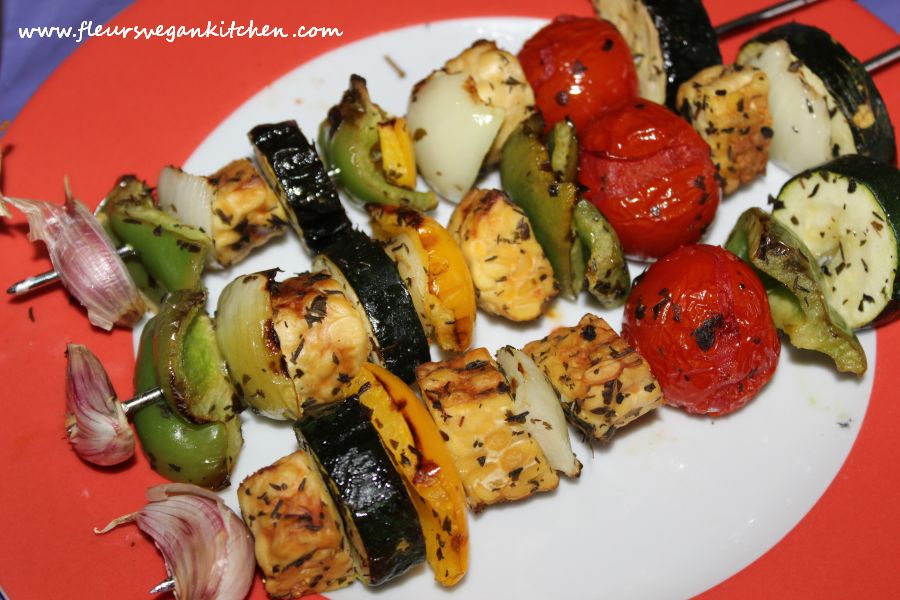 Pentru 4-6 portii:
300 g tempeh (se poate inlocui cu tofu)
2 ardei grasi
1 dovlecel
2-3 ceape
10 rosii micute
cativa catei de usturoi (optional)
Pentru marinata:
3-4 linguri ulei de masline
sucul de la o lamaie
2 linguri oregano
2 linguri cimbru
sare si piper, dupa gust
Se prepara o marinata din zeama de lamaie, ulei si condimente. Tempehul (sau tofu) si legumele se taie in bucati potrivite si se amesteca cu marinata. Se lasa la marinat, in frigider, cel putin 2 ore.
Bețisoarele, daca sunt din lemn, se lasă la înmuiat în apă timp de 15-20 minute.
Legumele se înfig pe bețișoare alternând cu bucațile de tempeh. Se frig pe grătar timp de câteva minute, pe fiecare parte, pana cand se rumenesc.
Se servesc cu diverse garnituri si/sau salate.
Variatie: se pot folosi si alte legume ca: ciuperci, vinete etc.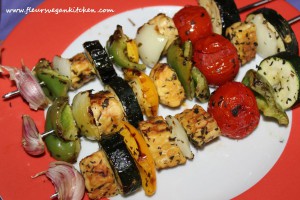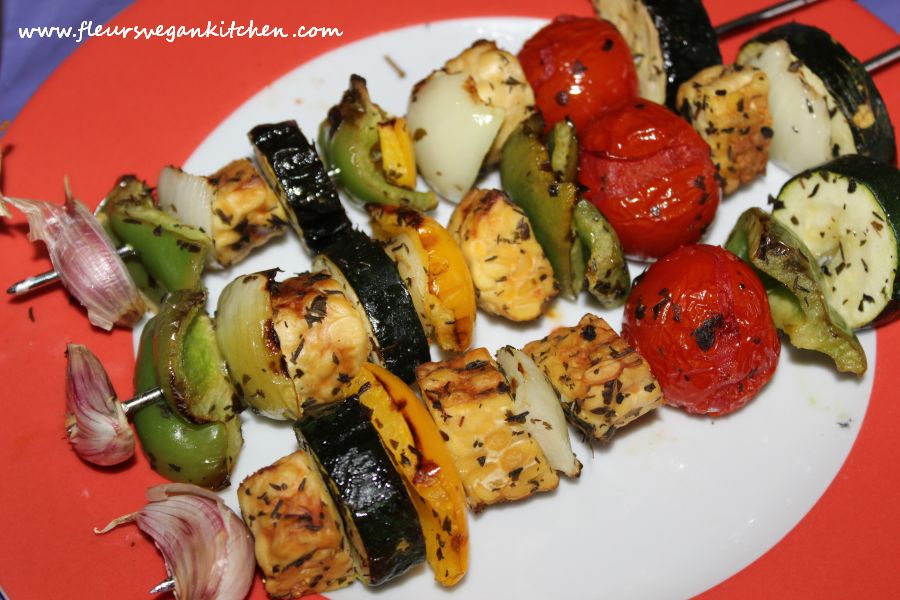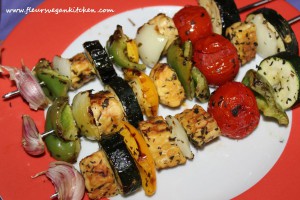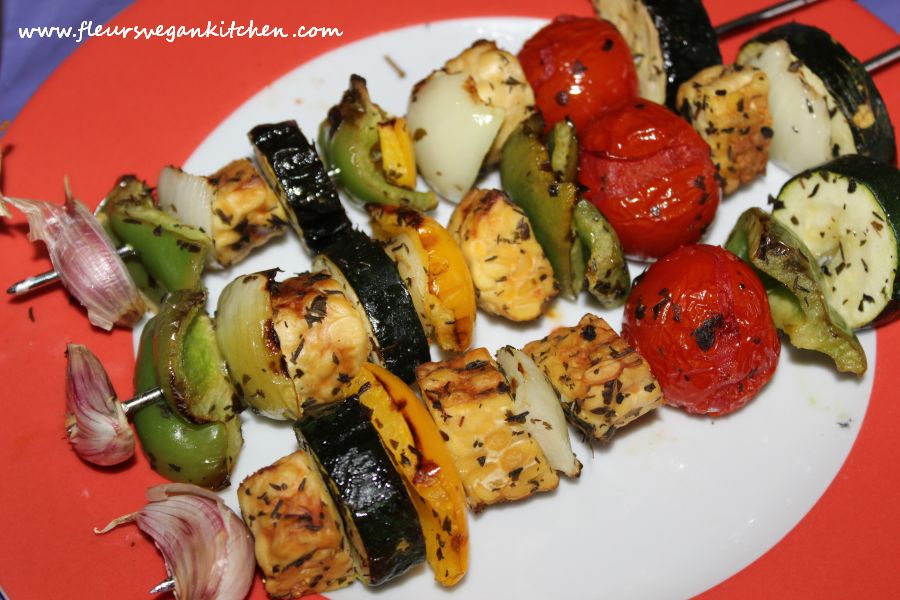 Per 4-6 porzioni
300 g di tempeh (può essere sostituito con il tofu)
2 peperoni
1 zucchino
2-3 cipolle
10 pomodorini
qualche spicchio d'aglio (opzionale)
Per la marinatura:
3-4 cucchiai di olio d'oliva
il succo di un limone
2 cucchiai di origano
2 cucchiai di timo
sale e pepe, a piacere
Preparate la marinatura mescolando il succo di limone, l'olio e le spezie. Tagliate il tempeh (o il tofu) e le verdure a pezzi di media grandezza e mescolateli con la marinatura.
Lasciate marinare in frigo per almeno 2 ore.
Immergete gli spiedini di legno in acqua per circa 15-20 minuti.
Infilate il tempeh e le verdure sugli spiedini e grigliateli per alcuni minuti per ciascun lato.
Servite con vari piatti di contorno e/o in insalata.
Variante:potete usare anche altre verdure come funghi, melanzane, etc.