Monday October 14th, 2013
Raspberry & cranberry cake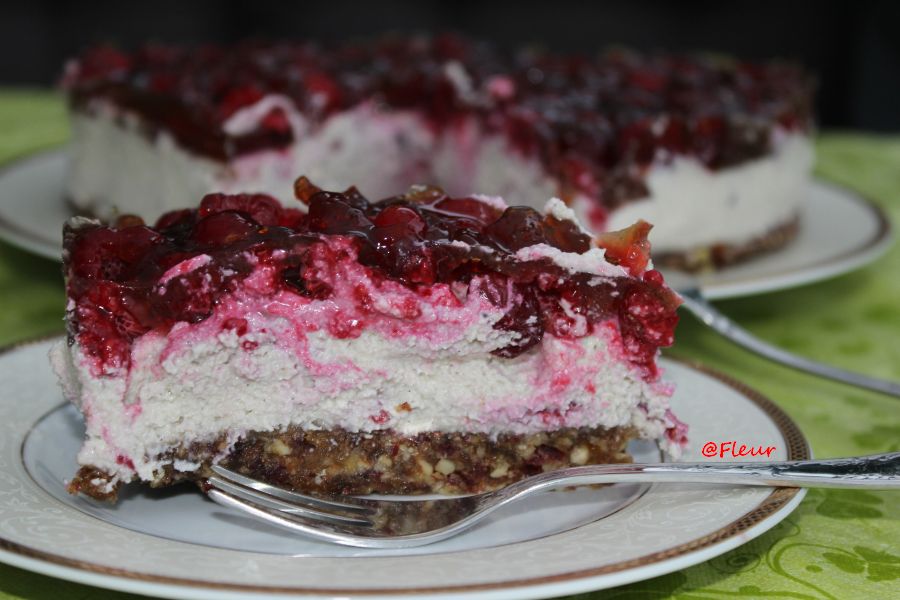 Comments : 2 Posted in :
Desserts
,
Raw vegan recipes
on
by :
fleur
Tags:
deserturi vegane
,
mancare vegana
,
retete vegane
For a cake with a diameter of 26 cm ( 12 to 14 servings)
springform (26 cm)
Crust:
2 cups walnuts
200 g dates
50 g raisins
50 g dried cranberries
Put all the ingredients in the food processor. Process until ground fine. Mixture should hold together when pressed.
Line the springform cake with baking parchment. Place the mixture in the springform and press until you form the crust. Refrigerate.
Cream:
600 g raw cashew nuts
vanilla from 1 stick
5 tablespoons maple syrup
5 tablespoons melted coconut butter
1 cup vegetable milk (preferably almonds or hazelnuts)
Soak the cashew nuts  in water for 2-3 hours/overnight. Let it drain.
Put all the ingredients, except the vegetable milk, in the food processor and process. Add the vegetable milk little by little until a smooth paste is obtained (thick cream texture).
Pour the cream over the crust and spread evenly.
Top layer:
200 g fresh/frozen raspberries and cranberries
100 ml fruit lemonade (preferably red)
5 g of agar – agar
Place the fruit evenly over the cream so that the entire surface is covered.
In a saucepan, cook the fruit lemonade. When it starts boiling and add the agar (dissolved in a tbsp syrup/water, otherwise it will form lumps). Continue to cook for 2 minutes, still stirring. Allow to cool a little bit, checking and stirring regularly because it hardens relatively quickly.
Pour over the fruit making sure that all the empty spaces will be covered.
Refrigerate for at least half an hour before serving.
Run a knife around the edge of the cake and remove from the form.
2s COMMENTS