14 October, 2013
Raspberry & cranberry cakeTort de zmeura si merisoareFramboos & cranberry taartTorta di lamponi e mirtilli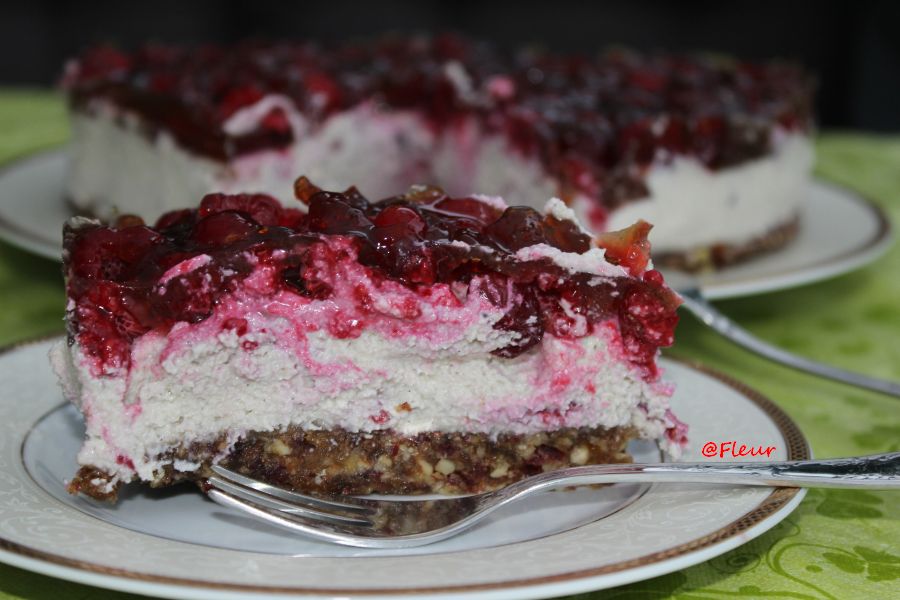 Comments : 2 Posted in :
Desserts
,
Retete raw vegane
on
by :
fleur
Tags:
deserturi vegane
,
mancare vegana
,
retete vegane
For a cake with a diameter of 26 cm ( 12 to 14 servings)
springform (26 cm)
Crust:
2 cups walnuts
200 g dates
50 g raisins
50 g dried cranberries
Put all the ingredients in the food processor. Process until ground fine. Mixture should hold together when pressed.
Line the springform cake with baking parchment. Place the mixture in the springform and press until you form the crust. Refrigerate.
Cream:
600 g raw cashew nuts
vanilla from 1 stick
5 tablespoons maple syrup
5 tablespoons melted coconut butter
1 cup vegetable milk (preferably almonds or hazelnuts)
Soak the cashew nuts  in water for 2-3 hours/overnight. Let it drain.
Put all the ingredients, except the vegetable milk, in the food processor and process. Add the vegetable milk little by little until a smooth paste is obtained (thick cream texture).
Pour the cream over the crust and spread evenly.
Top layer:
200 g fresh/frozen raspberries and cranberries
100 ml fruit lemonade (preferably red)
5 g of agar – agar
Place the fruit evenly over the cream so that the entire surface is covered.
In a saucepan, cook the fruit lemonade. When it starts boiling and add the agar (dissolved in a tbsp syrup/water, otherwise it will form lumps). Continue to cook for 2 minutes, still stirring. Allow to cool a little bit, checking and stirring regularly because it hardens relatively quickly.
Pour over the fruit making sure that all the empty spaces will be covered.
Refrigerate for at least half an hour before serving.
Run a knife around the edge of the cake and remove from the form.
Pentru un tort cu diametrul de 26 cm (12-14 porții)
Blatul:
2 căni nuci
200 g curmale
50 g stafide
50 g merișoare uscate
Se pun toate ingredientele într-un robot de bucătărie și se mixează până când nuca este măcinată foarte fin.
Pe un platou rotund se așează partea laterală a unei forme cu exteriorul detașabil. Se adaugă amestecul obținut, se întinde uniform și se presează foarte bine. Se dă la frigider până când preparăm crema.
Crema:
600 g nuci caju
1 bețișor de vanilie
5 linguri sirop de arțar
5 linguri unt de cocos topit
1 cană lapte vegetal (de preferat de migdale sau alune)
Nucile caju se lasă la înmuiat, în apă, câteva ore/peste noapte.
Se scurg de apă, se mixează cu ajutorul robotului de bucătărie, împreună cu restul ingredientelor cu excepția laptelui vegetal, care se adaugă câte puțin până când compoziția capătă textura unei creme groase.
Crema se toarnă în formă, peste blat.
Stratul superior:
200 g zmeură și merișoare
100 ml sirop de fructe (preferat de culoare roșie)
5 g agar-agar
Se așează fructele uniform  peste cremă astfel încât întreaga suprafață să fie acoperită.
Într-o crăticioară se dă siropul de fructe în fiert și se adaugă agar-agar-ul dizolvat în prealabil în puțin sirop/apă (altfel se formează cocoloașe). Se continuă fierberea timp de 2 minute. Se lasă puțin la răcit și se toarnă peste fructe (se întărește foarte repede) avand grijă să acoperim toate spațiile dintre fructe.
Înainte de consum se dă la rece pentru cel puțin jumătate de oră, apoi se îndepartează partea exterioară a formei.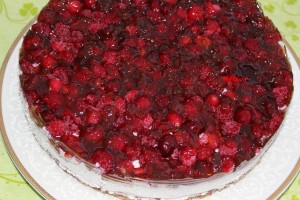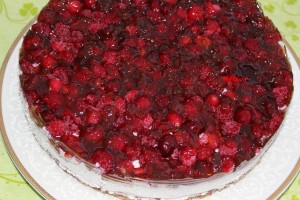 Per una torta dal diametro di 26 cm (da 12 a 14 porzioni)
teglia con bordi estraibili (26 cm)
Crosta:
2 tazze di noci
200 g di datteri
50 g uvetta
50 g di mirtilli secchi
Mettete tutti gli ingredienti nel robot da cucina. Tritate fino a che non siano finemente sminuzzati. Il composto deve rimanere compatto quando viene sottoposto a pressione.
Foderate i bordi della teglia con carta da forno. Mettete il composto nella teglia e pressate fino a formare una crosta. Fate raffreddare in frigo.
Panna:
600 g di anacardi grezzi
1 stecca di vaniglia
5 cucchiai da tavola di sciroppo d'acero
5 cucchiai da tavola di burro di cocco fuso
1 tazza di latte vegetale (preferibilmente di mandorla o di nocciole)
Lasciate gli anacardi in ammollo per 2-3 ore/per tutta la notte. Scolate.
Mettete tutti gli ingredienti, tranne il latte vegetale, nel robot da cucina, e frullate.
Aggiungete il latte vegetale poco alla volta, fino ad ottenere una pasta liscia (con la consistenza di una crema densa).
Versate la panna sulla crosta e spalmatela in modo uniforme.
Strato superiore:
200 g di lamponi e mirtilli freschi/congelati
100 ml di limonata di frutta (preferibilmente frutta rossa)
5 g di agar-agar
Disponete la frutta uniformemente sulla panna, in modo da coprire l'intera superficie.
Cuocete la limonata di frutta in un tegame. Quando inizia a bollire, aggiungete l'agar (sciolta in un cucchiaio di sciroppo/acqua, altrimenti si formano i grumi ). Continuate a cuocere per 2 minuti, sempre mescolando. Lasciate raffreddare un po', controllando e mescolando regolarmente, perché indurisce abbastanza velocemente.
Versate sopra la frutta assicurandovi che tutti gli spazi vuoti vengano coperti.
Lasciate riposare in frigo per almeno mezz'ora prima di servire.
Passate un coltello lungo i bordi della torta e togliete dalla teglia.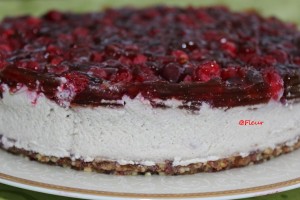 2s COMMENTS