Sunday October 13th, 2013
Vegan sushi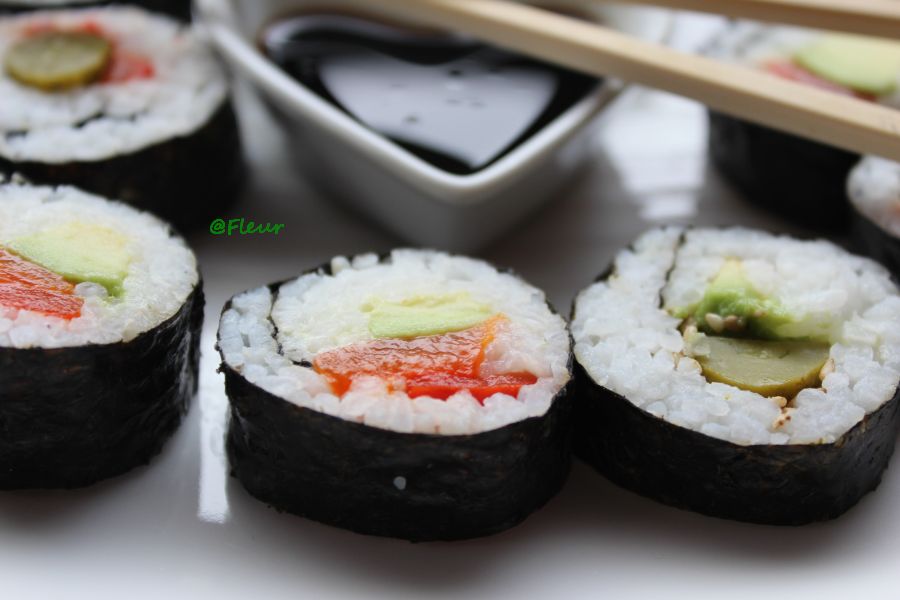 Posted in :
Appetizers
on
by :
fleur
Tags:
aperitive vegane
,
mancare vegana
,
retete orez
,
retete vegane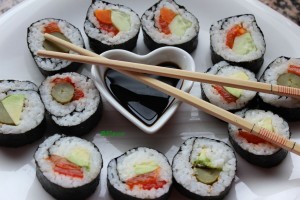 For 10 rolls:
250 g sushi rice
10 nori seaweed sheets
10-12 tablespoons rice vinegar
1/2 tablespoon raw sugar
1/2 teaspoon salt
For the filling:
1 avocado, sliced ​​
1 green pepper, sliced, ​grilled
pickled gherkins
saute carrot (cut into strips if too thick)
cucumber, cut into strips
sesame seeds
etc.
bamboo sushi mat
Cook the rice according to the directions on package. In a small bowl, mix the rice vinegar, sugar and the salt. Add the cooked rice and mix gently. Allow to cool a little bit.
Place one nori sheet  on the bamboo sushi mat (with the rough side up). Wet your hands to prevent sticking. Have a small bowl of water next to you. Using your hands (or a wet spoon), spread a thin layer of rice (1/2 cm) on the sheet of nori and press, leaving a 4 cm border at one end of the nori sheet.
Place the filling ingredients vertically,  in a line down the center of the rice (you can make different combinations, let your imagination free: avocado + cucumber, grilled peppers and saute  carrot, avocado + pickled gherkins,  etc). You can sprinkle some sesame seeds over the rice.
Wet the free border so it will stick on the sushi roll. Roll up the bamboo mat slowly, tucking in the closer end of the sushi roll and press lightly with both hands. Remove the roll from the mat.
Allow to cool for at least half an hour before serving.
Cut the roll, just before serving, into pieces of approx. 1.5 – 2 cm thick, using a moistened sharp knife to prevent sticking.
Serve with little bowls of soy sauce (you can add a little bit of grated horseradish to the soy sauce).