2 April, 2014
Snow-white cakeTort Alba ca ZapadaSneeuwwitje cakeTorta Biancaneve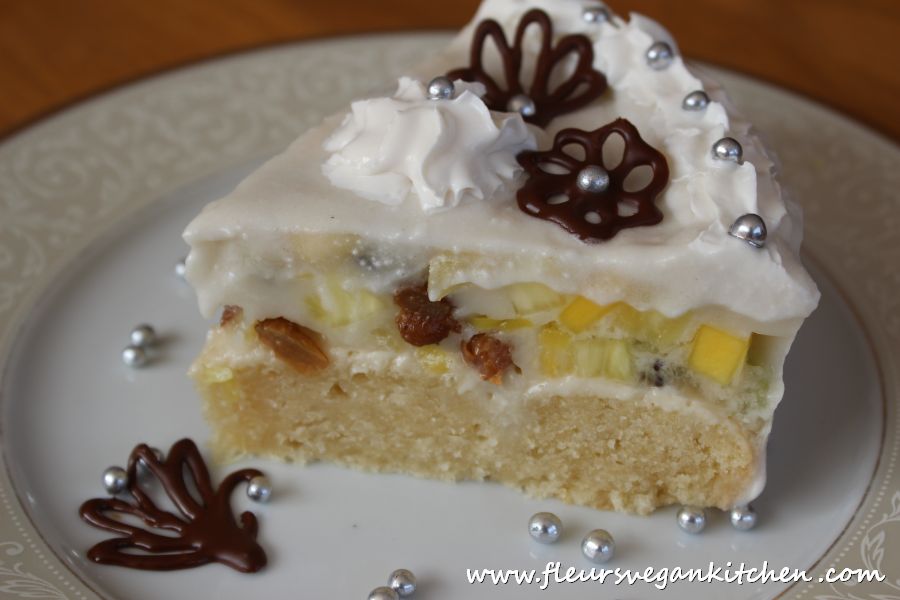 Posted in :
Desserts
on
by :
fleur
Tags:
deserturi vegane
,
mancare vegana
,
retete vegane
Springform (24-26 cm)
For the base:
1 ½ cup flour
½ cup raw sugar
½ cup oil
½ cup water
2 ½ teaspoons baking powder
zest of an orange/lemon
2 teaspoons vanilla essence
Mix the oil, water and sugar and whisk until the sugar dissolves. Add the rest of the ingredients and mix everything thoroughly . The composition should have the consistency of cream otherwise add a little bit more water / flour as necessary.
Pour it into the baking springform and bake it, in the preheated oven, for approx . 30-40 minutes. Check with a straw if it's baked inside.
Remove the base from the springform and wash the form (to prevent sticking later).
Replace the base cake in the springform. If the springform does not close tightly than cover first with a plastic film than add the base cake (to prevent cream leaking).
For the cream and whipped cream:
4 canned coconut milk (4 x 400 ml)
1 cup raw sugar
4 tsp vanilla essence
10 g agar
½ pineapple, finely diced
½ mango, finely diced
2 kiwi, finely diced
raisins soaked in rum (optional)
Put 3 of the coconut milk cans  in the refrigerator for several hours (or overnight). Separate the solid part  from the liquid. Put the liquid in a saucepan along with the other canned coconut milk (which was not  refrigerated),  ½ cup sugar and 2 teaspoons vanilla essence. When it starts to cook add the agar-agar (dissolved in a little bit coconut milk, otherwise it will form lumps) and continue cooking for 2 minutes. Allow to cool stirring occasionally. When it has slightly cooled add the fruit and mix. Pour the mix on top of the base in the springform.
Allow to cool in the refrigerator.
For the whipped cream mix the solid part of the coconut milk with the remaining sugar and vanilla essence (see the recipe here).
Before serving  decorate  with coconut whipped cream.
Formă detașabilă (24-26 cm)
Pentru blat:
1 ½ cană făină
½ cană zahăr brut
½ cană ulei
½ cană apă
2 ½  lingurițe praf de copt
coaja rasă de la o portocală/lămâie
2 lingurițe esență de vanilie
Se amestecă uleiul, apa și zahărul și se bate cu telul până când zahărul se dizolvă. Se adaugă restul ingredinetelor și se amestecă uniform. Compoziția trebuie să aibă consistența unei ciulamale, în caz contrar se mai adaugă apă/făină în funcție de necesitate.
Se toarnă în forma de copt și se coace, în cuptorul încins în prealabil, timp de aprox. 30-40 minute. Se încearcă cu un pai dacă este copt în interior.
Blatul se scoate din formă iar forma se spală (pentru a preveni lipirea ulterioară).
Se repune blatul în formă. Dacă forma nu se închide etanș atunci se va pune întâi o folie alimetară de plastic, apoi blatul (pentru a preveni scurgerea cremei).
Pentru cremă și frișcă:
4 conserve lapte de cocos (4 x 400 ml)
1 cană zahăr brut
4 lingurițe esență de vanilie
10 g agar-agar
½ ananas, tăiat bucățele mici
½ mango, tăiat bucățele mici
2 kiwi, tăiați bucățele mici
stafide înmuiate în rom (opțional)

Trei conserve de lapte de cocos se lasă în frigider timp de căteva ore (sau peste noapte). Se separă partea solidă de lichid. Se pune lichidul într-o crăticioară împreună cu laptele de cocos din conserva care nu a stat la frigider, ½ cană de zahăr și 2 lingurițe  esență de vanilie. Când a început să fiarbă se adaugă agar-agar-ul (dizolvat în puțin lapte de cocos, altfel se vor forma cocoloașe) și se continuă fierberea pentru 2 minute. Se lasă la răcit amestecîndu-se din când în când. Câns s-a răcit puțin se adaugă fructele și se amestecă. Compoziția se toarnă peste blat.
Se lasă la răcit în frigider.
Din partea solidă a laptelui de cocos, restul de zahăr și esență de vanilie se prepară frișca (vezi rețeta aici).
Înainte de consum se indepărtează forma și se ornează cu frișca de cocos.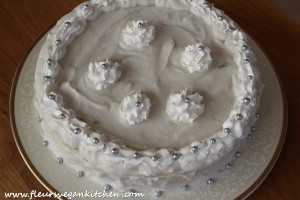 Tortiera da forno (24-26 cm)
1 1/2 tazza di farina
1/2 tazza di zucchero di canna grezzo
1/2 tazza d'olio
1/2 tazza di acqua
2 1/2 cucchiaini di lievito in polvere
la scorza di un arancio/limone
2 cucchiaini di essenza di vaniglia
Mescolate l'olio, l' acqua e lo zucchero e mantecate fino a quando lo zucchero non sia sciolto. Aggiungete il resto degli ingredienti e mescolate bene tutto. Il composto deve avere la consistenza di una crema, altrimenti aggiungete ancora un po' di acqua/farina se necessario.
Versate il composto nella tortiera da forno e cuocetelo, nel forno preriscaldato, per circa 30-40 minuti. Controllate con uno stecchino se è cotto all'interno.
Rimuovete la base dallo stampo a cerniera  e lavate la tortiera (per evitare che dopo rimanga appiccicosa).
Rimettete la torta base nella tortiera. Se la cerniera non si chiude bene, coprite prima con una pellicola di plastica, quindi aggiungete la base (per evitare che la crema fuoriesca).
Per la crema e la panna montata:
4 confezioni di latte di cocco in barattolo
1 tazza di zucchero di canna grezzo
4 cucchiaini di essenza di vaniglia
10 g agar
1/2 ananas, tagliato a fettine
1/2 mango, tagliato a fettine
2 kiwi, tagliati a fettine
uvetta ammollata nel rum (opzionale)
Mettete 3 dei barattoli di latte di cocco in frigo per alcune ore (o tutta la notte).
Separate la parte solida da quella liquida. Mettete la parte liquida in un tegame, assieme al resto del latte di cocco in barattolo ( che non è stato messo in frigo), 1/2 tazza di zucchero e 2 cucchiaini di essenza di vaniglia. Quando inizia a cuocere, aggiungete l'agar-agar (sciolto in un po' di latte di cocco, altrimenti si formeranno i grumi) e continuate a cuocere per 2 minuti. Lasciate raffreddare, mescolando di tanto in tanto. Quando si è raffreddato leggermente, aggiungete la frutta e mescolate. Versate il composto in cima alla base nella tortiera.
Lasciate raffreddare in frigo.
Per la panna montata mischiate la parte solida del latte di cocco con lo zucchero rimasto e con l' essenza di vaniglia (vedere la ricetta
qui
).
Prima di servire decorate con la panna di cocco montata.