Sunday March 30th, 2014
Potatoes ostropel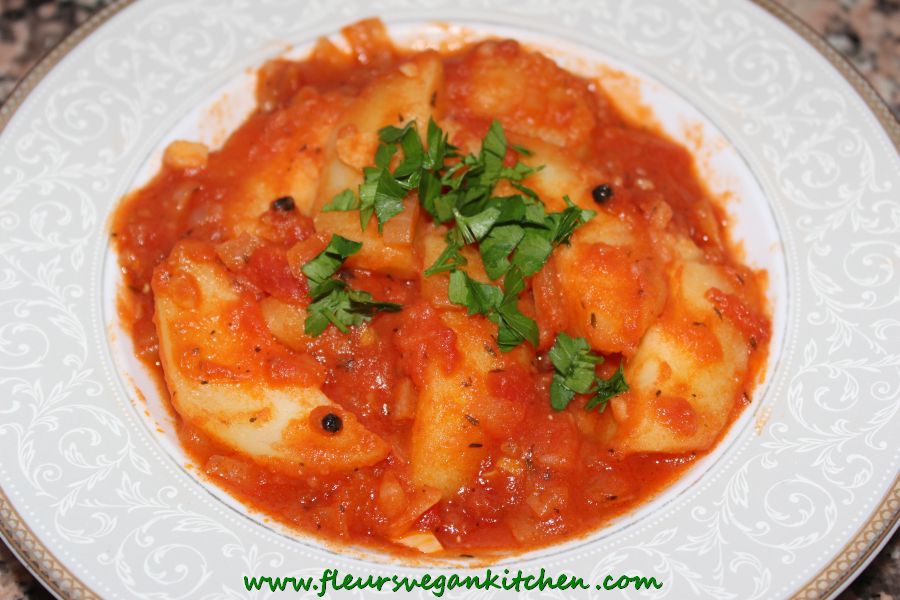 Posted in :
Main dishes
on
by :
fleur
Tags:
mancare vegana
,
retete cartofi
,
retete vegane
For 3-4 servings:
1 kg (2.2 lbs.) potatoes , peeled and cuted lenghtwise
3 onions, finely chopped
5-6 cloves of garlic, sliced
2 cans of diced tomatoes (2 x 400g/2 x 14 oz) / fresh tomatoes finely chopped
1 glass of white wine
3-4 bay leaves
1 ½ teaspoon thyme
10-15 peppercorns
2 tablespoon  olive oil
salt, to taste
Fresh parsley, finely cut
Cook the potatoes in water with a pinch of salt. Drain.
Stir fry the onions in oil for 2-3 minutes. Add the tomatoes, wine, bay leaves, thyme and the peppercorns. Simmer until the sauce is reduced, stirring occasionally. Add the garlic and the potatoes and continue cooking for another  3 minutes.
Garnish with parsley.