30 June, 2015
Strawberry jamGem de capsuniAardbeienjamMarmellata di fragole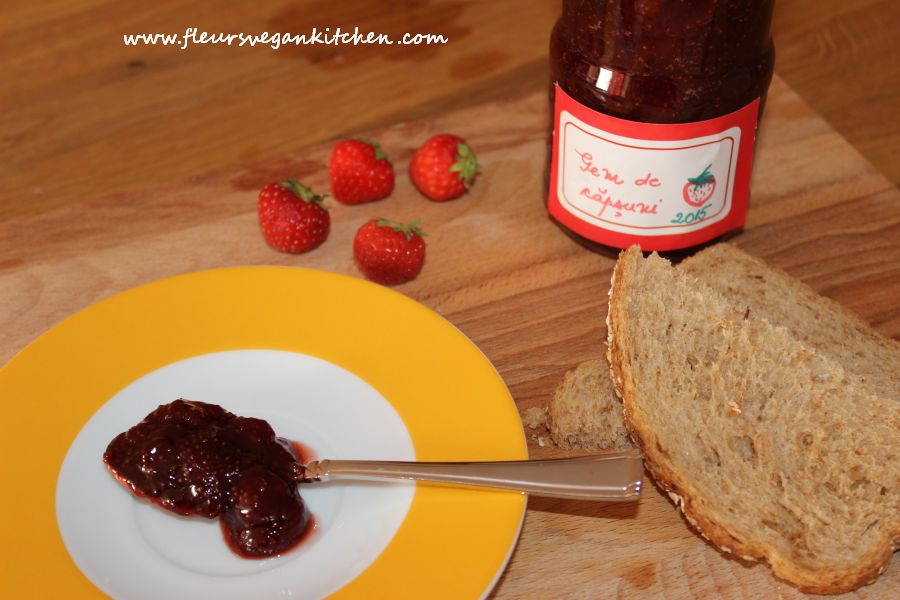 Posted in :
Breakfast
,
Desserts
,
Uncategorized
on
by :
fleur
Tags:
deserturi vegane
,
mancare vegana
,
retete vegane
,
vegan recipes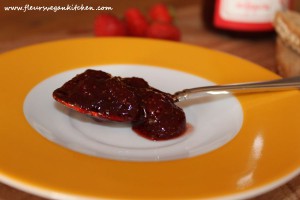 1 kg strawberries
400 g raw sugar
juice of 1/2 lemon
Wash the strawberries, remove the leaves and drain well. Cut each strawberry in 2 or 4 (depending on how big they are).
Place the strawberries with the sugar in a saucepan of stainless steel or enamel, cover with a lid and simmer until the sugar has dissolved. Stir occasionally.
When the sugar has dissolved turn the  heat high and simmer for approx. 1 hour, uncovered, stirring often .
Check the consistency of jam by putting a little bit of jam on a saucer and letting it cool. If it is still too soft  (if it slides about as a liquid) continue cooking until you get a jam consistency, testing every 4-5 minutes because at the end it thickens  very fast.
Finally add the lemon juice and give it a boil.
Wash the glass jars  well, then put them in the oven to dry and sterilize them (at about 100 C).
Let the jam slightly cool (not too much) then pour it into the hot jars. Cover with a lid while still hot, label and store in a cool, dark cupboard for up to a year.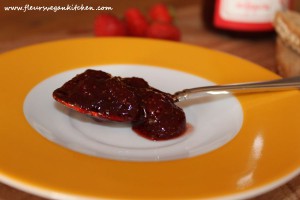 1 kg capsuni
400 g zahar brut
zeama de la 1/2 lamaie
Se spala capsunile, se taie coditele si se scrug bine intr-o strecuratoare. Se taie fiecare capsuna in 2 sau 4 (depinde cat de mari sunt).
Se pun capsunile impreuna cu zaharul intr-o cratita de inox sau email, se acopera cu un capac si se  fierb la foc mic pana cand zaharul s-a topit. Se amesteca din cand in cand.
Cand zaharul s-a topit se da focul mare si se fierbe aprox. 1 ora, neacoperita, amestecand des ca sa nu se prinda.
Se verifica consistenta gemului punand o lingurita de gem pe o farfurioara si lasandu-l sa se raceasca. Daca este inca prea moale (lasa zeama imprejur) se continua fierberea pana cand obtinem consistenta unui gem, verificandu-se consistenta la fiecare 4-5 minute caci la final se ingroasa foarte repede.
La final se adauga zeama de lamaie si se mai da un clocot.
Borcanele se spala bine apoi se usuca si se sterilizeaza in cuptor ( la o temperatura de aprox. 100 C).
Se lasa gemul putin la racit (nu prea mult) apoi se toarna in borcanele fierbinti.
Se inchide fiecare borcan cu un capac (sau celofan) cat sunt inca calde, se eticheteaza si se pastreaza, la loc intunecat si racoros, timp de un an.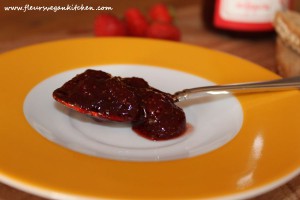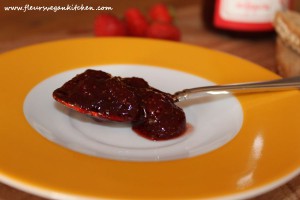 1 kg di fragole
400 g di zucchero di canna grezzo
il succo di 1/2 limone
Lavate le fragole, togliete le foglie e scolate bene. Tagliate ogni fragola in 2 o 4 parti (a seconda di quanto sono grandi).
Mettete le fragole con lo zucchero in un tegame di acciaio inossidabile o di smalto, coprite con un coperchio e cuocete a fuoco lento, finché lo zucchero non si sia sciolto. Mescolate di tanto in tanto.
Quando lo zucchero si è sciolto, alzate la fiamma e fate sobbollire per circa 1 ora, senza coperchio, mescolando spesso.
Controllate la consistenza della marmellata, appoggiando un pochino di marmellata sopra un piattino e lasciandola raffreddare. Se risulta ancora troppo morbida (se scivola sui bordi come un liquido) continuate a cuocere fino a che non otterrete la consistenza della marmellata, controllando ogni 4-5 minuti perché alla fine si rapprende molto velocemente.
Infine aggiungete il succo di limone e portate ad ebollizione.
Lavate bene i barattoli di vetro, quindi infornateli per asciugarli e sterilizzarli (a circa 100 C).
Fate raffreddare un po' la marmellata (non troppo), quindi versatela nei barattoli bollenti.
Coprite con un coperchio mentre sono ancora molto caldi, etichettateli e riponeteli in  una credenza al fresco e al buio. La marmellata può essere conservata fino ad un anno.