Tuesday June 30th, 2015
Strawberry jam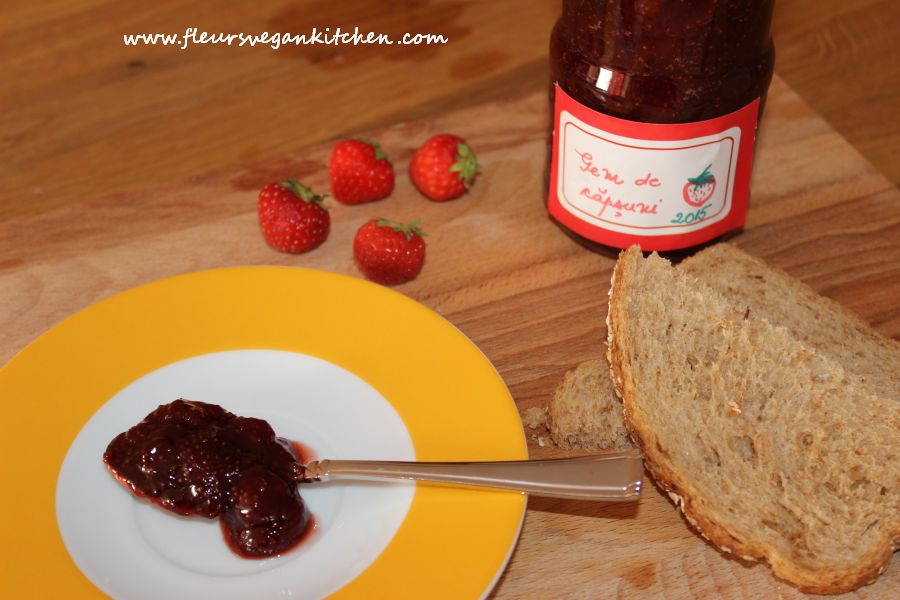 Posted in :
Breakfast
,
Desserts
,
Uncategorized
on
by :
fleur
Tags:
deserturi vegane
,
mancare vegana
,
retete vegane
,
vegan recipes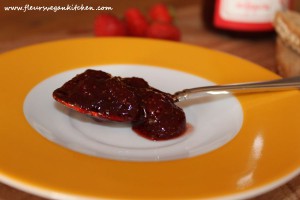 1 kg strawberries
400 g raw sugar
juice of 1/2 lemon
Wash the strawberries, remove the leaves and drain well. Cut each strawberry in 2 or 4 (depending on how big they are).
Place the strawberries with the sugar in a saucepan of stainless steel or enamel, cover with a lid and simmer until the sugar has dissolved. Stir occasionally.
When the sugar has dissolved turn the  heat high and simmer for approx. 1 hour, uncovered, stirring often .
Check the consistency of jam by putting a little bit of jam on a saucer and letting it cool. If it is still too soft  (if it slides about as a liquid) continue cooking until you get a jam consistency, testing every 4-5 minutes because at the end it thickens  very fast.
Finally add the lemon juice and give it a boil.
Wash the glass jars  well, then put them in the oven to dry and sterilize them (at about 100 C).
Let the jam slightly cool (not too much) then pour it into the hot jars. Cover with a lid while still hot, label and store in a cool, dark cupboard for up to a year.