Friday July 3rd, 2015
Decadent Chocolate Cake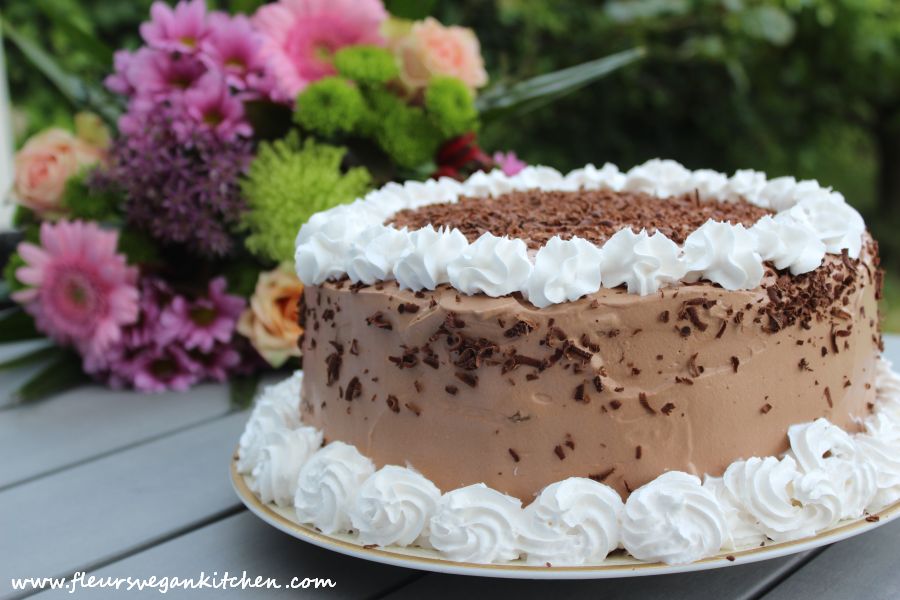 Posted in :
Desserts
on
by :
fleur
Tags:
ciocolata
,
deserturi vegane
,
mancare vegana
,
retete vegane
,
tofu
,
vegan recipes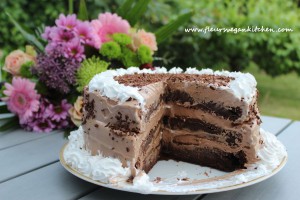 springform 22-24 cm diameter (for 10 – 12 servings)
For 1 base (prepare 2):
300 g flour
3 tablespoons cocoa powder
100 g raw sugar
125 ml sunflower oil
375 ml  soy milk
2 teaspoons vanilla essence
1 pack baking powder (15g)
a pinch of salt
Mix all the ingredients until the sugar has dissolved. Grease the springform with a little bit of oil. Pour the mix into the form and bake  (in the preheated oven) on medium heat (175 C), for 30-40 minutes. Ceck with a straw if the dough is baked inside, if the dough sticks to the straw bake for a few minutes longer. Allow  to cool, remove from the springform and cut horizontally into two equal parts.
Chocolate cream:
500 ml whipping vegetable cream (I used Alpro soya)
500 g silken tofu ( I used Taifun)
4 tablespoons sugar
300 g pure chocolate, good quality, with > 70% cocoa
3 tablespoons raisins soaked in rum   + the rum
Whip  the cream with a mixer / food processor until stiff.
Drain the tofu well and blend it until smooth.
Add the tofu and sugar by the whipped cream. Process until everything is incorporated.
Melt the chocolate over a steam bath (bain-marie), let it cool slightly then add it little by little to the cream-tofu mix while processing.
Finally add the rum and raisins and mix with a spatula.
Refrigerate for a few hours (or you can make it  the day before).
Assemble the cake:
 Place a leaf on a plateau, add a layer of cream, spread evenly. Repeat the process with remaining leafs. Cover the last layer with the rest of the cream, including the by sides.
Garnish with whipped cream and grated pure chocolate (for decoration I used whipped cream spray can Leha Schlagfix). You can also use coconut whipped cream (recipe here).
Note: because I've made the cake on a very hot day I encountered difficulties in assembling it because the cream was melting rapidly, so I've used only three leafs (this is why in the picture above you ca see 3  leafs instead of 4).