17 September, 2013
Seitan sateSeitan sateSeitan sate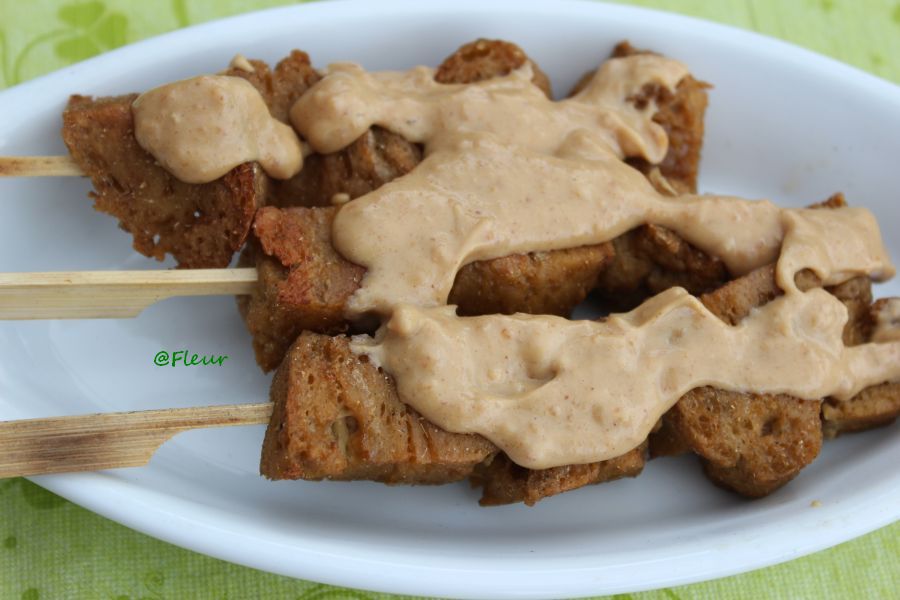 Posted in :
Main dishes
on
by :
fleur
Tags:
mancare vegana
,
retete vegane
,
seitan
For 3-4 servings:
For the seitan:
1 kg flour
1 teaspoon garlic powder
1 teaspoon paprika powder
1 tablespoon soy sauce
When you make the seitan dough add the paprika powder, the onion powder and the garlic powder. Than follow the seitan recipe.
For the marinade:
a small onion
3 cloves of garlic
1 teaspoon fresh ginger (or powder)
1 tsp coriander powder
1/2 tsp lemon grass powder (optional)
1/2 teaspoon salt
2-3 tablespoons soy sauce
Blend all the ingredients for the marinade until a smooth paste is obtained.
After the seitan was "washed" allow to drain well. Cook for 30-40 minutes in water with a few peppercorns and a bay leaf. Drain well then cut into square pieces approx. 3 cm thick. Mix with the marinade. Refrigerate at least an hour.
Thread the seitan onto the skewers. Heat the grill pan. Grill for few minutes on each side.
Serve with peanut sauce, nasi, vegetables, fries, etc..
Note: Sate is a dish with origins in Indonesia, where occupies a leading position in the Indonesian cuisine. Nowadays sate knows many variations in Asian countries and in the West.
Instead of seitan you can use tofu/tempeh.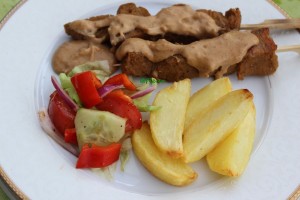 Pentru 3-4 porții:
Pentru seitan:
1 kg făină
1 linguriță usturoi praf
1 linguriță boia dulce
1 lingură sos de soia
Se prepară seitanul ca aici , în plus adăugandu-se în compoziție ingredientele de mai sus.
Pentru marinată:
o ceapă mică
3 caței de usturoi
1 linguriță ghimbir (proaspăt sau praf)
1 linguriță coriandru praf
1/2 linguriță iarbă de lămaie praf (opțional)
1/2 linguriță sare
2-3 linguri sos de soia
Se pasează toate ingredientele pentru marinată pană se obține o pastă.
După ce seitanul a fost "spalat" se lasă foarte bine la scurs apoi se fierbe 30-40 minute în apă cu cateva boabe de piper și o frunză de dafin. După ce a fiert se lasă într-o strecurătoare să se scurgă bine apoi se taie în pătrățele de aprox. 3 cm grosime. Bucațelele de seitan se pun în marinată pentru cel puțin o oră.
Se înfig pe bețisoare  și se frig  pe grătarul încins în prealabil.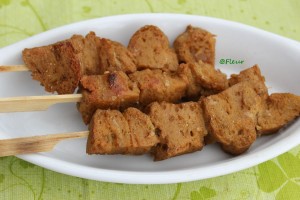 Se servesc  cu sos de arahide, nasi, cu legume, cu cartofi prăjiti etc.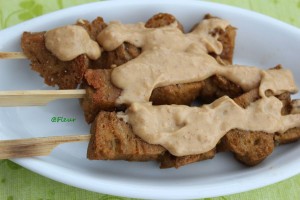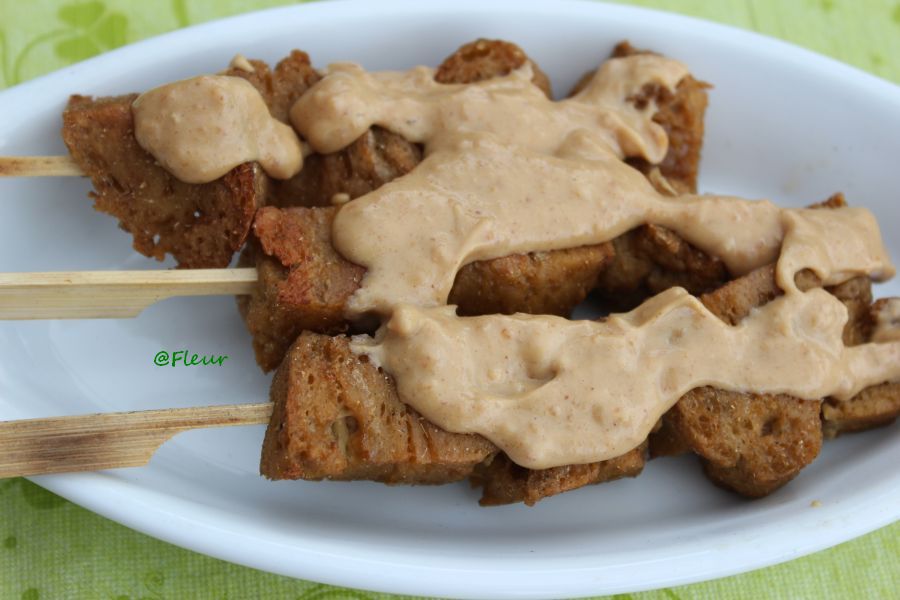 Nota: Sate este un fel de mancare cu origini în Indonezia, unde și ocupă un loc fruntaș în bucătăria indoneziană. În prezent sate cunoaste multe variații în țările asiatice dar și în cele occidentale.
În loc de seitan se poate folosi și tofu/tempeh.