Tuesday September 17th, 2013
Seitan sate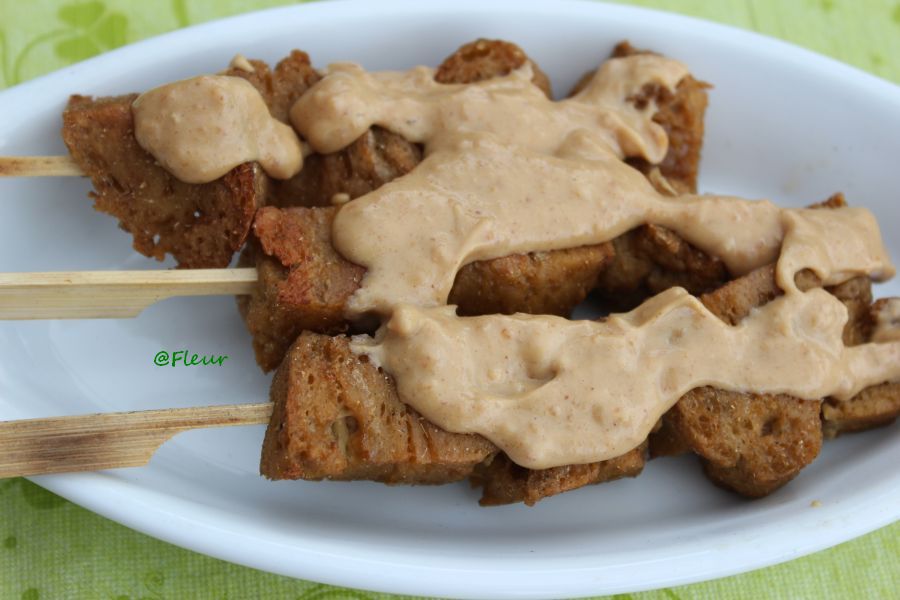 Posted in :
Main dishes
on
by :
fleur
Tags:
mancare vegana
,
retete vegane
,
seitan
For 3-4 servings:
For the seitan:
1 kg flour
1 teaspoon garlic powder
1 teaspoon paprika powder
1 tablespoon soy sauce
When you make the seitan dough add the paprika powder, the onion powder and the garlic powder. Than follow the seitan recipe.
For the marinade:
a small onion
3 cloves of garlic
1 teaspoon fresh ginger (or powder)
1 tsp coriander powder
1/2 tsp lemon grass powder (optional)
1/2 teaspoon salt
2-3 tablespoons soy sauce
Blend all the ingredients for the marinade until a smooth paste is obtained.
After the seitan was "washed" allow to drain well. Cook for 30-40 minutes in water with a few peppercorns and a bay leaf. Drain well then cut into square pieces approx. 3 cm thick. Mix with the marinade. Refrigerate at least an hour.
Thread the seitan onto the skewers. Heat the grill pan. Grill for few minutes on each side.
Serve with peanut sauce, nasi, vegetables, fries, etc..
Note: Sate is a dish with origins in Indonesia, where occupies a leading position in the Indonesian cuisine. Nowadays sate knows many variations in Asian countries and in the West.
Instead of seitan you can use tofu/tempeh.