Sunday October 26th, 2014
Sauerkraut croquettes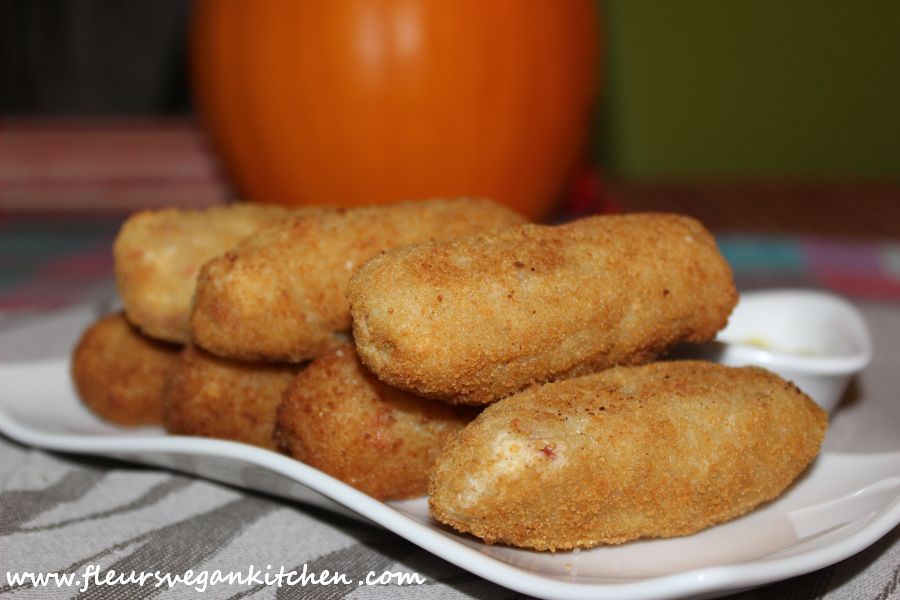 Posted in :
Appetizers
on
by :
fleur
Tags:
aperitive vegane
,
mancare vegana
,
retete vegane
,
varza murata
300 g potatoes
250 g sauerkraut, finely chopped
50 g vegan smoked bacon (or smoked tofu), finely chopped
2 shallots, finely chopped
3 tablespoons flour
1 teaspoon nutmeg
2 bay leaves
1 tablespoon oil
pepper, to taste
for the crust:
flour
1/2 cup soy milk
breadcrumbs
oil for frying
Peel the potatoes and boil them whole, together with the sauerkraut and the bay leaves. When the potatoes are cooked drain the water (keep it separately) and mash.  Add a little  water from the boiled potatoes until you get a not too soft puree.
Refrigerate for several hours (or overnight).
Heat a tablespoon of oil in a saucepan and add the onions and the vegan bacon. Stir occasionally until golden. Add it to the mash potatoes together with the nutmeg, pepper and 3 tablespoons of flour. Mix well.
Take a little bit of the mix and form the croquettes in to  the desired shape (with wet hands).
Roll them through the flour, then through soy milk and finally through the breadcrumbs. Shake off the excess.
Fry in hot oil until golden brown.
Serve hot or cold with mustard, as  appetizer.