Tuesday October 28th, 2014
Dutch apple pie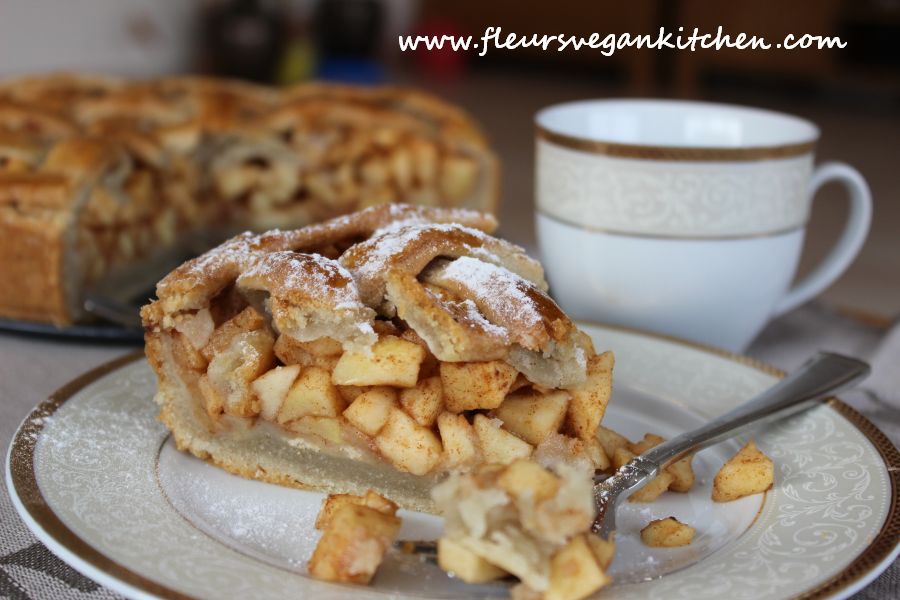 Comments : 2 Posted in :
Desserts
on
by :
fleur
Tags:
deserturi vegane
,
mancare vegana
,
retete vegane
a round (spring) form with a diameter of 24 cm
For the filling:
5 medium apples
4 tablespoons raw sugar
2 teaspoons cinnamon
juice of one lemon
2 tablespoons breadcrumbs
For the dough:
2 cups flour
1/2 cup soy milk
2/3 cup sunflower oil
1/2 cup sugar
1/2 banana
2 teaspoons baking powder
1 teaspoon vinegar
zest of one lemon
Place the soy milk in the blender, start the blender and add the oil, little by little. Finally add the sugar and banana and continue blending until the sugar has dissolved.
Place the mixture in a bowl and add the remaining ingredients. Knead for a few minutes until you get an elastic dough. Refrigerate until you prepare the filling.
Peel the apples, remove the cores and cut them into small pieces. Add the sugar, lemon juice and cinnamon. Mix well.
Divide the dough  into two parts. Dust the working surface with a little bit of flour and roll 2/3 of the dough, with a rolling pin, to the size of the form and approx. 4 cm extra for the edges. Place it in to the form, arrange the edges, sprinkle the breadcrumbs evenly on the bottom then add the apples (well drained) and spread evenly.
Roll the remaining dough and cut it into strips of approx..1,5 – 2 cm and layer them over the apple pie to form a raster . Brush with a little soy milk for a nice color.
Bake at medium heat (175 C) for about an hour.
Before removing the tart from the form let it cool slightly. Brush on top with syrup (maple, jam etc.)
Serve warm or cold.
Variation: You can add a handful of raisins to the stuffing.
2s COMMENTS