Red lentil pate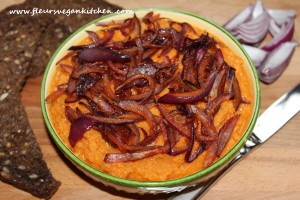 1 cup red lentils
1 bay leaf
2-4 cloves garlic, mashed (to taste)
3 tablespoons olive oil
salt and pepper, to taste
For the topping:
2 (red) onions, finely sliced
1 tablespoon olive oil
1 tbsp. tomato puree/paste
Wash the lentils thoroughly  and cook them  in 2 1/2 cups water, together with the bay leaf. Drain but keep the moisture aside. Remove the bay leaf and blend/process until smooth.
Put the lentils back in the pan, on low heat, add the oil and garlic and "beat" it with a wooden spoon until it becomes foamy (if necessary add a little water from the lentils to get the desired consistency). Add  salt and pepper to taste  and transfer the lentils to a serving bowl.
Heat 1 tablespoon of olive oil in a pan and simmer the onions on medium heat until golden brown.  Add the tomato puree and mix well. Spread evenly over lentil pate.