Saturday September 21st, 2013
Tjap tjoy with quinoa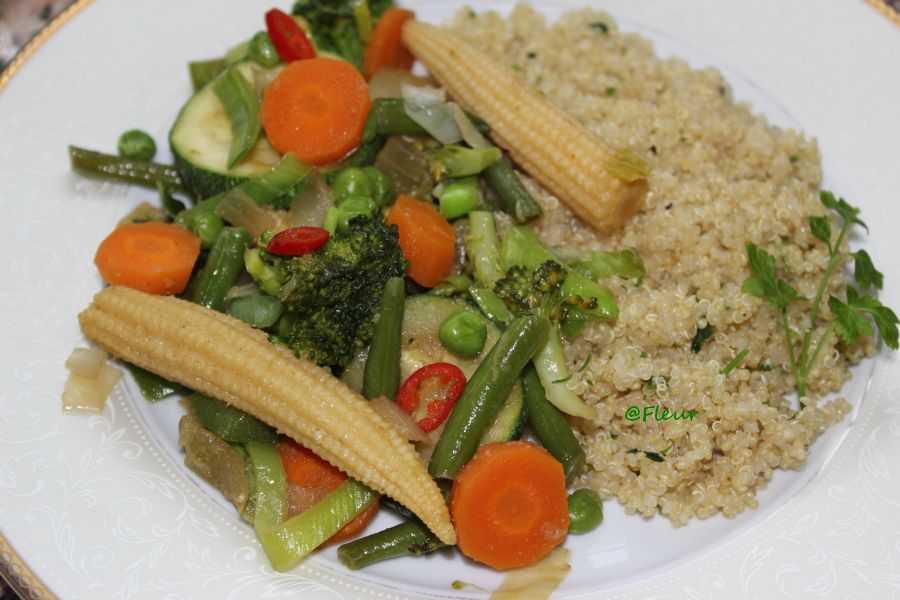 Posted in :
Main dishes
,
Weight loss recipes
on
by :
fleur
Tags:
mancare vegana
,
retete quinoa
,
retete vegane
For 3 servings:
200 g quinoa
600-700 g vegetables: onion, carrot, leek, green beans (fresh or frozen), peas, broccoli, zucchini, bell pepper, sweet baby corn, etc., sliced or cubed
5 cloves of garlic, finely chopped
fresh chili, to taste
4 cm ginger, grated (or 2 teaspoons ginger powder)
3 tsp. coriander powder
fresh coriander, finely cut (optional)
3-4 tablespoons soy sauce
2-3 tablespoons oil
salt and pepper, to taste
Wash the quinoa thoroughly and cook it in 300 ml water for 5 minutes. Cover and set aside until all the water is absorbed. Add  salt and pepper to taste and fresh coriander (optional).
Cook the green beans apart for about 15 minutes (if they are frozen than is no need to cook, they are already semi-cooked).
Heat the oil in a wok and add the vegetables. Stir fry for approx. 4-5 minutes, on high heat.
Add the ginger, coriander powder and garlic and stir fry for another 2-3 minutes. Finally, add the soy sauce, salt and pepper to taste.
Serve with quinoa (or rice).
Note: You can use other vegetables too, like: mushrooms, cucumber, cabbage, bamboo shoots, bean shoots, etc..