21 September, 2013
Tjap tjoy with quinoaQuinoa cu tjap tjoyTjap tjoy met quinoa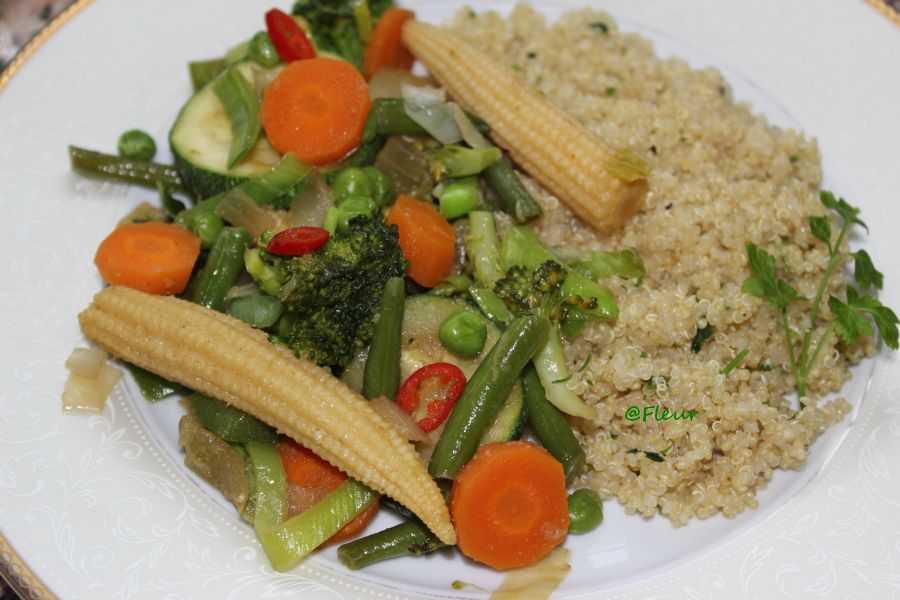 Posted in :
Main dishes
,
Weight loss recipes
on
by :
fleur
Tags:
mancare vegana
,
retete quinoa
,
retete vegane
For 3 servings:
200 g quinoa
600-700 g vegetables: onion, carrot, leek, green beans (fresh or frozen), peas, broccoli, zucchini, bell pepper, sweet baby corn, etc., sliced or cubed
5 cloves of garlic, finely chopped
fresh chili, to taste
4 cm ginger, grated (or 2 teaspoons ginger powder)
3 tsp. coriander powder
fresh coriander, finely cut (optional)
3-4 tablespoons soy sauce
2-3 tablespoons oil
salt and pepper, to taste
Wash the quinoa thoroughly and cook it in 300 ml water for 5 minutes. Cover and set aside until all the water is absorbed. Add  salt and pepper to taste and fresh coriander (optional).
Cook the green beans apart for about 15 minutes (if they are frozen than is no need to cook, they are already semi-cooked).
Heat the oil in a wok and add the vegetables. Stir fry for approx. 4-5 minutes, on high heat.
Add the ginger, coriander powder and garlic and stir fry for another 2-3 minutes. Finally, add the soy sauce, salt and pepper to taste.
Serve with quinoa (or rice).
Note: You can use other vegetables too, like: mushrooms, cucumber, cabbage, bamboo shoots, bean shoots, etc..
Pentru 3 porții:
200 g quinoa
diverse legume: ceapă, morcov, praz, fasole verde, mazăre, brocoli, dovlecel, ardei gras, porumb etc
ardei iute
5 căței de usturoi
4 cm ghimbir (sau 2 lingurițe ghimbir pudră)
3 lingurițe coriandru pudră
coriandru proaspăt (opțional)
3-4 linguri sos de soia
2-3 linguri ulei
sare, piper
Quinoa se spală bine și se fierbe în 300 ml apă, timp de 5 minute, apoi se acoperă cu un capac și se lasă pană absoarbe toată apa. Se potrivește de sare și piper și opțional se poate adăuga coriandru proaspăt tăiat fin.
Legumele se spală și se taie în bucați mai mari. Fasolea verde se fierbe în prealabil 15 minute , dacă este congelată nu este nevoie de fierbere aceasta fiind deja semi-fiartă.
Se încinge uleiul într-un wok (se poate folosi și o cratiță în lipsa acestuia) și se adaugă legumele, călindu-se timp de aprox. 4-5 minute, la foc iute și amestecandu-se continuu.
Se adaugă ghimbirul ras, coriandrul și usturoiul tăiat fin și se mai călesc 2-3 minute. La sfarșit se adaugă sosul de soia și se potrivește de sare și piper. Se servesc alături de quinoa (orez).
Notă: se pot folosi și alte legume: ciuperci, castravete, varză albă, muguri de bambus, vlăstari de fasole etc.