22 September, 2013
Pumpkin piePlacinta cu dovleacPompoen cakeTorta di zucca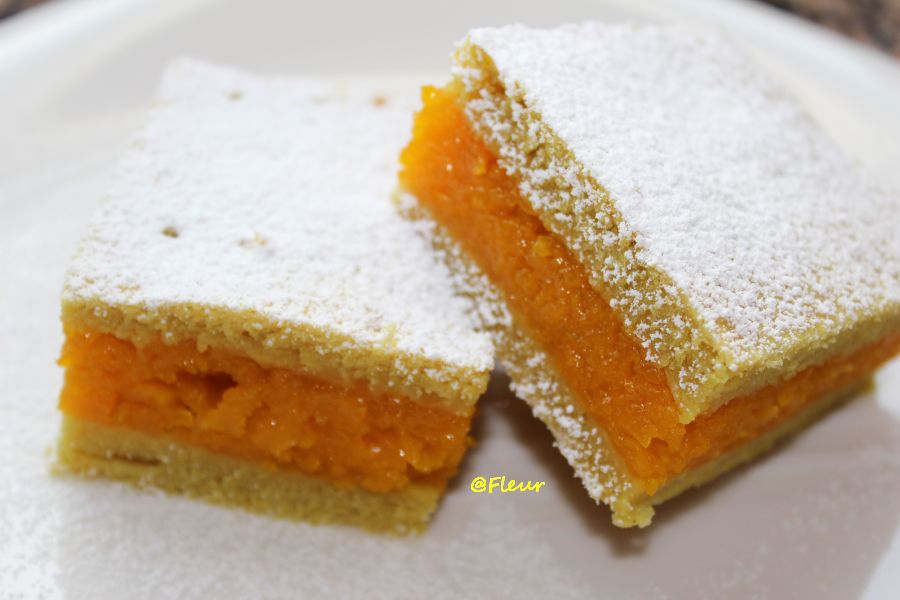 Comments : 3 Posted in :
Breakfast
,
Desserts
on
by :
fleur
Tags:
deserturi vegane
,
mancare vegana
,
retete vegane
for a mid-size tray, for a big one dubbel the quantities
For the dough:
150 g margarine (see recipe here)
500 g flour
1 ½ small cup  raw sugar
1 small cup soy milk
15 g baking powder
For the filling:
1.5 kg pumpkin
1 small cup  raw sugar
1 tablespoon oil
Mix the margarine  with the soy milk and the sugar. When the sugar has melted add the baking powder and sprinkle the flour, little by little until incorporats into the composition. Grease your hands with a little bit of oil (and if needed also the dough) and knead slightly. Refrigerate until you prepare the filling.
Peel the pumpkin and grate. Heat the oil in a big saucepan, add the grated pumpkin and the sugar. Cook until  is softened (about 10 minutes). Allow to cool slightly.
Divide the dough into two equal parts and roll them to the size of the tray. Place one sheet of dough in the tray, add pumpkin filling and spread evenly,  place the other dough sheet on top. Prick the dough with a fork / toothpick and bake at medium heat for 30-40 minutes.
Serve warm or cold.
Pentru aluat:
150 g margarină pentru aluat (vezi rețeta aici)
500 g făină
1 ½ cană mică (de cafea) zahăr brut
1 cană mică (de cafea) lapte de soia
1 plic praf de copt
Pentru umplutură:
1,5 kg dovleac
1 cană mică zahăr brut
1 lingură ulei
Margarina se amestecă cu laptele de soia și zahărul brut. Cand zahărul s-a topit se adaugă praful de copt și făina, în ploicică, încorporandu-se în compoziție. Cand capătă consistența unui aluat se ung mainile cu ulei (și dacă este nevoie si aluatul) și se frămantă puțin.  Aluatul se dă la rece pană cand preparăm umplutura.
Dovleacul curățat de coajă se dă prin răzătoarea mare. Într-o cratiță se pun uleiul, dovleacul ras și zahărul. Se călește pană cand dovleacul se înmoaie (aprox. 10 minute). Se lasă puțin să se răcească.
Se unge o tavă, de mărime medie, cu ulei și se tapetează cu făină (dacă folosiți o tavă mare de cuptor va trebui să dublați cantitățile de mai sus).
Aluatul se împarte în două părți egale și  se întind la mărimea tăvii. Se așează o foaie de aluat în tavă, se adaugă umplutura de dovleac,  se întinde uniform iar deasupra se adaugă foaia de aluat rămasă. Se înțeapă aluatul cu ajutorul unei furculițe/scobitori și se dă la cuptor, la foc potrivit, timp de 30-40 minute.
Per una teglia di medie dimensioni, per una grande raddoppiate le dosi:
150 g di margarina (vedere la ricetta
qui
)
1 1/2 tazza piccola di zucchero di canna grezzo
1 tazza piccola di latte di soia
15 g di lievito in polvere
1 tazza piccola di zucchero di canna grezzo
Mescolate la margarina con il latte di soia e lo zucchero. Quando lo zucchero si è sciolto aggiungete il lievito in polvere e spargete la farina, poco a poco, fino a che non sia incorporata nel composto. Ungete le vostre mani con un po' d'olio (e se necessario anche l'impasto) ed impastate leggermente. Fate riposare in frigo mentre preparate il ripieno.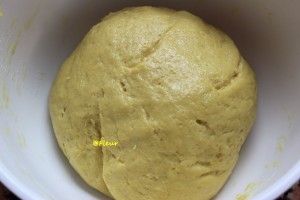 Pelate la zucca e grattugiatela. Scaldate l'olio in una padella grande, aggiungete la zucca grattugiata e lo zucchero. Fate cuocere fino a che non sia morbida (circa 10 minuti). Lasciate raffreddare un po'.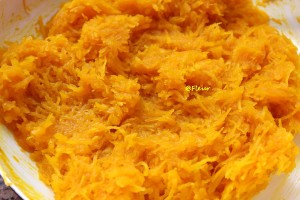 Dividete la pasta in due parti uguali e stendetela seguendo le dimensioni della teglia. Posizionate una sfoglia di pasta nella teglia, aggiungete il ripieno di zucca e distribuitelo in modo uniforme, quindi mettete l'altra sfoglia in cima. Forate l'impasto con una forchetta / stuzzicadenti e fate cuocere in forno a temperatura media per 30-40 minuti.
3s COMMENTS