Thursday September 26th, 2013
Vegan "pasca"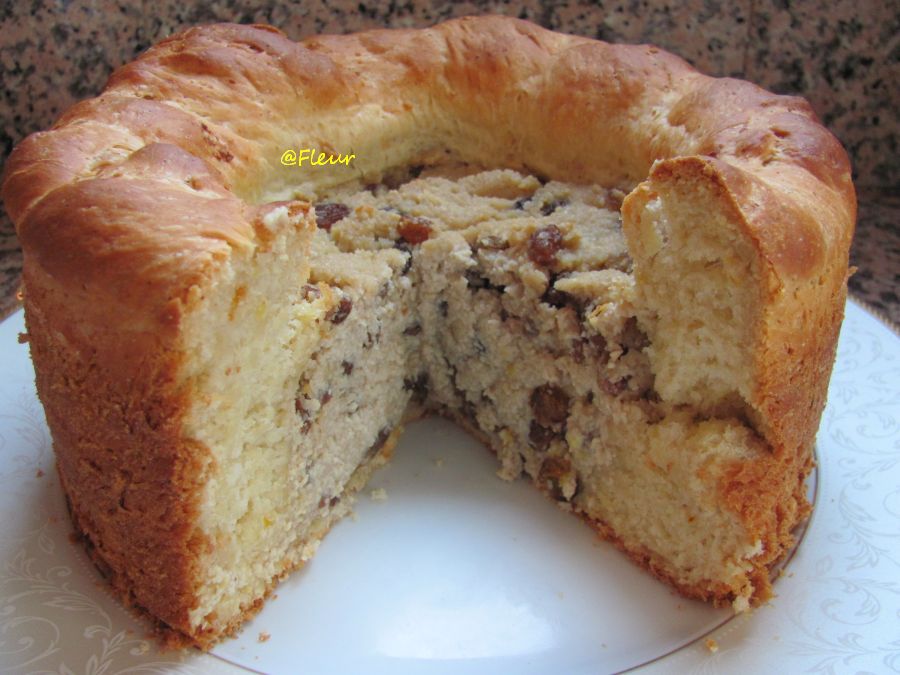 Posted in :
Desserts
,
Easter menu
on
by :
fleur
Tags:
deserturi vegane
,
mancare vegana
,
retete vegane
,
tofu
For 6-8 servings:
26 cm (spring) form
For the dough:
1/2 kg flour
125 g margarine
1 cup soy milk
125 g raw sugar
15 g dry yeast ( 40 g fresh yeast )
1 tsp. vanilla essence
zest of an orange / lemon (optional )
saffron / a pinch turmeric (optional, for  color)

Mix the saffron/turmeric with the soymilk.
Mix together the flour, yeast, sugar and margarine. Add the vanilla essence, soy milk, orange/lemon zest and knead for approx. 10 minutes.
The dough should not stick to the hands, if so add a little bit more flour. Cover with a clean kitchen towel and let rise in a warm place until doubled in volume (about one and a half hour ) .
Divide the dough  into two equal parts, roll one part and place it on the bottom of the form. Divide the other part into 3, make 3 rolls and braid. Put it on the edge of the (spring) form, leaving a free space in the middle where you will add the filling.
For the filling:
300 g tofu
200g raisins
80 g raw sugar
2 tsp vanilla essence
50 ml amaretto / rom
zest of 2 oranges / lemons
2-3 tablespoons breadcrumbs
Soak the raisins for a few hours  in amaretto or rum.
Blend the tofu until a paste. Add the sugar, vanilla extract, orange or lemon zest, raisins, bread crumbs and mix well. Refrigerate for 2-3 hours.
Put the filling in the middle of the cake.
Bake  (in the preheated oven) on medium heat, for about 45 minutes. Check with a straw if the dough is baked inside, if the dough sticks to the straw bake for a few minutes longer. Allow  to cool than remove from the (spring) form.