26 September, 2013
Vegan "pasca"Pasca veganaVegan "pasca""Pasca" (dolce tipico pasquale rumeno) vegana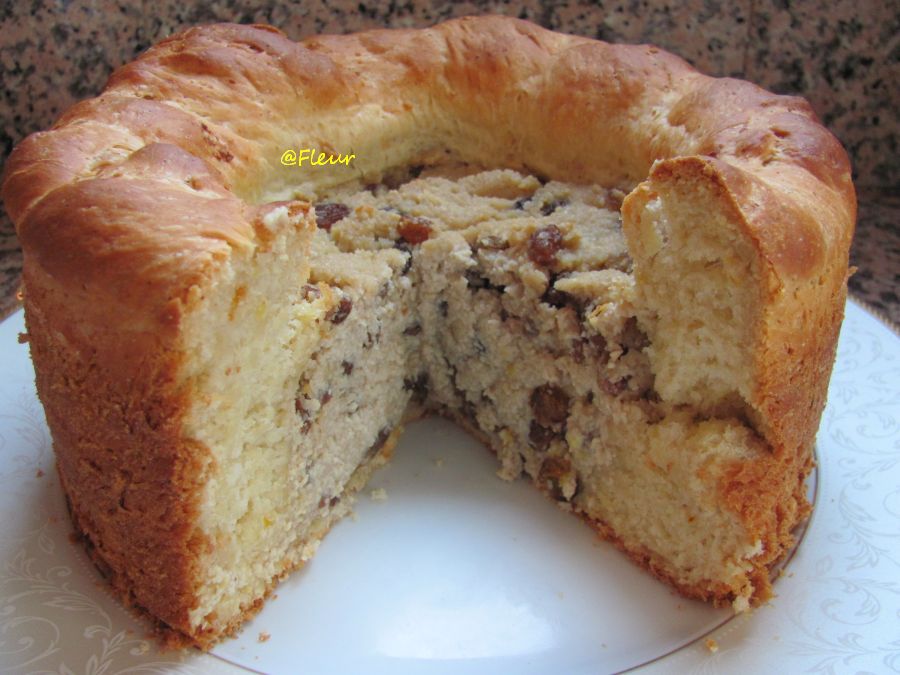 Posted in :
Desserts
,
Meniu pentru Paste
on
by :
fleur
Tags:
deserturi vegane
,
mancare vegana
,
retete vegane
,
tofu
For 6-8 servings:
26 cm (spring) form
For the dough:
1/2 kg flour
125 g margarine
1 cup soy milk
125 g raw sugar
15 g dry yeast ( 40 g fresh yeast )
1 tsp. vanilla essence
zest of an orange / lemon (optional )
saffron / a pinch turmeric (optional, for  color)

Mix the saffron/turmeric with the soymilk.
Mix together the flour, yeast, sugar and margarine. Add the vanilla essence, soy milk, orange/lemon zest and knead for approx. 10 minutes.
The dough should not stick to the hands, if so add a little bit more flour. Cover with a clean kitchen towel and let rise in a warm place until doubled in volume (about one and a half hour ) .
Divide the dough  into two equal parts, roll one part and place it on the bottom of the form. Divide the other part into 3, make 3 rolls and braid. Put it on the edge of the (spring) form, leaving a free space in the middle where you will add the filling.
For the filling:
300 g tofu
200g raisins
80 g raw sugar
2 tsp vanilla essence
50 ml amaretto / rom
zest of 2 oranges / lemons
2-3 tablespoons breadcrumbs
Soak the raisins for a few hours  in amaretto or rum.
Blend the tofu until a paste. Add the sugar, vanilla extract, orange or lemon zest, raisins, bread crumbs and mix well. Refrigerate for 2-3 hours.
Put the filling in the middle of the cake.
Bake  (in the preheated oven) on medium heat, for about 45 minutes. Check with a straw if the dough is baked inside, if the dough sticks to the straw bake for a few minutes longer. Allow  to cool than remove from the (spring) form.
Coca pentru cozonac (vezi reteta aici)
Pentru 6 porții medii am folosit jumătate din cantitățile ingredientelor pentru cozonac (500 g făină).
Mai departe se urmează aceiași pași ca și la rețeta de cozonac.
După creștere coca se împarte  în două părți egale, o parte se întinde și se așează pe fundul formei. Restul de cocă se împarte în 3, se fac rulouri și se împletește. Se așează pe marginea formei lăsând un spațiu liber în mijloc unde se va adăuga umplutura.
Umplutura:
300g tofu
200g stafide
80g zahăr brut
2 lingurițe esență de vanilie
50 ml amaretto/rom
coaja rasă de la 2 portocale/lămâi
2-3 linguri pesmet
Stafidele se vor lăsa câteva ore la înmuiat în amaretto sau rom.
Tofu se pasează până se obține o pastă. Se adaugă zahărul, esența de vanilie, coaja rasă de portocală/lămâie, stafidele, pesmetul și se amestecă bine. Se dă 2-3 ore  la
frigider pentru ca tofu să preia aroma condimentelor.
 Se așează apoi în mijlocul pascăi.
Se coace în cuptor, la foc mediu, aprox. 45 minute. Se verifică dacă coca s-a copt  cu ajutorul unui pai.
Per 6-8 porzioni
teglia (con bordi estraibili) da 26 cm
Per la pasta:
1/2 kg di farina
125 g margarina
1 tazza di latte di soia
125 g zucchero grezzo
15 g lievito secco (40 g lievito fresco)
1 cucchiaino di essenza di vaniglia
scorza di un'arancia / limone (opzionale)
zafferano / un pizzico di curcuma (opzionale, per dare colore)
Mescolate lo zafferano/la curcuma con il latte di soia.
Unite la farina, il lievito, lo zucchero e la margarina. Aggiungete l'essenza di vaniglia, il latte di soia, la scorza di arancio/limone e impastate per circa 10 minuti.
L'impasto non deve rimanere appiccicato alle mani, eventualmente aggiungete un po' di farina. Coprite con uno strofinaccio da cucina pulito e lasciate lievitare in un posto caldo finché il volume non sarà raddoppiato (un'ora e mezza circa).
Dividete la pasta in due parti uguali, spianatene una parte e ponetela sul fondo della teglia. Dividete l'altra parte in 3, ricavate 3 rotoli e intrecciateli. Metteteli sulla sommità della teglia (con bordi estraibili), lasciando uno spazio vuoto al centro, dove aggiungerete il ripieno.
Per il ripieno:
300 g di tofu
200 g di uva passa
80 g zucchero grezzo
2 cucchiaini di essenza di vaniglia
50 ml amaretto / rum
scorza di 2 arance / limoni
2-3 cucchiai da tavola di mollica di pane
Lasciate in ammollo l'uva passa per qualche ora nell'amaretto o nel rum.
Frullate il tofu fino a renderlo una pasta. Aggiungete lo zucchero, l'estratto di vaniglia, la scorza di arancio o di limone, l'uvetta, la mollica di pane e mescolate bene. Lasciate riposare in frigo per 2-3 ore.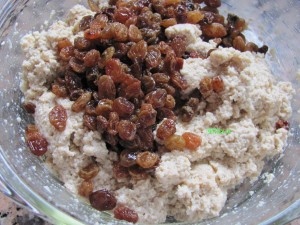 Mettete il ripieno al centro del dolce.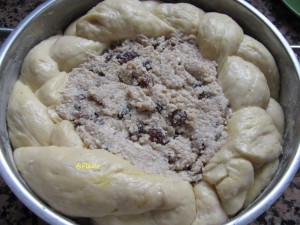 Fate cuocere (nel forno preriscaldato) a temperatura media, per circa 45 minuti. Controllate con una cannuccia se l'interno dell'impasto è cotto, se l'impasto rimane attaccato alla cannuccia, fate cuocere qualche minuto in più. Lasciate raffreddare, quindi togliete dalla teglia ( con bordi estraibili).