26 September, 2013
Cozonac (romanian panettone)Cozonac veganCozonac (roemeense panettone)Cozonac (panettone rumeno)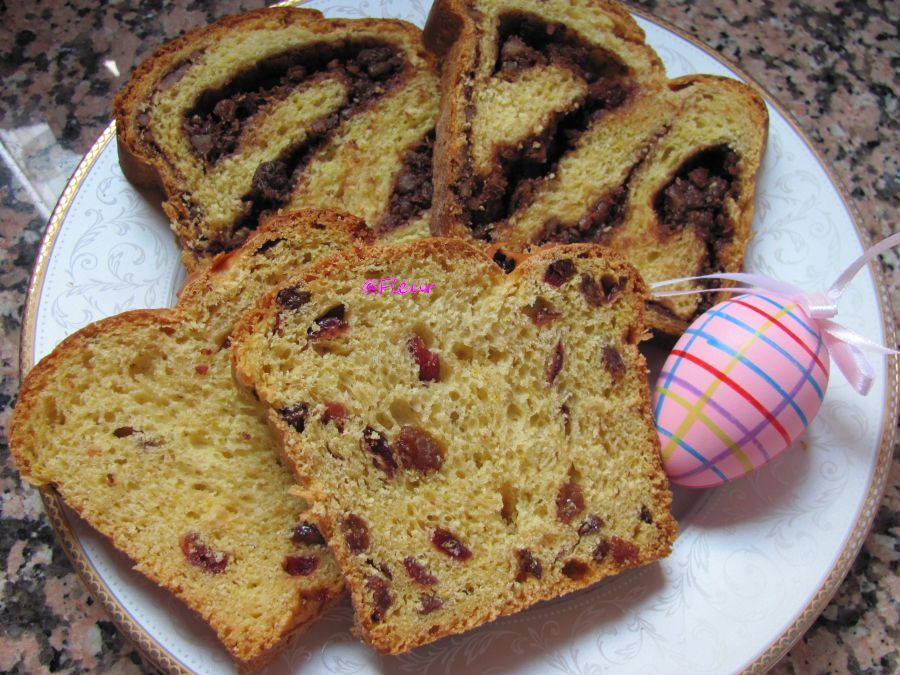 Posted in :
Christmas menu
,
Desserts
,
Meniu pentru Paste
,
Pastry
on
by :
fleur
Tags:
deserturi vegane
,
mancare vegana
,
retete vegane
Ingredients for 2 cozonaci:
1 kg flour
250 g margarine
2 cups soy milk
250 g raw sugar
15 g dry yeast ( 30g fresh yeast )
300g raisins
2 tsp. vanilla essence
zest of an orange / lemon (optional )
saffron / 1/4 tsp. turmeric (optional, for a nice color)

Mix the saffron/turmeric with the soymilk.
Mix together the flour, yeast, sugar and margarine. Add the vanilla essence, soy milk, orange/lemon zest and knead for approx. 10 minutes.
The dough should not stick to the hands, if so add a little bit more flour. Cover with a clean kitchen towel and let rise in a warm place until doubled in volume (about 2 hours ) .
Add the raisins and  knead for approx. 5 minutes.
Divide the dough into two equal pieces and put each piece into cake form. You can also shape the dough into 2/3 ropes and braid.
Variation: with walnut filling:
300 g walnuts, ground
100 g raw sugar
200 g raisins soaked in amaretto / rum
3 tablespoons cocoa
a little bit warm soy milk
Mix all the ingredients for the filling adding the soy milk little by little until you get a paste.
Roll the dough with a rolling pin, add the walnut filling on top and spread evenly. Roll.
Let it rise again in a warm place for about an hour.
Bake at medium heat (175 C), in a pre-heated oven,  approx. 45-60 minutes. Do not open the oven door during this time!
Check with a straw if it is baked inside otherwise continue baking a few minutes longer.
Allow to cool in the baking form.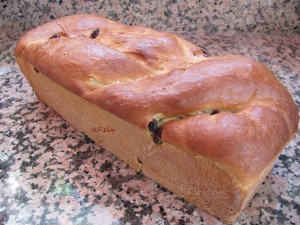 Ingrediente pentru 2 cozonaci:
1 kg de făină
250 g margarină
2 cani lapte de soia
250 g zahăr brut
15 g drojdie uscată (drojdie proaspata 30g)
300 g stafide
2 lingurite esenta de vanilie
coaja unei portocale / lamaie (optional)
șofran / 1/4 lingurita turmeric (opțional, pentru o culoare frumoasa)
Se amestecă sofranul / turmericul cu lapte de soia.
Se amesteca faina, drojdia, zaharul și margarina. Se adauga esenta de vanilie, laptele de soia, coaja de portocala / lamiae  si se framanta cca. 10 minute.
Aluatul nu trebuie sa se lipeasca de maini, in caz contrar se mai adauga faina sau lapte de soia, dupa caz.
Se acopera  cu un prosop curat de bucatarie si se lasa la crescut, într-un loc cald, până când se va dubla în volum (aproximativ 2 ore).
Se adauga stafidele si se framanta, din nou, cca.  5 minute.
Se imparte aluatul in dua parti egale si se aseaza in doua forme (de chec). De asemenea, se poate imparti fiecare parte la randul ei in 2/3 parti, se ruleaza si se impletesc.
Variantă: cu umplutură de nuca
300 g nuci, macinate
100 g zahăr brut
200 g stafide înmuiate în amaretto / rom
3 linguri cacao
un pic lapte de soia cald
Se amestecă toate ingredientele pentru umplutura adăugând laptele de soia puțin câte puțin până când se va obține o pastă.
Rulati aluatul cu un sucitor, se adaugă umplutura și se distribuie uniform.  Se ruleaza.
Se lasa  din nou la crescut într-un loc cald, timp de aproximativ o ora.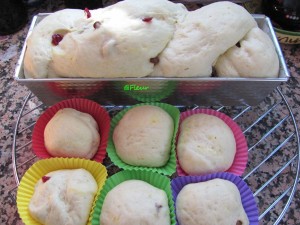 Se da la cuptor (incalzit in prealabil), la foc potrivit (175 C), aprox. 45-60 minute. Nu se deschide cuptorul in acest timp!
La sfarsit se incearca cu un pai daca este copt inauntru. In caz contrar se continua coacerea inca cateva minute.
Se lasa la racit in forma.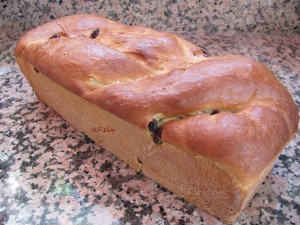 Ingredienti per 2 cozonaci:
1 kg di farina
250 g di margarina
2 tazze di latte di soia
250 g di zucchero di canna grezzo
15 g di lievito secco (30 g di lievito fresco)
300 g di uvetta
2 cucchiaini di essenza di vaniglia
la scorza di un'arancia/limone (opzionale)
zafferano/1/4 di cucchiaino di curcuma (opzionale, per un bel colore)
Mescolate lo zafferano/la curcuma con il latte di soia.
Mischiate insieme la farina, il lievito, lo zucchero e la margarina. Aggiungete l'essenza di vaniglia, il latte di soia, la scorza di arancia/limone ed impastate per
circa 10 minuti.
L'impasto non deve rimanere appiccicato alle mani, se lo fa aggiungete un po' di farina. Coprite con uno strofinaccio da cucina pulito e lasciate lievitare in un ambiente caldo, fino a che non sia raddoppiato in volume (circa 2 ore).
Aggiungete l'uvetta ed impastate per 5 minuti circa.
Dividete l'impasto in 2 parti uguali e mettete ciascuna parte in uno stampo da dolci. Potete anche formare 2/3 rotolini con la pasta ed intrecciarli.
Variante: con ripieno di noci
300 g di noci, come base
100 g di zucchero di canna grezzo
200 g di uvetta ammollata nell'amaretto/rum
3 cucchiai di cacao
un po' di latte di soia caldo
Mescolate tutti gli ingredienti per il ripieno, aggiungendo il latte di soia un poco alla volta, fino ad ottenere una pasta.
Spianate l'impasto con un mattarello, aggiungetevi sopra il ripieno di noci e distribuite uniformemente. Spianate.
Lasciate lievitare di nuovo in un'ambiente caldo per circa un'ora.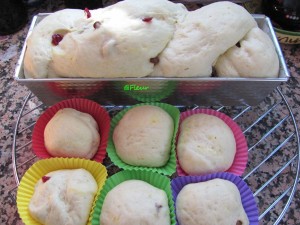 Fate cuocere a temperatura media (175 C),  nel forno preriscaldato, circa 45-60 minuti. Non aprite il forno in questo lasso di tempo!
Controllate con uno stecchino se l'interno è cotto, altrimenti fate cuocere ancora qualche minuto.
Lasciate raffreddare nella tortiera.