Thursday September 26th, 2013
Cozonac (romanian panettone)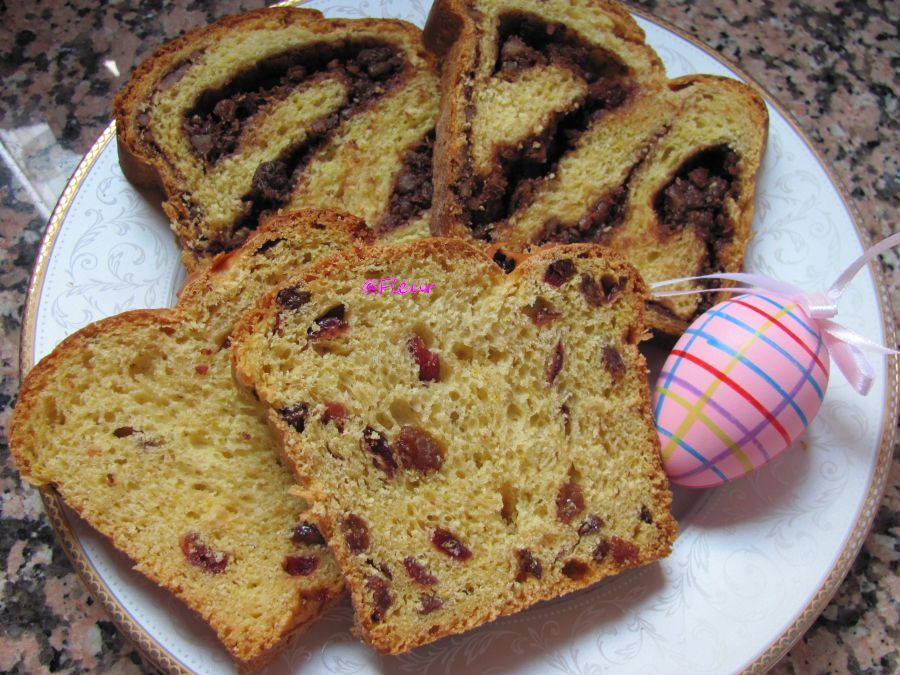 Posted in :
Christmas menu
,
Desserts
,
Easter menu
,
Pastry
on
by :
fleur
Tags:
deserturi vegane
,
mancare vegana
,
retete vegane
Ingredients for 2 cozonaci:
1 kg flour
250 g margarine
2 cups soy milk
250 g raw sugar
15 g dry yeast ( 30g fresh yeast )
300g raisins
2 tsp. vanilla essence
zest of an orange / lemon (optional )
saffron / 1/4 tsp. turmeric (optional, for a nice color)

Mix the saffron/turmeric with the soymilk.
Mix together the flour, yeast, sugar and margarine. Add the vanilla essence, soy milk, orange/lemon zest and knead for approx. 10 minutes.
The dough should not stick to the hands, if so add a little bit more flour. Cover with a clean kitchen towel and let rise in a warm place until doubled in volume (about 2 hours ) .
Add the raisins and  knead for approx. 5 minutes.
Divide the dough into two equal pieces and put each piece into cake form. You can also shape the dough into 2/3 ropes and braid.
Variation: with walnut filling:
300 g walnuts, ground
100 g raw sugar
200 g raisins soaked in amaretto / rum
3 tablespoons cocoa
a little bit warm soy milk
Mix all the ingredients for the filling adding the soy milk little by little until you get a paste.
Roll the dough with a rolling pin, add the walnut filling on top and spread evenly. Roll.
Let it rise again in a warm place for about an hour.
Bake at medium heat (175 C), in a pre-heated oven,  approx. 45-60 minutes. Do not open the oven door during this time!
Check with a straw if it is baked inside otherwise continue baking a few minutes longer.
Allow to cool in the baking form.