Saturday September 21st, 2013
Eggplant moussaka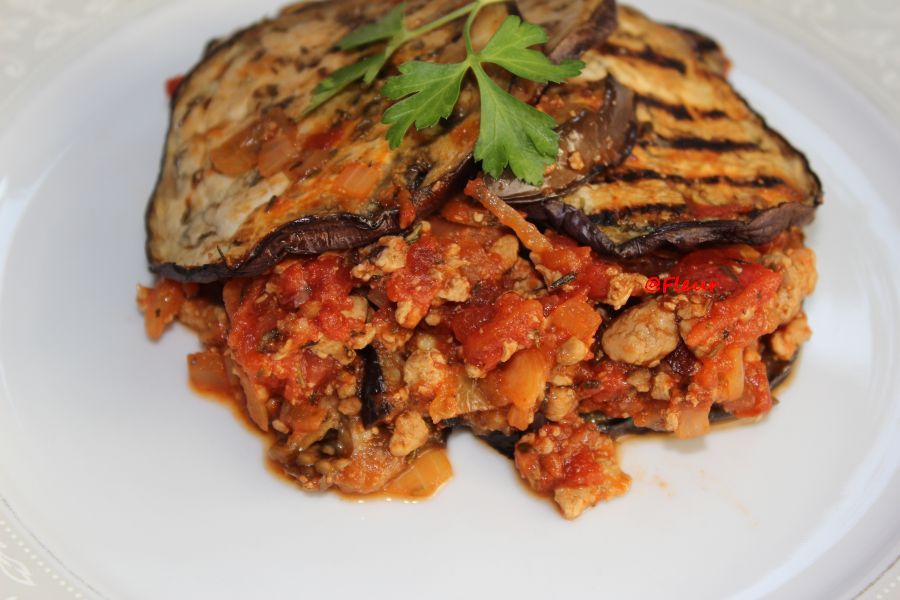 Posted in :
Main dishes
on
by :
fleur
Tags:
mancare vegana
,
retete vegane
,
tofu
,
vinete
For 4-5 servings:
4-5 eggplants
For the filling:
2 packs tofu (about 700g )
2 onions, finely chopped
4 tablespoons mix seasoning
1 tablespoon dried thyme
2 teaspoons paprika powder
1 kg tomatoes / 800 g can diced tomatoes
5-6 cloves of garlic, finely chopped
1 tablespoons oil
salt and pepper
Drain tofu well. Crush it with a fork, add all the spices, the garlic, salt and pepper to taste and mix. Refrigerate for several hours.
Heat the oil in a saucepan and stir fry the onions for 2-3 minutes. Add the tomatoes. Cover and simmer till the sauce thicken, than add the tofu.
Cut the eggplants in slices of approx. 0.5 cm and grill approx. 1-2 minutes on each side.
Put half of the eggplant slices in an oven pan, add  the tofu mix and spread evenly. Top the mix with the remaining eggplant slices.
Sprinkle some dried thyme and brush with a little oil / tomato sauce to prevent it from drying. Bake until the eggplant is golden brown (20-30 minutes).
Variation: instead of tofu you can use soya granules.