Wednesday January 1st, 2014
Potatoes masala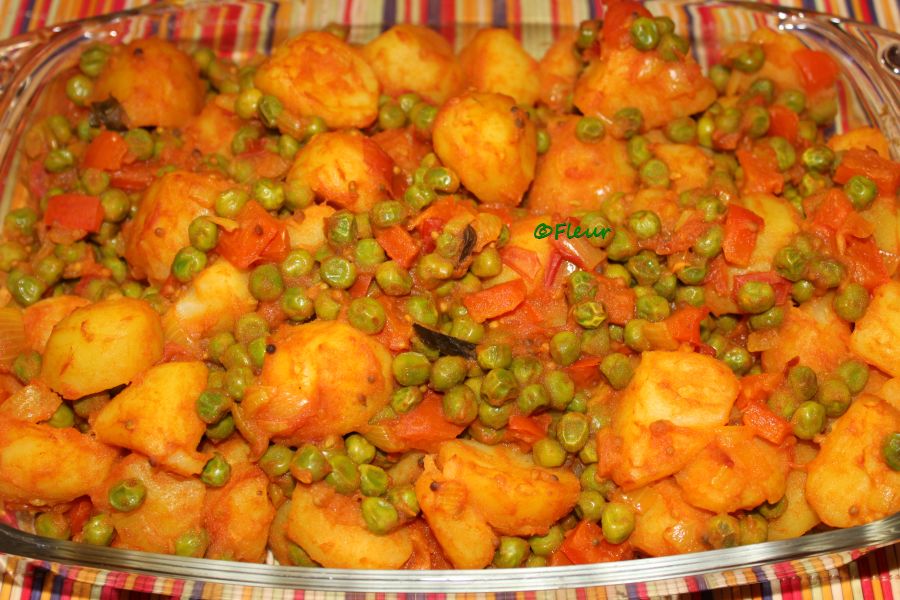 Comments : 6 Posted in :
Main dishes
on
by :
fleur
Tags:
mancare indiana
,
mancare vegana
,
retete cartofi
,
retete vegane
For 3-4 servings:
½ kg potatoes, cubed
½ kg frozen peas
2 peppers, chopped
4 onions, chopped
4 tomatos, chopped
2 cm ginger, grated ( 1 tsp ginger powder)
2 teaspoons turmeric
2 teaspoon mustard seeds
1 teaspoon garam masala
fresh chilli / chilli powder, to taste
1 tablespoon tomato pasta
2 tablespoons oil
salt
Cook the potatoes in water with 1 teaspoon of turmeric. Drain the water.
Heat the oil in a pan and add the mustard seeds. As they begin to pop add the onion and the green peppers. Stir fry for a few minutes ( 2-3) then add the remaining ingredients and the rest of the turmeric. Cook for another few minutes, stirring occasionally, if necessary add a little bit of water.
Add the potatoes, the peas and salt to taste and cook for another 2 minutes.
Serve with basmati rice/biryani and/or naan bread.
6s COMMENTS