Wednesday January 1st, 2014
Seitan chili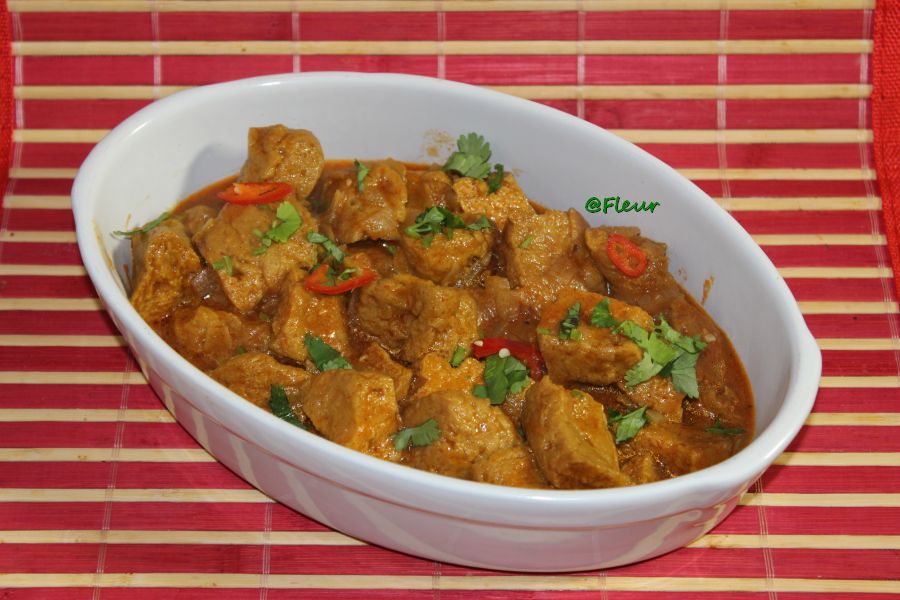 Posted in :
Main dishes
on
by :
fleur
Tags:
mancare indiana
,
mancare vegana
,
retete vegane
,
seitan
Seitan made from 1 kg flour (see recipe here )
1 teaspoon paprika
1 teaspoon onion powder
1 teaspoon garlic powder
½ teaspoon turmeric
2 onions, chopped
1 bell pepper, finely sliced
3-4 tablespoons tomato puree
4 cloves of garlic
2 cm ginger
1 tsp coriander powder
1 teaspoon garam masala
fresh chilli /chilli powder, to taste
2 tablespoons oil
salt
Fresh coriander, finely chopped, for garnish (optional )
When you make the seitan dough add the paprika powder, the onion powder and the garlic powder. Than follow the seitan recipe.
Cut the well drained seitan  into pieces (2×2 cm, it will increase the volume) and cook it in water with a little bit salt and the turmeric, approx. 20 minutes. Leave it to drain .
Prepare a paste of ginger and garlic.
Dissolve the tomato puree  in a glass of water and add the spices.
Heat the oil in a pan and stir fry the onion for 2-3 minutes. Add  the bell pepper, the paste of ginger and garlic and the tomato puree. Cook for 1-2 minutes and than add the seitan . Cover and simmer for 15-20 minutes, stirring frequently ( if needed add a little bit of water).
Garnish with fresh coriander .
Serve with basmati rice/biryani and/or naan bread.