Sunday November 17th, 2013
Vegan hachee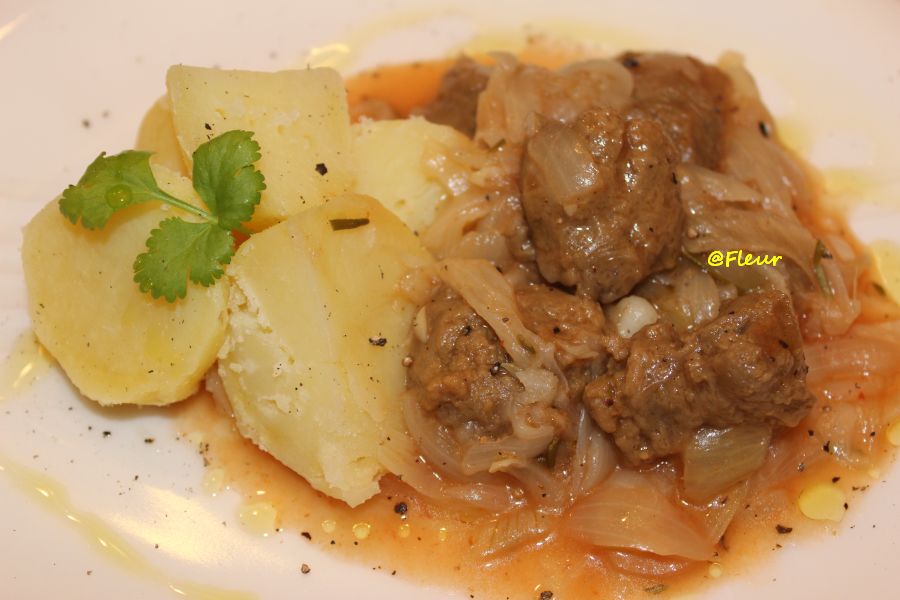 Posted in :
Main dishes
on
by :
fleur
Tags:
mancare vegana
,
retete vegane
,
seitan
For 3-4 servings:
Seitan, uncooked and cut in pieces (see the recipe here)
When you prepare  the seitan dough add:
1 teaspoon paprika powder
1 teaspoon onion powder
1 teaspoon garlic powder
½ tsp carob powder (for color)
For the sauce:
1 kg onion
3 bay leaves
2-3 cloves
1 teaspoon thyme
1 teaspoon rosemary
½ l beer
2-3 tbsp tomato puree
2tbsp flour
1 tablespoon oil
salt and pepper, to taste
Slice the onions and fry them a few minutes in oil, along with the spices. Add the beer and the seitan pieces. Cover and simmer until the seitan and onions are well-done. If needed add a little bit water.
Add the tomato puree and the flour and continue cooking for another few minutes. Add salt and papper  to taste.
Serve with boiled potatoes.
Note: Hachee is a traditional Dutch dish.