23 November, 2013
Cauliflower with bechamel sauceConopida cu sos albBoemkool met bechamel saus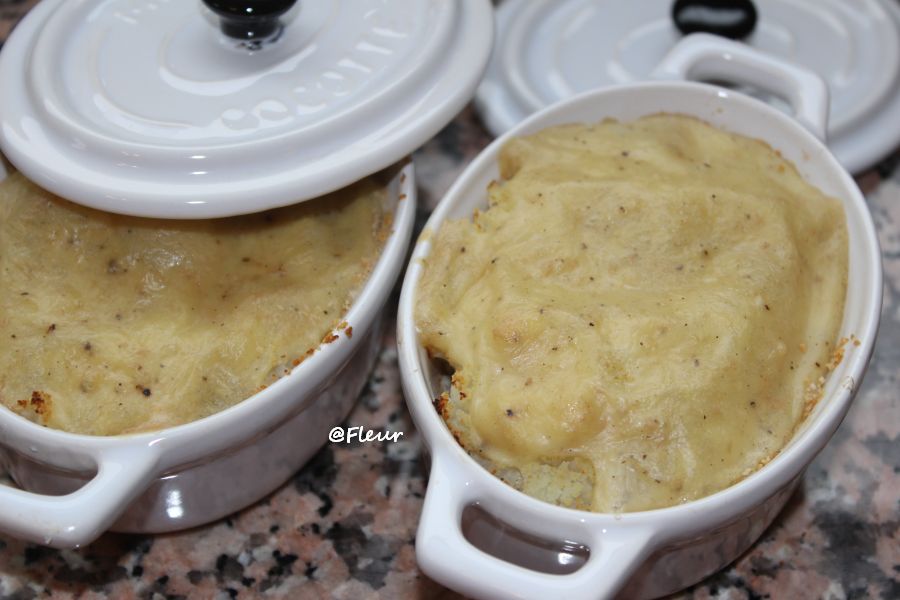 Posted in :
Main dishes
on
by :
fleur
Tags:
mancare vegana
,
retete cartofi
,
retete conopida
,
retete vegane
1 cauliflower
oil to grease the oven tray
2 tablespoons breadcrumbs
For the bechamel sauce:
500 ml unsweetened soy milk
5 tablespoons flour
5 tablespoons oil
2 tablespoons nutritional yeast
salt, pepper
Cut the cauliflower into florets, wash and cook  in water with a little bit of salt. Drain.
Heat the oil in a saucepan, add the flour and fry for 1-2 minutes, stirring continuously. Add the soy milk (at the room temperature or slightly warmed ), little by little, stirring continuu (to prevent lumps forming). Cook the sauce  2-3 minutes, turn the heat off, add the nutritional yeast, salt and pepper to taste. The sauce should not be too thin nor too thick.
Grease an oven tray with oil and coat it with breadcrumbs. Place the cauliflower florets and pour  the sauce over, also between the cauliflower florets.
Bake in the over until light brown (15-20 minutes).
Variation: Instead of cauliflower you can use potatoes.
1 conopidă
ulei pentru uns tava
2 linguri pesmet
Pentru sos:
500 ml lapte de soia neîndulcit
5 linguri de făină
5 linguri de ulei
2 linguri drojdie inactivă
sare,piper
Conopida se taie in buchețele, se spală și se fierbe în apă cu puțină sare.  Se lasă la scurs.
Într-o crăticioară se încinge uleiul, se adaugă făina și se rumenește 1-2 minute, amestecându-se continuu. Se adaugă laptele de soia (la temperatura camerei sau usor încălzit), puțin câte puțin, amestecându-se constinuu (altfel se formează cocoloașe). Se fierbe 2-3 minute, se stinge focul, se adaugă drojdia inactivă și se potrivește de sare și piper. Sosul trebuie să aibă consistența unei ciulamale mai subțiri.
Se unge o tavă de cuptor cu ulei și se tapetează cu pesmet. Se așează buchețelele de conopidă iar deasupra se toarnă sosul, având grijă ca acesta să pătrundă printre bucățelele de conopidă.
Se dă la cuptor până se rumenește (15-20 minute).
Variatie: în loc de conopidă se pot folosi cartofi.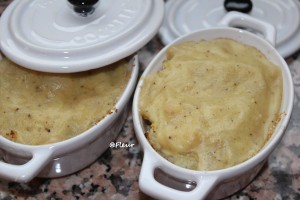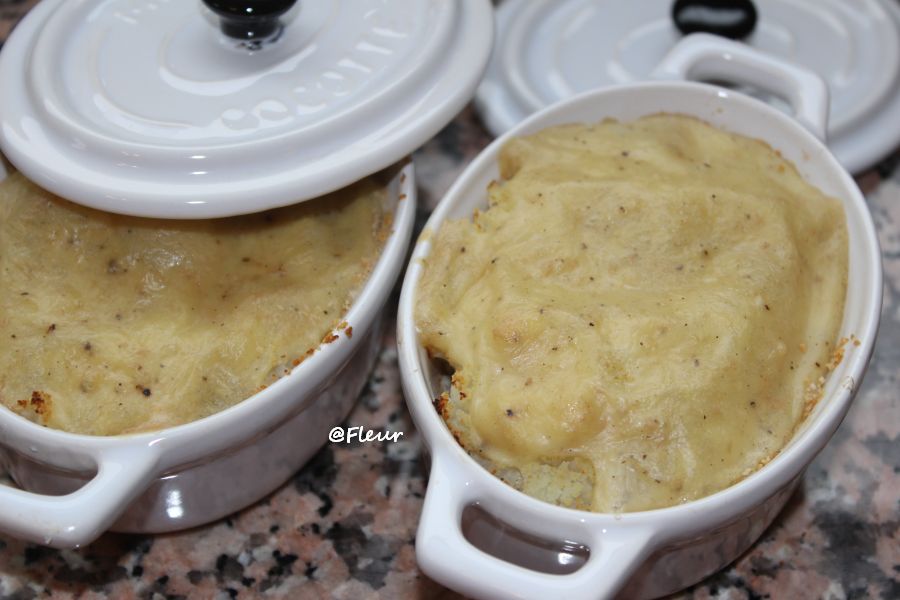 1 bloemkool
olie op de bakplaat in te vetten
2 eetlepels paneermeel
Voor de bechamelsaus:
500 ml ongezoete sojamelk
5 eetlepels bloem
5 eetlepels olie
2 eetlepels voedingsgist
zout, peper
Snij de bloemkool in roosjes, was en kook ze in water met een beetje zout. Giet het water af.
Verhit de olie in een pan, voeg de bloem toe en bak het 1 a 2 minuten voortdurend roeren. Voeg de sojamelk (bij kamertemperatuur of licht verwarmd) toe, beetje bij beetje, roer het continuu (om  klontjes te voorkomen ). Kook de saus 2 a 3 minuten, draai het vuur uit, voeg de voedingsgist, het zout en peper naar smaak toe. De saus moet niet te dun of te dik zijn.
Vet een ovenschaal in en smeer het met paneermeel in. Leg de bloemkoolroosjes erin en giet de saus erover, zorg ervoor dat de saus ook tussen de bloemkool stukken gaat.
Bak het in de oven tot  de bovenkant bruin wordt (15-20 minuten).
Variatie: In plaats van bloemkool kun je aardappelen gebruiken.