26 October, 2013
PretzelsCovrigiPretzels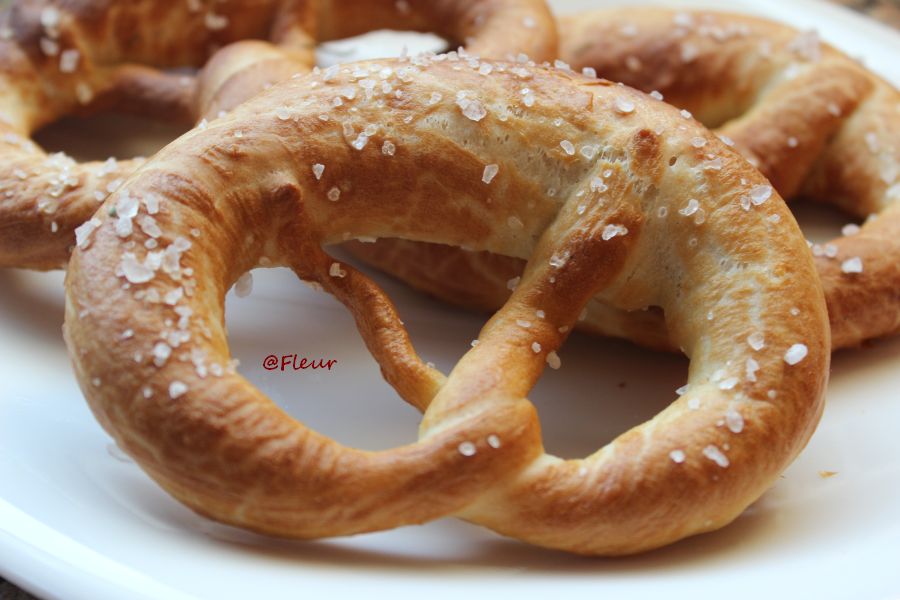 Posted in :
Pastry
on
by :
fleur
Tags:
deserturi vegane
,
mancare vegana
,
retete vegane
For 6 medium-size pretzels:
2 cups flour
1 cup warm water
2 teaspoons yeast
1 1/2 tsp raw sugar
1/2 teaspoon salt
1 tablespoon oil
coarse salt
poppy seeds (optional)
2 liters water
2 tablespoons baking soda
Mix the sugar and yeast in ½ cup of warm water. Allow to rest 10 minutes until the yeast begins to ferment. In a bowl, mix the flour, oil, salt, yeast and add the remaining water. The dough should be elastic.
Knead it for at least 5 minutes with the hands smeared with a little bit oil, to prevent sticking.
Allow the dough to rise for at least one hour, in a warm place, until the volume is doubled.
Divide the dough into six equal parts. Roll each part  on a work surface dusted with a little flour. The roll should be thicker in the middle and thinner at the ends. Place the roll in the form of the letter U …
… twist the ends twice, one over the other…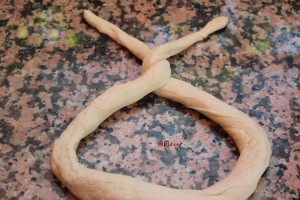 … attach them to the base.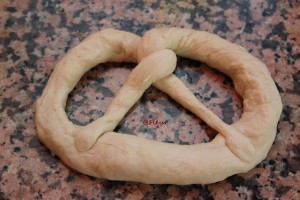 Bring 2 liters  water to a boil, add two tablespoons of baking soda. Dip the pretzels, carefully, one by one, into the hot water (they will float) for a few seconds and than place them on a baking tray. Sprinkle with coarse salt (and / or poppy seeds).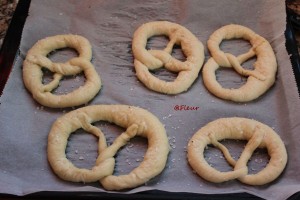 Bake them in the preheated oven, about 20 to 30 minutes.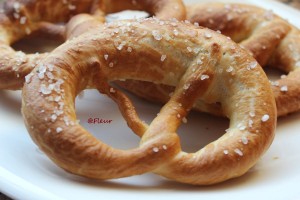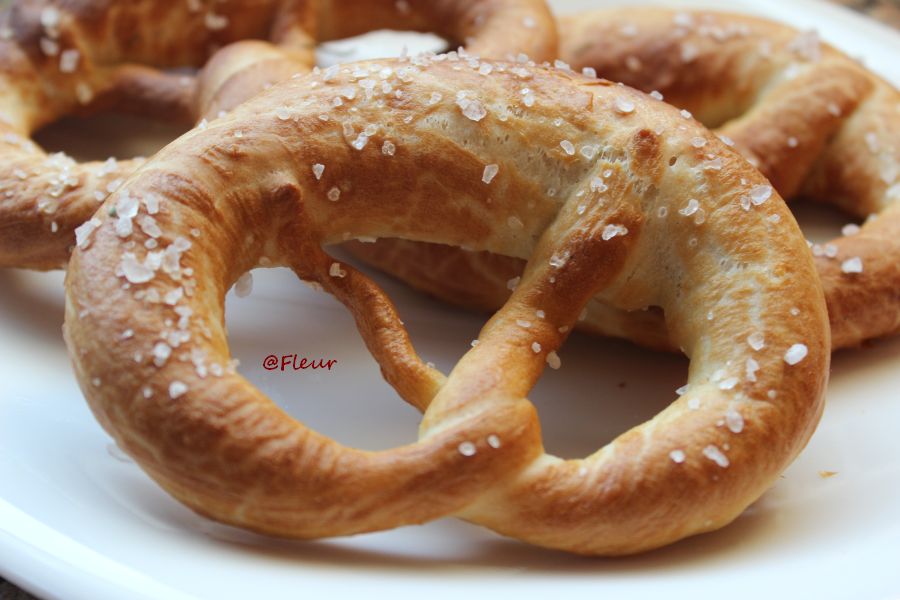 Pentru 6 covrigi de mărime medie:
2 căni făină
1 cană apă calduță
2 lingurițe drojdie uscată
1 1/2 linguriță zahăr brut
1/2 linguriță sare
1 lingură ulei
sare grunjoasă
mac (opțional)
2 l apă
2 linguri bicarbonat de sodiu
Se amestecă zahărul și drojdia în jumătate de cană de apă caldă. Se lasă să se odihnească 10 minute până când drojdia începe să fermenteze.
Într-un castron se amestecă făina, uleiul, sarea, drojdia și se adaugă restul de apă. Aluatul obținut trebuie sa fie elastic. Se frământă cel puțin 5 minute, cu mâinile unse cu puțin ulei pentru a preveni lipirea.
Se lasă aluatul la dospit, cel puțin o oră, într-un loc la căldură, până când se dublează în volum.
Se împarte aluatul în șase parți egale. Fiecare parte se rulează pe o suprafață de lucru tapetată cu puțină făină. Ruloul astfel obținut trebuie sa fie mai gros în mijloc și mai subțire spre capete. Se așează  în forma de U…
…se răsucesc capetele, unul peste celalalt, de două ori…
…apoi se atașează de bază.
Se fierb 2l apă cu două linguri de bicarbonat. Covrigii se scaldă, cu grijă, unul căte unul, în apa fierbinte, pentru câteva secunde (se vor ridica la suprafață) apoi se așează pe o tavă de cuptor.  Se presară cu sare grunjoasă (și mac).
 Se coc, în cuptorul încins în prealabil, aprox. 20-30 minute.
Voor 6 middelgrote pretzels:
2 kopjes bloem
1 kopje warm water
2 theelepels gist
1 1/2 theelepel ruwe suiker
1/2 theelepel zout
1 eetlepel olie
grof zout
maanzaad (optioneel)
2 l water
2 eetlepels sodium bicarbonate (baking soda)
Meng de suiker en gist in een ½ kopje warm water. Laat het 10 minuten rusten tot het begint te gisten.
Meng in een kom de bloem, olie, zout, gist en voeg het resterende water toe. Het deeg moet elastisch zijn. Kneed het deeg,  minstens 5 minuten, met de handen ingesmeerd met een beetje olie om plakken te voorkomen.
Laat het deeg op een warme plek ten minste  een uur rijzen tot het volume verdubbeld is.
Verdeel het deeg in zes gelijke delen. Rol elke deel met de handen. Het moet dikker in het midden zijn en dunner aan de einden. Leg de rol in de vorm van een letter U…
… twist de einden twee keer over elkaar  …
… plak ze aan de basis.
Kook 2 liter water met twee eetlepels baking soda. Dompel de pretzels , voorzichtig, een voor een, in het hete water, gedurende enkele seconden (ze gaan drijven) en plaats ze op een bakplaat. Bestrooi met grof zout (en/of maanzaad).
Bak ze, in een voorverwarmde oven, ca. 20 tot 30 minuten.