Saturday October 26th, 2013
Pretzels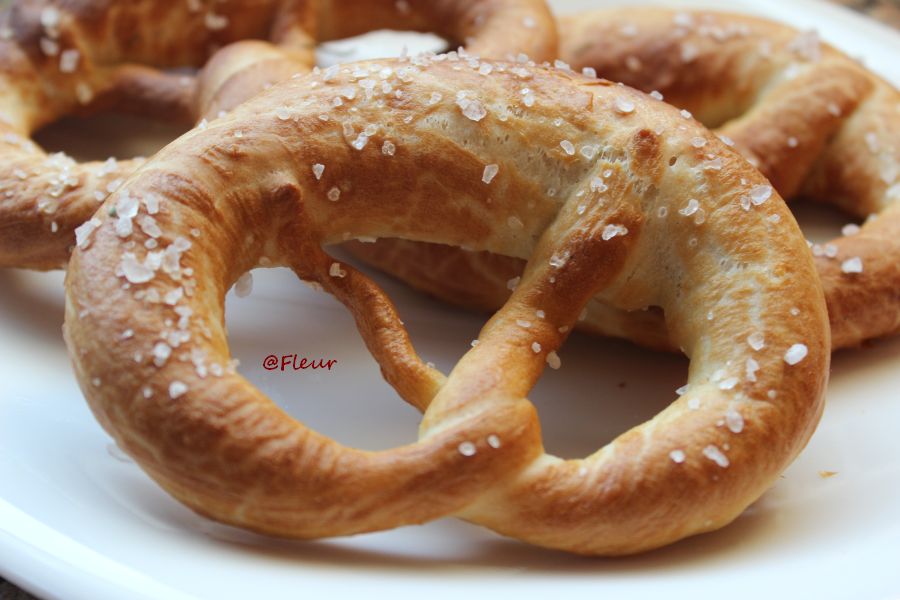 Posted in :
Pastry
on
by :
fleur
Tags:
deserturi vegane
,
mancare vegana
,
retete vegane
For 6 medium-size pretzels:
2 cups flour
1 cup warm water
2 teaspoons yeast
1 1/2 tsp raw sugar
1/2 teaspoon salt
1 tablespoon oil
coarse salt
poppy seeds (optional)
2 liters water
2 tablespoons baking soda
Mix the sugar and yeast in ½ cup of warm water. Allow to rest 10 minutes until the yeast begins to ferment. In a bowl, mix the flour, oil, salt, yeast and add the remaining water. The dough should be elastic.
Knead it for at least 5 minutes with the hands smeared with a little bit oil, to prevent sticking.
Allow the dough to rise for at least one hour, in a warm place, until the volume is doubled.
Divide the dough into six equal parts. Roll each part  on a work surface dusted with a little flour. The roll should be thicker in the middle and thinner at the ends. Place the roll in the form of the letter U …
… twist the ends twice, one over the other…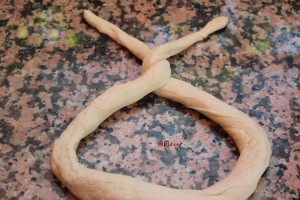 … attach them to the base.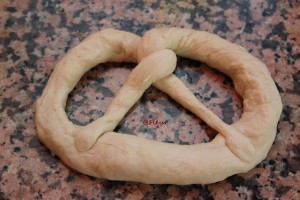 Bring 2 liters  water to a boil, add two tablespoons of baking soda. Dip the pretzels, carefully, one by one, into the hot water (they will float) for a few seconds and than place them on a baking tray. Sprinkle with coarse salt (and / or poppy seeds).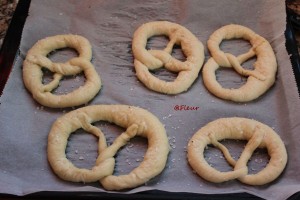 Bake them in the preheated oven, about 20 to 30 minutes.