Cocoa ice cream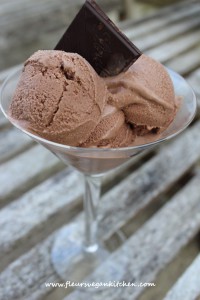 2 cups soymilk
250 ml soy creamer
1/2 cup raw sugar
3 tablespoons cocoa powder
2 teaspoons vanilla extract
2 tablespoons arrowroot powder
Dissolve the arrowroot powder in 1/2 cup of soymilk. Set aside.
In a saucepan mix the remaining soymilk, soy creamer and sugar, stir frequently on low heat and bring to boil. Remove from heat and add the arrowroot mixture, cocoa powder and vanilla extract.
Pour into a container with a lid and leave to cool in the refrigerator for 1-2 hours.
Freeze according to your  ice cream maker's instructions or, if you don't have an ice cream maker, place in the freezer.  After about an hour remove from the freezer and mix well, with a spoon (to prevent  crystals formation). Repeat the process 2-3 times.