Tuesday September 17th, 2013
Romanian vegetable sour soup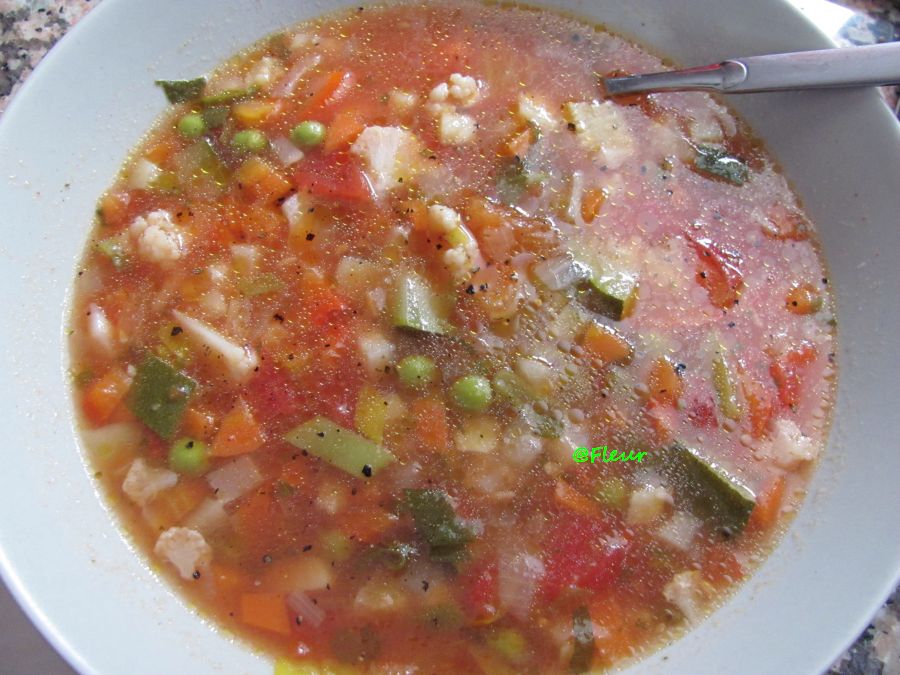 Comments : 1 Posted in :
Soups
,
Weight loss recipes
on
by :
fleur
Tags:
mancare vegana
,
retete vegane
,
supe/ciorbe
For 7-8 servings:
3 large onions
2 carrots
2 potatoes
1 parsnip
1 small celery root
100 g green beans
100 g cauliflower
100 g  peas
1 small zucchini
1/2 kg tomatoes, peeled and finely chopped / 1 can (400g) diced tomatoes
3 l water
juice from 1 lemon, to taste
1 bunch of lovage, finely chopped
2-3 tablespoons olive oil
salt and pepper, to taste
Finely dice all the vegetables.
In a big souppan cook for 5 minutes the onions and the green beans in 3 l water than add the rest of the vegetables.
Cook for another 5-6 minutes than add the tomatoes.
When the vegetables are done add the lemon juice, salt and papper to taste.
Garnish with lovage.
You can serve with vegetable cream.
1 COMMENT