Tuesday September 17th, 2013
Caponata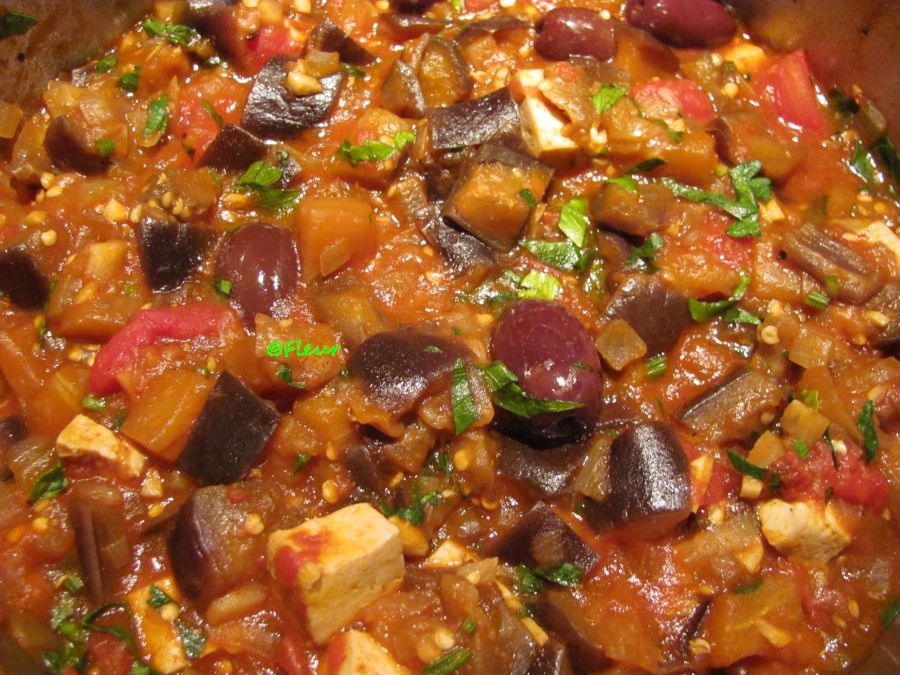 Posted in :
Main dishes
,
Weight loss recipes
on
by :
fleur
Tags:
mancare vegana
,
retete vegane
,
tofu
,
vinete
For 2-3 servings:
2 onions, chopped
2 celery stalks (with leaves), sliced
3 medium eggplants, cubbed
1/2 kg tomatoes, peeled and diced / 1 can diced tomatoes
100 g tofu, cubed (optional)
50 g olives
2-3 cloves of garlic, finely chopped
1 teaspoon raw sugar
1 teaspoon balsamic vinegar
1 tablespoon olive oil
parsley, finely chopped
salt and pepper, to taste
Stir fry the onions and the celery in oil for 1-2 minutes. Add the eggplant and a little bit of water (not too much because the eggplants will leave enough moisture). Stir often.
When the eggplants have softened add the tomatoes, sugar, vinegar, tofu, olives and garlic. Cook until the sauce is reduced.
Add salt and pepper to taste and garnish parsley. Serve with salad.