16 September, 2013
Spaghetti a la bologneseSpaghetti a la bologneseSpaghetti a la bologneseSpaghetti a la bolognese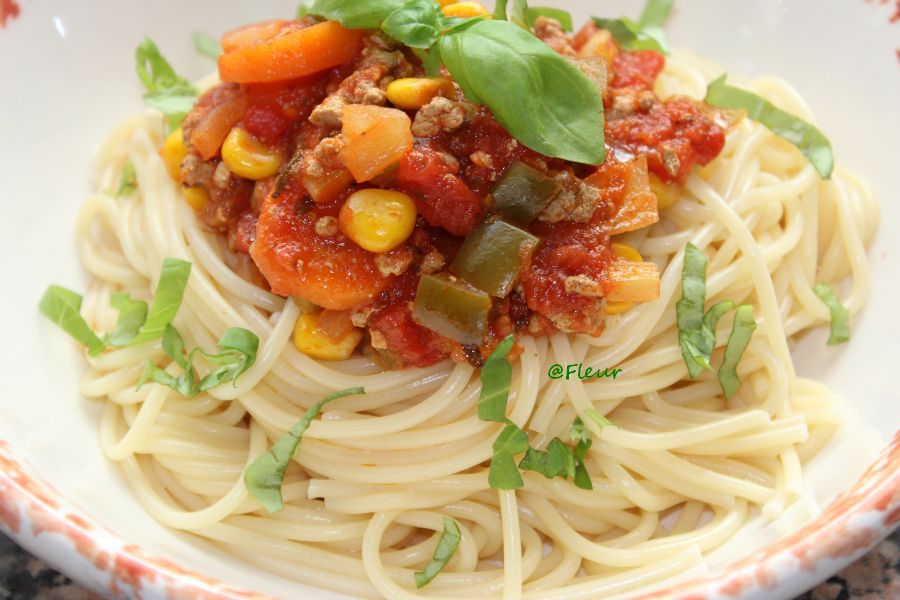 Posted in :
Main dishes
on
by :
fleur
Tags:
mancare vegana
,
paste
,
retete vegane
,
tofu
For 2 servings:
300 g spaghetti
200 g minced spiced tofu
2 medium carrots, finely sliced
1 bell pepper, finely diced
2 onions, finely chopped
1 stalk celery (optional), finely sliced
1  small can sweet corn (optional)
2 cans diced tomatoes
chili/ chili powder (optional)
2 teaspoons dried oregano
5-6 garlic cloves, finely chopped
fresh basil, finely chopped
2 tablespoons olive oil
salt and pepper, to taste
Cook the spaghetti as directed on package.
Stir fry the onions and the ​​carrots in oil for 2-3 minutes. Add the celery, bell pepper,  tomatoes and the oregano. Cover and simmer stirring occasionally. When the sauce is reduced add the minced tofu, sweet corn, chili and the garlic. Cook for another 3-4 minutes. Add salt and pepper to taste.
On a plate spoon the sauce over the spaghetti and garnish with fresh basil.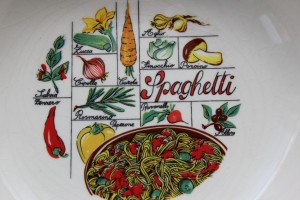 Pentru 2 porții:
300 g spaghete
200 g tofu tocat condimentat
2 morcovi mijlocii
1 ardei gras
2 cepe
1 tija de țelină (opțional)
o conservă mică de porumb fiert
2 conserve de roșii în bulion
ardei iute/boia de ardei iute (opțional)
2 lingurițe oregano uscat
5 – 6 caței de usturoi
busuioc proaspăt
2 linguri ulei
sare, piper
Spaghetele se fierb conform instrucțiunilor de pe pachet.
Ceapa tăiată mărunt și morcovii tăiați feliuțe se călesc 2-3 minute în ulei. Se adaugă țelina și ardeiul gras tăiate fin, conservele de roșii și oregano. După ce a scăzut se adaugă tofu, porumbul, ardeiul iute și usturoiul pisat. Se mai lasă să fiarbă 3-4 minute. Se potrivește de sare si piper, se asezonează sosul peste spaghete  și se ornează cu busuioc proaspăt.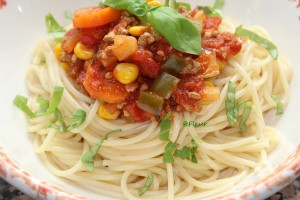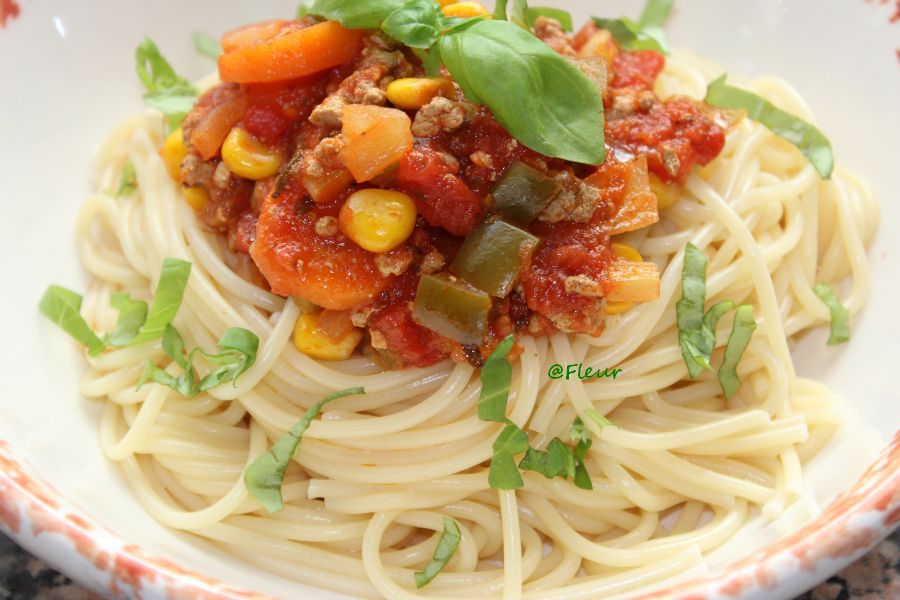 Per 2 porzioni:
300 g di spaghetti
200 g di tofu speziato sminuzzato
2 carote medie, tagliate a fettine sottili
1 peperone, tagliato a dadini
2 cipolle, finemente tritate
1 gambo di sedano (opzionale), tagliato a fettine
1 confezione piccola di mais (opzionale)
2 scatolette di pomodori in pezzi
peperoncino/ peperoncino in polvere (opzionale)
2 cucchiai di origano essiccato
5-6 spicchi d'aglio,  tritati finemente
basilico fresco, tritato finemente
2 cucchiai d'olio d'oliva
sale e pepe, a piacere
Cuocete gli spaghetti come riportato sulla confezione.
Fate soffriggere le cipolle e le carote nell'olio per 2-3 minuti. Aggiungete il sedano, il peperone, i pomodori e l'origano.  Coprite e mescolate di tanto in tanto. Quando il sugo si è rappreso, aggiungete il tofu sminuzzato, il mais, il peperoncino e l'aglio. Fate cuocere per altri 3-4 minuti. Aggiustate di sale e pepe.
Su di un piatto, distribuite il sugo sugli spaghetti, servendovi di un cucchiaio, e guarnite con il basilico fresco.
.