Monday September 16th, 2013
Spaghetti a la bolognese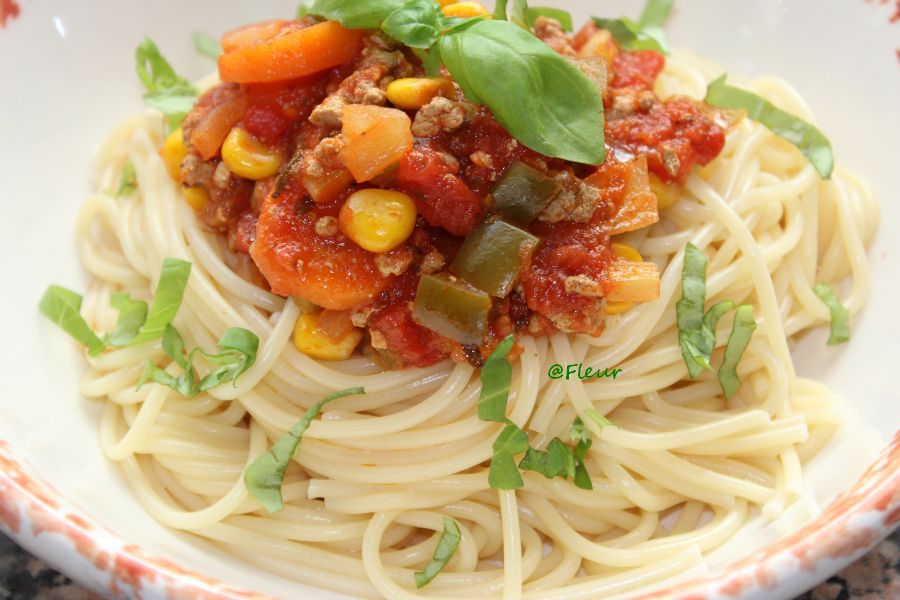 Posted in :
Main dishes
on
by :
fleur
Tags:
mancare vegana
,
paste
,
retete vegane
,
tofu
For 2 servings:
300 g spaghetti
200 g minced spiced tofu
2 medium carrots, finely sliced
1 bell pepper, finely diced
2 onions, finely chopped
1 stalk celery (optional), finely sliced
1  small can sweet corn (optional)
2 cans diced tomatoes
chili/ chili powder (optional)
2 teaspoons dried oregano
5-6 garlic cloves, finely chopped
fresh basil, finely chopped
2 tablespoons olive oil
salt and pepper, to taste
Cook the spaghetti as directed on package.
Stir fry the onions and the ​​carrots in oil for 2-3 minutes. Add the celery, bell pepper,  tomatoes and the oregano. Cover and simmer stirring occasionally. When the sauce is reduced add the minced tofu, sweet corn, chili and the garlic. Cook for another 3-4 minutes. Add salt and pepper to taste.
On a plate spoon the sauce over the spaghetti and garnish with fresh basil.