Soy chiftele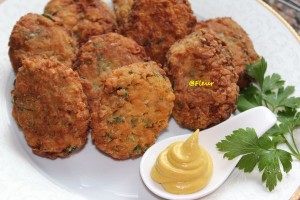 For 15 to 17 chiftele:
100 g  soy granules
2 tablespoons flour
2 tablespoons soybean flour
1 medium potato, finely grated
1 medium onion, finely grated
1 medium carrot, finely grated
5-6 cloves of garlic, mashed
1 ½ tablespoon mix seasoning
1 teaspoon paprika powder
1 teaspoon thyme
parsley, finely chopped
dill, finely chopped
salt and pepper, to taste
Oil for frying
Prepare the soy granules as indicated on the package.
Mix all ingredients by hand until a paste. Allow to rest at least one hour in a refrigerator.
Formed patties with wet hands, get them through the flour and fry in hot oil until crisp.
Serve with various side dishes and salads.