16 September, 2013
Romanian peasant potatoesCartofi taranestiRoemeense boeren aardappelen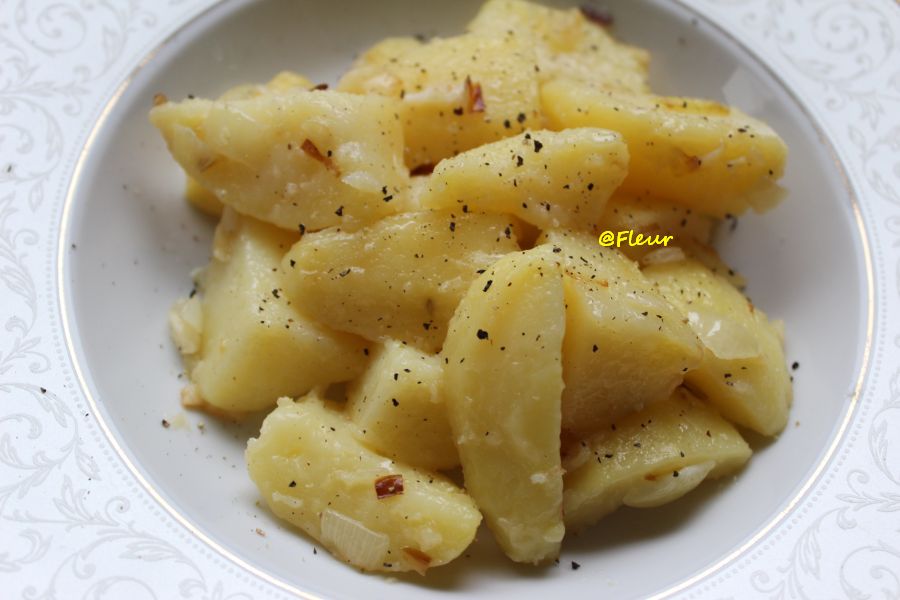 Posted in :
Main dishes
on
by :
fleur
Tags:
mancare vegana
,
retete cartofi
,
retete vegane
For 3-4 servings:
1 kg potatoes, peeled and cubed
3 onions, finely chopped
5-6 cloves of garlic, finely chopped
paprika powder and chili powder, to taste (optional)
3 tablespoons oil
salt and pepper, to taste

Cook the potatoes in water with a pinch of salt. Drain and set aside.
Stir fry the onions and the garlic in oil until golden brown. Add the potatoes, paprika powder, chili powder (optional), salt and  pepper and stir fry for 2-3 minutes.
Serve as a garnish and/or with  salads or  pickles.
Pentru 3-4 porții:
1 kg cartofi
3 cepe
5-6 căței de usturoi
boia dulce si iute (opțional)
3 linguri ulei
sare, piper
Cartofii se curăță de coajă, se taie în bucațele potrivite  și se fierb. Ceapa și usturoiul, tăiate fin, se călesc în ulei pană capătă o culoare aurie. Se adaugă cartofii scurși de apa în care au fiert, boiaua, sarea, piperul și se rumenesc timp de 2-3 minute.
Se servesc ca garnitură sau ca atare, alături de diverse salate sau murături.