23 March, 2014
Bombay potatoesCartofi BombayBombay aardappels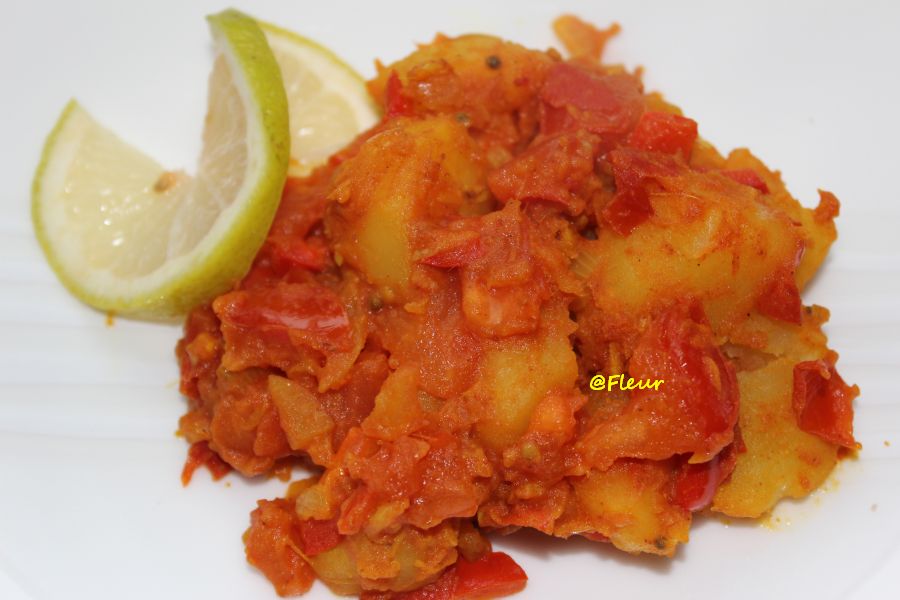 Posted in :
Main dishes
on
by :
fleur
Tags:
mancare indiana
,
mancare vegana
,
retete cartofi
,
retete vegane
For 4-5 servings:
1.5 kg (3 lb 3 oz) potatoes, peeled and cubed
2 onions , finely chopped
3-4 tomatoes, finely chopped / 1 tin diced tomatoes (400 g )
5-6 cloves garlic, finely chopped
2 cm fresh ginger, grated (1 teaspoon ginger powder)
1 teaspoon mustard seeds
2 tsp coriander powder
1/2 teaspoon turmeric
1 teaspoon garam masala
1/2 teaspoon chili powder, to taste
1 tablespoon oil
salt and pepper, to taste
Half cook the potatoes. Drain and set aside.
Heat the oil in a pan and add the mustard seeds. Fry for 2-3 minutes until they begin to pop. Add the onions, stir fry for few minutes then add the potatoes, garlic, coriander, ginger, chili and the tomatoes (canned tomatoes). Cover and simmer on medium heat, stirring occasionally, until the sauce has reduced and the potatoes are done. Add the turmeric and the garam masala, continue cooking for another 2-3 minutes. Add salt and pepper to taste.
Pentru 4-5 porții:
1,5 kg cartofi
2 cepe, tăiate fin
3-4 roșii tăiate mărunt/1 conservă de roșii tăiate (400 g)
5-6 căței usturoi, tăiați fin
2 cm ghimbir proaspăt, ras (1 linguriță pudră ghimbir)
1 linguriță semințe muștar
2 lingurițe coriandru praf
1/2 linguriță turmeric (curcuma)
1 linguriță garam masala
1/2 linguriță boia iute, după gust
1 lingură ulei
sare, piper după gust
Cartofii se curață, se taie bucățele potrivite și se fierb pe jumătate. Se scurg de apă.
Se încinge uleiul într-o cratiță și se adaugă semințele de muștar. Se prăjesc  2-3 minute până când încep să "sară". Se adaugă ceapa și se călește câteva minute apoi se adaugă cartofii, usturoiul, coriandrul, ghimbirul, boiaua iute și roșiile (conserva de roșii). Se fierbe, la foc potrivit, până când sosul a scazut și cartofii sunt pătrunși, amestecându-se din când în când. Se adaugă turmericul, garam masala și se continuă fierberea încă 2-3 minute. Se potrivește de sare și piper.