Caramel pudding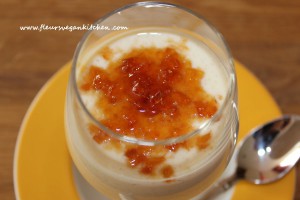 For 2-3 servings:
400 g silken tofu
4 tablespoons raw sugar
1 teaspoon vanilla essence
1.5 teaspoons locust bean gum (carob gum)
Blend the  silken tofu with vanilla essence until smooth.
Put 4 tablespoons of sugar in a saucepan, on low heat, melt it until  it gets a nice amber color. Put a little bit of caramel on a piece of baking paper. Allow to cool then crush it. Use it to decorate the pudding.
Let the rest of the caramel on low heat and add about a quarter of the amount of tofu. Stir until the caramel has incorporated into tofu. Mix with the remaining tofu and carob gum.
Pour into cups and refrigerate for at least an hour.
Before serving garnish with  caramel.