Wednesday June 10th, 2015
Raw carrot cake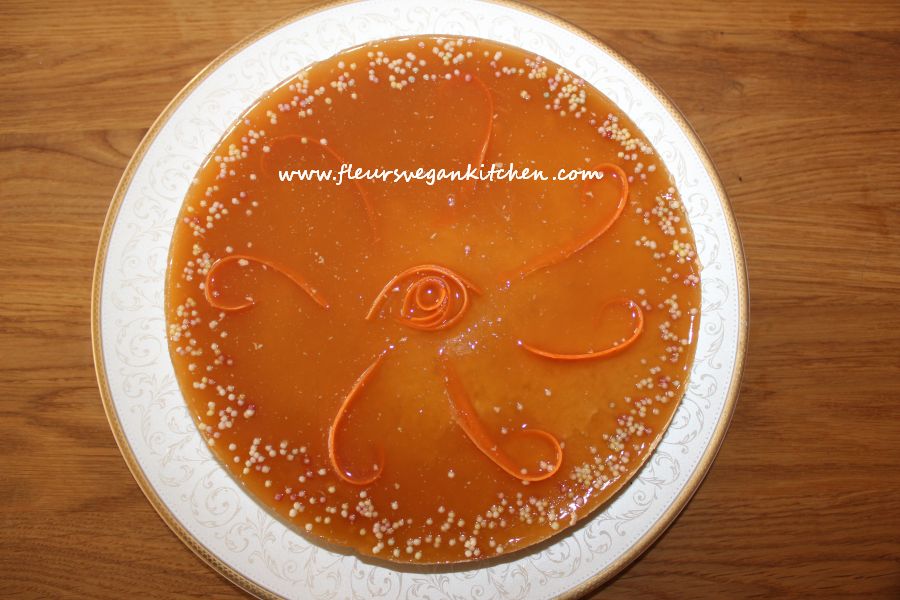 Comments : 1 Posted in :
Desserts
,
Raw vegan recipes
on
by :
fleur
Tags:
deserturi vegane
,
mancare vegana
,
retete raw vegane
,
retete vegane
,
vegan recipes
For a medium sized cake, 8-10 servings:
Required:

• spring form (22-24 cm)
• food processor
For the first layer:
15 medium carrots, peeled and cut into  pieces
100 g walnuts
200 g dates
2 tsp. vanilla essence
1 tablespoon lemon juice
Process all the ingredients until  smooth.
Place the edge of the spring form (without the bottom) on a round platter. Add the carrot mix, spread evenly and press it.
Refrigerate until you prepare the second layer.
For the second layer:
200 g cashew nuts, hydrated in water at least 2 hours
2 tablespoons date syrup   (or any other vegan syrup )
1/2 can coconut milk
5 tablespoons coconut flakes
1 tablespoon lemon juice
1 teaspoon vanilla essence
 Refrigerate the  coconut milk overnight. Use only the hardened part.
Process all the ingredients  until smooth. If needed add little by little more  coconut milk until the mix has the consistency of crème.
Spread on top of carrots mix.
The last layer (orange jelly):
fresh orange juice from  5-6 oranges
1 tablespoon sugar or any light color syrup
5 g of agar-agar
Strain the orange  juice. Add the sugar and bring  it to a boil, stirring occasionally. When it starts boiling add the agar ( dissolved in a little bit of orange juice, otherwise it will form  lumps). Cook it for 2 minutes,  stirring.  Allow to cool, check and stir  regularly because it hardens relatively quickly.
You can decorate the cake with some  carrot slices/forms. Carefully pour the jelly mix over it.
Refrigerate for at least 1/2 hour.
Keep it in the frige up to 2 days.
Variation: you can use the mini forms.
1 COMMENT