Vegan tiramisu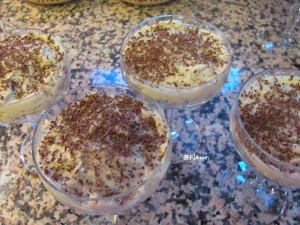 For the cake:

2 cups flour
2 teaspoons baking powder
½ cup oil
¼ cup raw sugar
½ cup vegetable milk

Mix all the ingredients until the sugar has dissolved. Pour the mixture in a medium size oven tray and bake 20-30 minutes ( try with a toothpick , if it sticks on it then continue cooking).
Allow to cool then cut it into desired shape and size. Put it into the form (can be a glass).

Syrup :
2 cups espresso
4-5 tablespoons amaretto (or other liqueur)
1-2 tablespoons raw sugar
Mix the coffee, amaretto and sugar and pour generosity over the cake.

Cream:

400 g ruw cashew nuts
4-5 tablespoons maple syrup
2 tsp vanilla essence (or vanilla stick )
½ cup vegetable milk
vegan chocolate for garnish
Soak the cashew nuts  in water for 2-3 hours. Drain them and blend all the ingredients  until the cream is smooth. Spread over the cake and decorate  with grated vegan chocolate. Let it set in the fridge for about an hour.