Sunday December 8th, 2013
Biscuit walnut raisin roll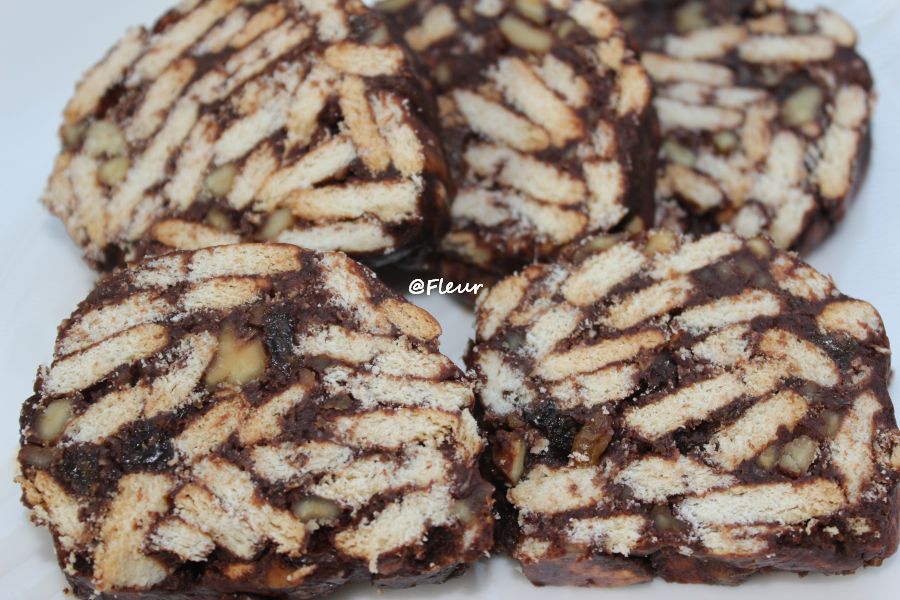 Comments : 1 Posted in :
Desserts
on
by :
fleur
Tags:
deserturi vegane
,
mancare vegana
,
retete vegane
For a salami of approx. 40 cm length and a thickness of 6-7 cm.
250 g vegan (coconut) biscuits
150 g walnuts
100 g raisins
100 ml coconut milk
50 ml amaretto
3 tablespoons cocoa
2 tablespoons raw sugar
3 tablespoons coconut flakes
plastic film
Soak the raisins in amaretto for at least an hour.
Crush the biscuits in a bowl.
Bake the walnuts 10 minutes in the oven, let cool and than grind finely. Mix with the biscuits.
Put the coconut milk, sugar and the cocoa in a saucepan  and cook for 1-2 minutes. Let it cool a little and than mix with the raisins, amaretto and the coconut flakes. Pour over the biscuits and mix well.
Pour the mixture onto a plastic film, roll it in a  salami shape, close the ends and refrigerate for several hours.
Before serving cut into slices approx. 1.5 -2 cm.
Variation: you can use any vegan biscuits, coconut milk can be replaced by other vegetable milk and you can add small pieces of vegetable Turkish delight.
1 COMMENT