8 December, 2013
Biscuit walnut raisin rollSalam de biscuitiBiscuit salamiSalame di biscotti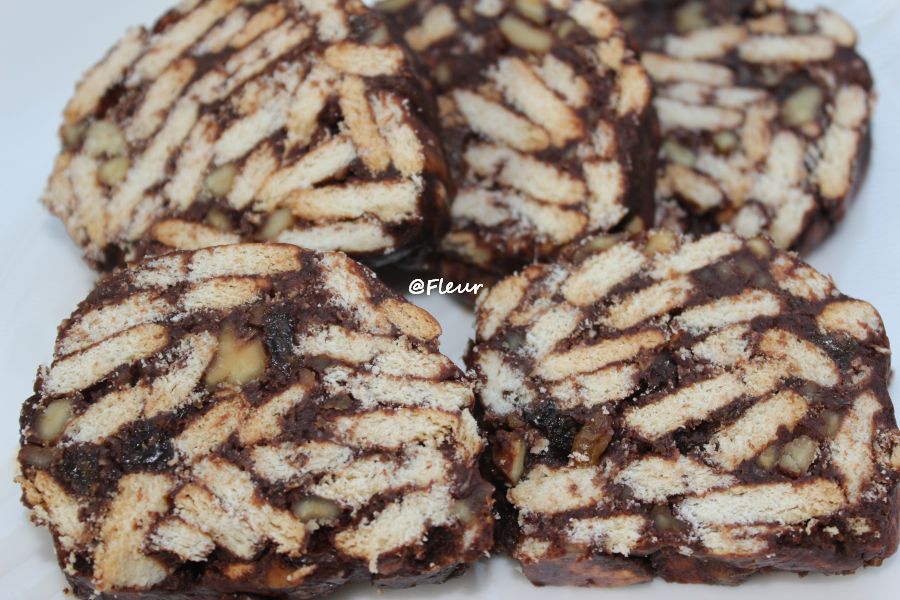 Comments : 1 Posted in :
Desserts
on
by :
fleur
Tags:
deserturi vegane
,
mancare vegana
,
retete vegane
For a salami of approx. 40 cm length and a thickness of 6-7 cm.
250 g vegan (coconut) biscuits
150 g walnuts
100 g raisins
100 ml coconut milk
50 ml amaretto
3 tablespoons cocoa
2 tablespoons raw sugar
3 tablespoons coconut flakes
plastic film
Soak the raisins in amaretto for at least an hour.
Crush the biscuits in a bowl.
Bake the walnuts 10 minutes in the oven, let cool and than grind finely. Mix with the biscuits.
Put the coconut milk, sugar and the cocoa in a saucepan  and cook for 1-2 minutes. Let it cool a little and than mix with the raisins, amaretto and the coconut flakes. Pour over the biscuits and mix well.
Pour the mixture onto a plastic film, roll it in a  salami shape, close the ends and refrigerate for several hours.
Before serving cut into slices approx. 1.5 -2 cm.
Variation: you can use any vegan biscuits, coconut milk can be replaced by other vegetable milk and you can add small pieces of vegetable Turkish delight.
Pentru un salam cu lungimea de aprox. 40 cm si grosimea de 6-7 cm.
250 g biscuiți vegani cu cocos
150 g nuci
100 g stafide
100 ml lapte de cocos
50 ml amaretto (sau rom sau un alt lichior pentru prăjituri)
3 linguri cacao
2 linguri zahăr brut
3 linguri fulgi de nucă de cocos
folie de plastic pentru înfășurat
Stafidele se lasă la înmuiat în amaretto pentru cel puțin o oră.
Se sfarmă biscuiții într-un castron .
Nucile se rumenesc 10 minute în cuptor iar când s-au răcit se macină mărunt. Se adaugă peste biscuți.
Se pun într-o crăticioară laptele de cocos, zahărul și cacaoa și se lasă să dea câteva clocote. Când s-a răcit puțin se adaugă stafidele împreună cu amaretto și fulgii de nucă de cocos. Compoziția se toarnă peste biscuți și se amestecă bine.
Se toarnă amestecul pe o folie de plastic, se rulează sub forma unui salam mai gros, se prinde la capete și se dă la frigider pentru câteva ore.
Înainte de servire se taie în felii groase de 1,5 -2  cm.
Variație: se pot folosi orice fel de biscuiți vegani, laptele de cocos poate fi înlocuit cu alt lapte vegetal și se pot adăuga bucățele de rahat vegetal.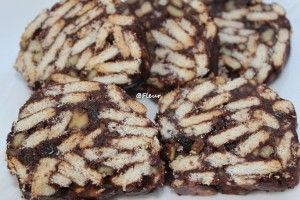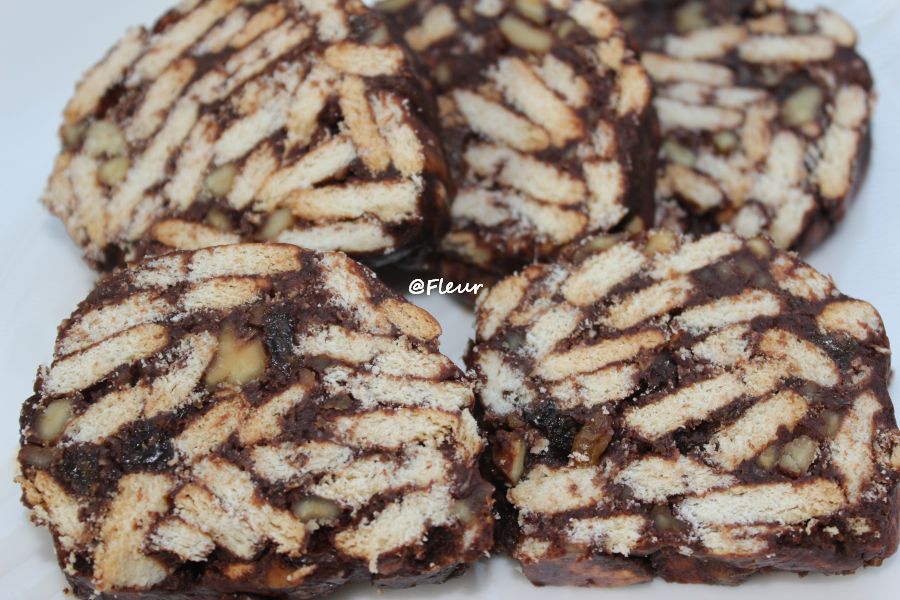 Per un salame di circa 40 cm di lunghezza e uno spessore di 6-7 cm.
250 g di biscotti vegan (al cocco)
150 g di noci
100 g di uva passa
100 ml di latte di cocco
50 ml di amaretto
3 cucchiai di cacao
2 cucchiai di zucchero di canna grezzo
3 cucchiai di cocco in scaglie
pellicola di plastica
Lasciate ammollare l'uvetta
nell'amaretto per almeno un'ora.
Frantumate i biscotti in una ciotola.
Fate tostare le noci in forno per 10 minuti, lasciate raffreddare, quindi trituratele bene. Mescolate con i biscotti.
Mettete in un tegame il latte di cocco, lo zucchero ed il cacao e fate cuocere per 1-2 minuti. Lasciate raffreddare un po', quindi mescolate con l'uvetta, l'amaretto e le scaglie di cocco. Versate sui biscotti e mescolate bene.
Versate il composto sulla pellicola di plastica, arrotolatelo facendogli assumere la forma di un salame, chiudete le estremità e lasciatelo riposare in frigo per alcune ore.
Prima di servire tagliate a fette di circa 1,5-2 cm.
Variante: potete usare qualsiasi tipo di biscotti vegani, il latte di cocco può essere sostituito da
altri latti vegetali e potete aggiungere piccoli pezzi di delizia turca vegetale (lokum, dolce turco n.d.t.)
1 COMMENT