18 September, 2013
Ratatouille on polenta bedRatatouille pe pat de mamaligutaRatatouille op polenta bed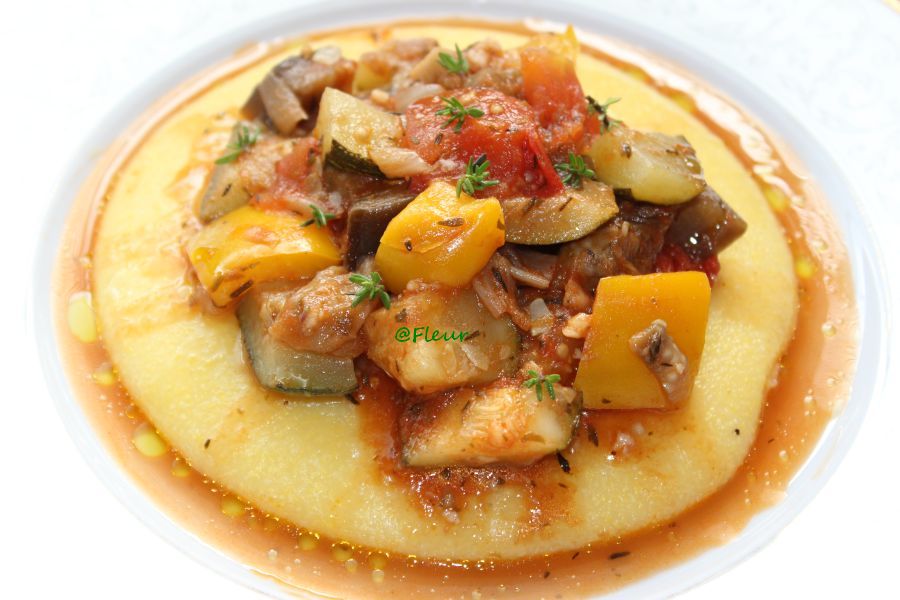 Posted in :
Main dishes
,
Weight loss recipes
on
by :
fleur
Tags:
mancare vegana
,
retete vegane
,
vinete
For 2-3 servings:
1 big eggplant, diced (1cm chunks)
1 zucchini, diced
2 onions, chopped
2 green peppers, diced
5-6 large tomatoes, peeled and chopped
4-5 cloves of garlic, finely chopped
1 teaspoon dried thyme
1 teaspoon dried oregano
1 teaspoon dried rosemary
2 – 3 tablespoons oil
salt and pepper, to taste
For the polenta see the recipe here.
Stir fry the onions in oil for 2-3 minutes. Add the eggplant. If needed add a little water, not too much. Stir occasionally, until the eggplant is partially cooked.
Add the zucchini, the peppers and all the spices. Cook for a few minutes and than add the tomatoes. Cover and simmer stirring occasionally. When the vegetables are done and the sauce has reduced add the garlic, salt and pepper to taste. Cook for another 3 minutes.
Serve with polenta and/or salads.
Pentru 2-3 porții:
1 vanătă mare
1 dovlecel
2 cepe
2 ardei grași
5-6 roșii mari
4-5 căței de usturoi
1 linguriță cimbru uscat
1 linguriță oregano uscat
1 linguriță rozmarin uscat
2-3 linguri ulei
sare, piper
Ceapa se taie în bucăți mai mari și se călește timp de 2-3 minute. Se adaugă vanăta tăiată bucățele de aproximativ 1 cm. Dacă este nevoie se adaugă puțină apă, nu foarte multă caci își lasă legumele destulă. Se amestecă din cand în cand, pană cand vanăta se înmoaie puțin.
Se adaugă dovlecelul și ardeii grași tăiați, împreună cu condimentele. Se lasă să fiarbă cateva minute și se adaugă și roșiile tăiate în bucăți mai mari. După ce legumele au fiert și sosul a scăzut se adaugă usturoiul pisat, sarea si piperul după gust.
Se servește cu mămăliguță și/sau salate.