Wednesday September 18th, 2013
Ratatouille on polenta bed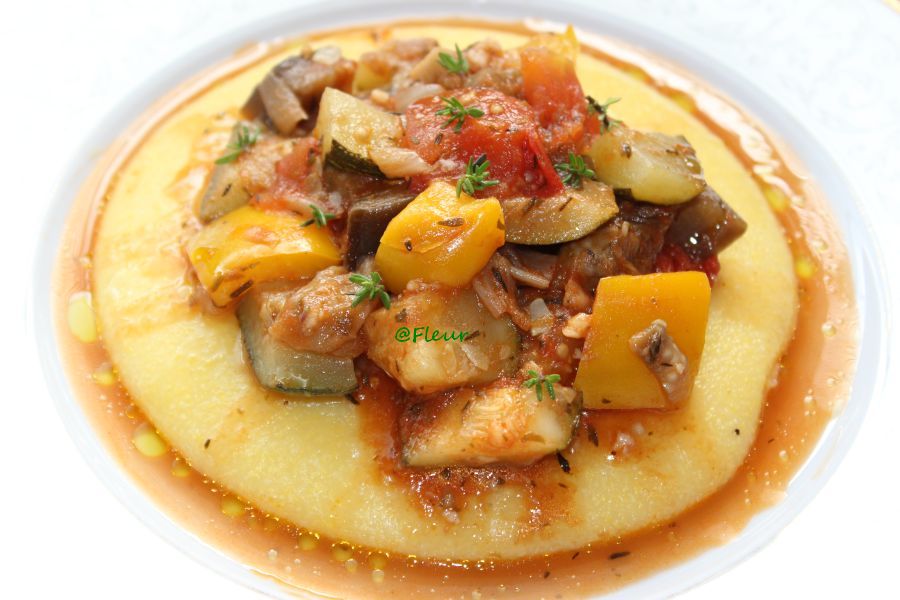 Posted in :
Main dishes
,
Weight loss recipes
on
by :
fleur
Tags:
mancare vegana
,
retete vegane
,
vinete
For 2-3 servings:
1 big eggplant, diced (1cm chunks)
1 zucchini, diced
2 onions, chopped
2 green peppers, diced
5-6 large tomatoes, peeled and chopped
4-5 cloves of garlic, finely chopped
1 teaspoon dried thyme
1 teaspoon dried oregano
1 teaspoon dried rosemary
2 – 3 tablespoons oil
salt and pepper, to taste
For the polenta see the recipe here.
Stir fry the onions in oil for 2-3 minutes. Add the eggplant. If needed add a little water, not too much. Stir occasionally, until the eggplant is partially cooked.
Add the zucchini, the peppers and all the spices. Cook for a few minutes and than add the tomatoes. Cover and simmer stirring occasionally. When the vegetables are done and the sauce has reduced add the garlic, salt and pepper to taste. Cook for another 3 minutes.
Serve with polenta and/or salads.