Sunday April 27th, 2014
Quinoa goreng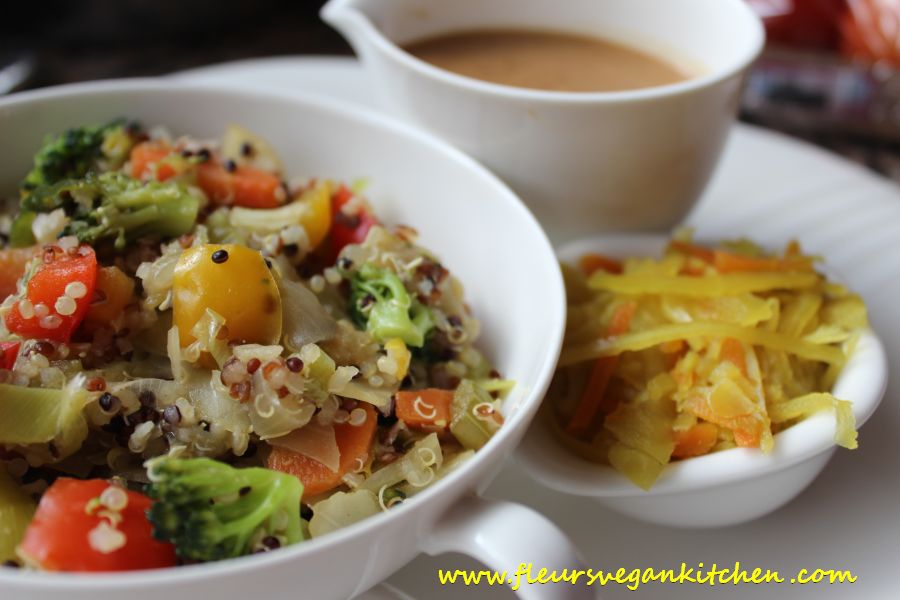 Posted in :
Main dishes
,
Weight loss recipes
on
by :
fleur
Tags:
mancare vegana
,
retete asiatice
,
retete quinoa
,
retete vegane
Per serving:
50 g quinoa
300 g vegetables: carrot, onion, leek, sweet pepper, green beans, peas, broccoli, cabbage, cauliflower, celery, zucchini, etc.
1 cm ginger, grated (or 1 teaspoons ginger powder )
1 teaspoon coriander powder
2 garlic cloves, diced
chilli/chili powder, to taste (optional)
2 tablespoons soy sauce
1/2 tablespoon oil
Cook the quinoa as indicated on the package.
Cut all the vegetables into cubes or slices. Cook the green beans apart for 7-10 minutes and drain.
Heat the oil in a wok and add the vegetables gradually, beginning with the ones which take longer to cook. Add a little bit of water (not too much), the ginger, the garlic and the coriander powder. Stir  fry for about 5-6 minutes. The vegetables should be crunchy.
Finally add  the soy sauce, mix well then add the cooked quinoa.
Serve with peanut sauce and sweet-sour pickles .
Peanut sauce
200 ml unsweetened soy milk
1 teaspoon ginger powder
1 teaspoon coriander powder
2-3 tablespoons soy sauce
4-5 tablespoons peanut butter
Preheat the soy milk in a saucepan, add all the ingredients, mix it well until peanut butter is incorporated and let it cook for about a minute. The composition should have the consistency of a thick sauce otherwise add a little bit more peanut butter. After cooling the sauce continues to thicken.