16 December, 2013
Vegetables aspicPiftie veganaGroenten aspicAspic di verdure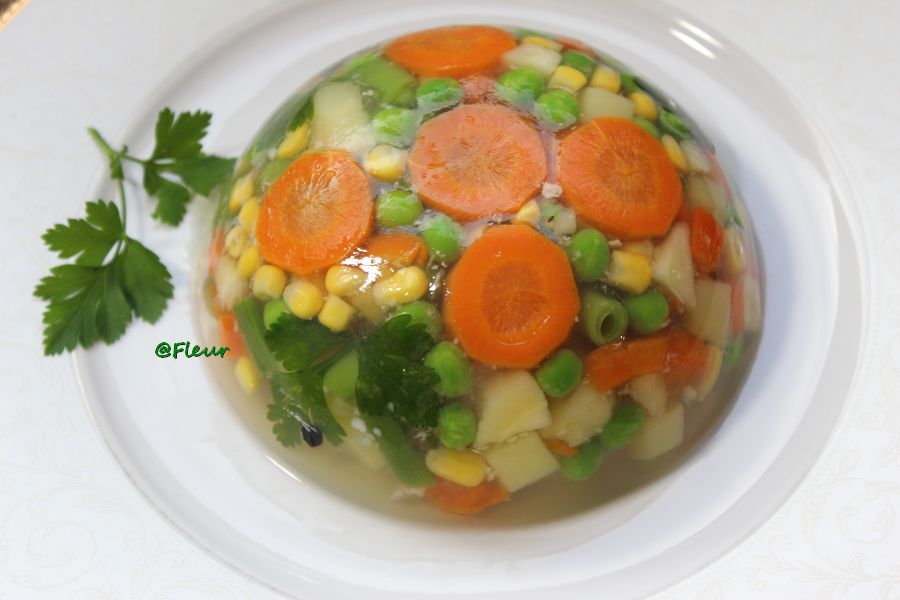 Comments : 2 Posted in :
Appetizers
,
Christmas menu
,
Weight loss recipes
on
by :
fleur
Tags:
aperitive vegane
,
mancare vegana
,
retete vegane
,
romanian recipes
For 6-8 small portions:
1 large carrot, peeled
1 large potato, peeled
1 onion, cutted in quarters
1 parsnip, peeled
50 g frozen peas
50 g frozen green beans
3 tablespoons canned corn
5-6 cloves of garlic, mashed
2 bay leaves
10 peppercorns
5 g of agar – agar
salt
Put the potato, carrot, parsnip, onion, the bay leaves and  peppercorns in a soup pan, cover with water and cook. When the vegetables are almost done add the peas, green beans and the garlic. Cook for another few minutes.
Remove the vegetables  from the water (keep the water!) and cut them into small squares (or various forms for ornament ). Add the corn and mix. Place the mix vegetables in forms (for individual portions can be used coffee cups). To ornament can also be used parsley , dill and celery .
Remove the onions from the water where the  vegetables cooked and add the agar-agar (previously dissolved in a little water, to prevent lumps forming). Cook it for 2 minutes and then pour on top of the vegetables. Refrigerate for at least one hour .
Note : You can use other vegetables such as: celery, cauliflower, broccoli, etc.
Pentru 6-8 porții mici:
1 morcov mare
1 cartof mare
1 ceapă
1 păstârnac
50 g mazăre congelată
50 g fasole verde congelată
3 linguri porumb din conservă
5-6 căței de usturoi
2 frunze dafin
10 boabe de piper
5 g agar-agar
sare
Legumele se pun la fiert întregi, în apă cât să le acopere, împreună cu frunzele de dafin, boabele de piper și ceapa tăiată în patru. Mazărea, fasolea verde și usturoiul pisat se adaugă la ultimele clocote.
Pe măsură ce au fiert, legumele se scot din apă și se taie in pătrățele mici (sau sub diverite forme pentru ornament).  Legumelor astfel tăiate se adaugă boabele de porumb și se amestecă uniform. Se pun în forme (pentru porții individuale se pot folosi cești de cafea). Pentru ornament se mai pot folosi frunze de pătrunjel, mărar și țelină.
Se scoate ceapa din apa în care au fiert legumele, se potrivește de sare și se adaugă agar-agar-ul (dizolvat în prealabil în puțină apă, altfel se formează cocoloașe).   Se lasă să fiarbă 2 minute apoi se adaugă peste legume. Se dau la răcit in frigider pentru cel puțin o oră.
Notă: Se pot folosi și alte legume ca: țelină, conopidă, brocoli etc. Piftia se poate păstra în frigider de pe o  zi pe alta.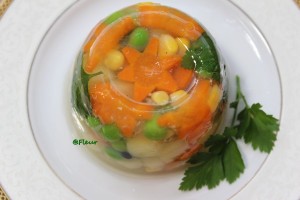 Per 6-8 piccole porzioni:
1 carota grande, a cui avrete raschiato la buccia
1 patata grande, sbucciata
1 cipolla, tagliata a quarti
1 pastinaca, sbucciata
50 g di piselli surgelati
50 g di fagioli verdi
3 cucchiai di mais in scatola
5-6 spicchi d'aglio, schiacciati
2 foglie d'alloro
10 grani di pepe
5 g di agar – agar
sale
Mettete la patata, la carota, la pastinaca, la cipolla, le foglie di alloro e i grani di pepe in una pentola, coprite con acqua e fate cuocere. Quando le verdure sono quasi pronte, aggiungete i piselli, i fagioli verdi e l'aglio. Cuocete ancora  per qualche minuto.
Togliete le verdure dall'acqua (conservate l'acqua!) e tagliatele a piccoli quadretti (o in altre forme come ornamento). Aggiungete il mais e mescolate. Disponete le verdure in stampi (per fare porzioni singole si possono usare tazzine da caffè).  Per decorare potete utilizzare anche prezzemolo, aneto e sedano.
Togliete le cipolle dall'acqua di cottura delle verdure ed aggiungete l'agar-agar (precedentemente sciolto in un po' d'acqua, per evitare la formazione di grumi). Fate cuocere per altri 2 minuti, quindi versate sulle verdure. Lasciate in frigo per almeno un'ora.
Nota: Potete usare altre verdure quali: sedano, cavolfiore, broccoli, etc.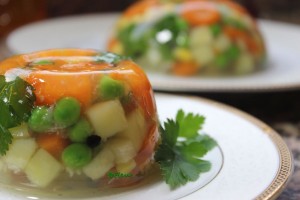 2s COMMENTS