Monday December 16th, 2013
Vegetables aspic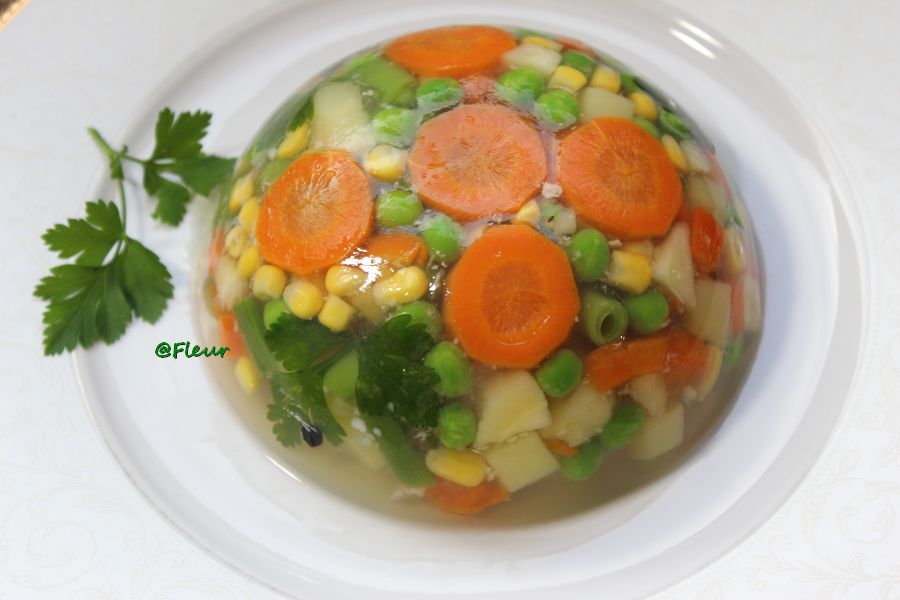 Comments : 2 Posted in :
Appetizers
,
Christmas menu
,
Weight loss recipes
on
by :
fleur
Tags:
aperitive vegane
,
mancare vegana
,
retete vegane
,
romanian recipes
For 6-8 small portions:
1 large carrot, peeled
1 large potato, peeled
1 onion, cutted in quarters
1 parsnip, peeled
50 g frozen peas
50 g frozen green beans
3 tablespoons canned corn
5-6 cloves of garlic, mashed
2 bay leaves
10 peppercorns
5 g of agar – agar
salt
Put the potato, carrot, parsnip, onion, the bay leaves and  peppercorns in a soup pan, cover with water and cook. When the vegetables are almost done add the peas, green beans and the garlic. Cook for another few minutes.
Remove the vegetables  from the water (keep the water!) and cut them into small squares (or various forms for ornament ). Add the corn and mix. Place the mix vegetables in forms (for individual portions can be used coffee cups). To ornament can also be used parsley , dill and celery .
Remove the onions from the water where the  vegetables cooked and add the agar-agar (previously dissolved in a little water, to prevent lumps forming). Cook it for 2 minutes and then pour on top of the vegetables. Refrigerate for at least one hour .
Note : You can use other vegetables such as: celery, cauliflower, broccoli, etc.
2s COMMENTS