Friday September 5th, 2014
Pasta alla Norma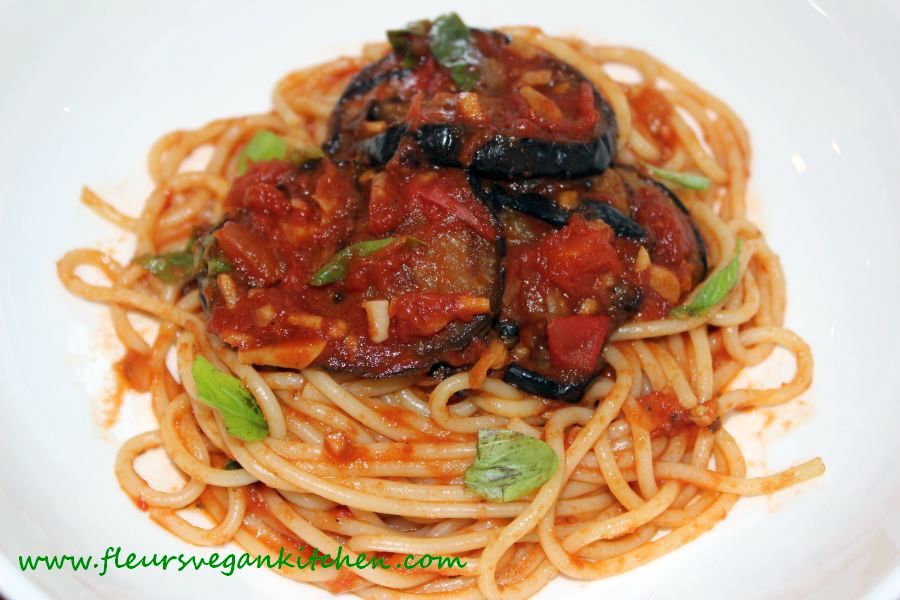 Posted in :
Appetizers
,
Main dishes
on
by :
fleur
Tags:
mancare vegana
,
paste
,
retete vegane
,
vinete
For 4 servings:
500 g pasta (penne, rigatoni, spaghetti, etc.)
2-3 eggplants, sliced ​​approx.. 0.5 cm
750 ml tomato passata (or 1/2 kg ripe tomatoes, finely chopped)
1 head of garlic, finely cut
2 tablespoons olive oil
fresh basil, finely chopped (to taste)
salt and pepper, to taste
Cook the pasta according to package directions. Drain.
Grill the eggplant slices on the pre-heated grill, 2-3 minutes on each side.
Heat the olive oil in a saucepan and add the garlic. Stir fry for about 2-3 minutes. Add the tomato passata (or the chopped tomatoes), cover and simmer until the sauce has reduced slightly. Stir occasionally.
Add the eggplant slices, salt and pepper and cook for few minutes.
Put the pasta on a plate and add the sauce on top. Garnish with fresh basil.