Sunday February 2nd, 2014
Pita bread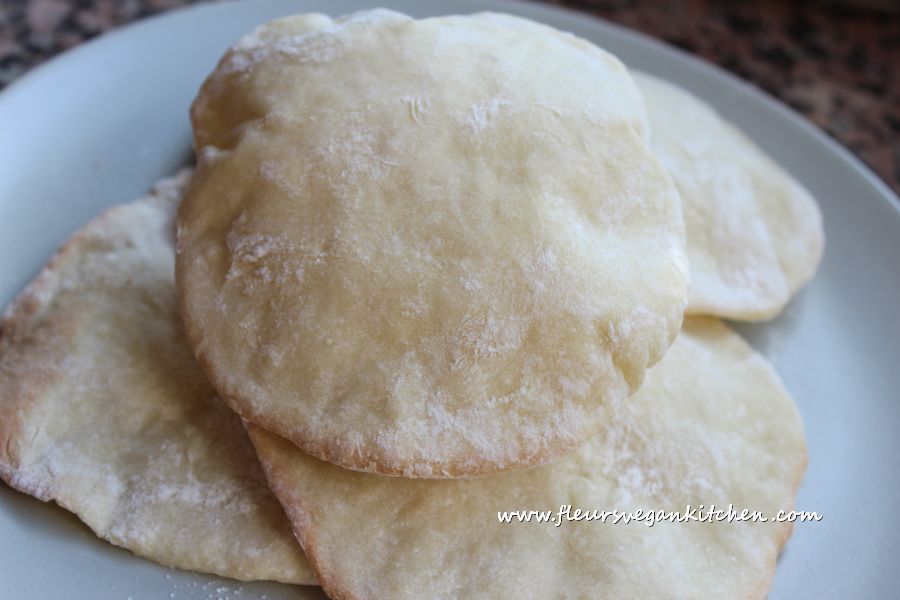 Posted in :
Pastry
on
by :
fleur
Tags:
mancare vegana
,
retete vegane
4-5 pieces:
200 g flour
120 ml warm water
1 teaspoon yeast
1 teaspoon raw sugar
a pinch of salt
1 tablespoon oil
Mix the sugar and the yeast in half of the amount of water. Allow to rest 10 minutes until the yeast begins to ferment.
Mix all ingredients in a bowl, to obtain a dough. Knead the dough for at least 5 minutes.
Allow the dough to rise for at least one hour, in a warm place, until the volume is doubled.
Divide into 4-5 equal parts and form balls.
Allow to rise for 10 minutes.
Roll each piece of dough in a  round shape (about 10 cm in diameter).
Allow to rise for another 20 minutes.
Bake in the pre-heated oven, on high heat (220 C) until golden brown (about 4-5 minutes).
Serve warm (once cooled, they become hard) with various fillings (falafel, shoarma etc.).