Saturday September 21st, 2013
Spring rolls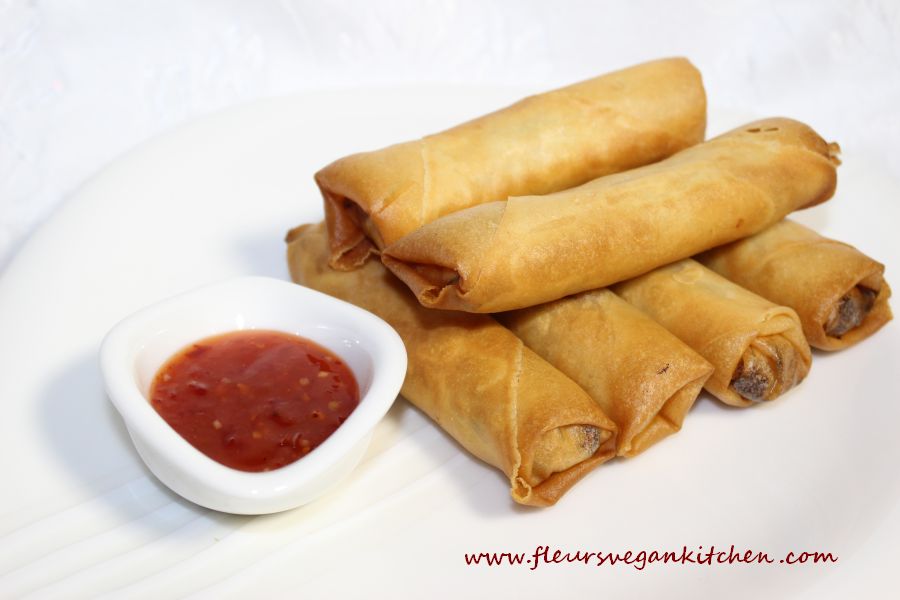 Posted in :
Appetizers
,
Christmas menu
on
by :
fleur
Tags:
aperitive vegane
,
mancare vegana
,
retete vegane
,
vegan recipes
one pack filo dough
For the filling:
2 carrots
2 spring onions
100 g cabbage
1 celery stalk
50 g bean sprouts
3 garlic cloves, minced
1 teaspoon ginger (fresh, grated or powder)
1 teaspoon coriander powder
1 tablespoon soy sauce
1 tablespoon oil
salt and pepper, to taste
oil for frying
The filo dough dries very quickly, cover it with a damp towel while working to prevent it from breaking.
Cut all  the vegetables a la Julienne. Heat the oil in a saucepan, add all the ingredients and stir fry for a few minutes until the moisture evaporates.
Allow to cool.
Lay the filo dough (10 cm x 10 cm for little spring rolls) on a clean working surface. Place one tablespoon of filling like in the picture below.
Fold the left and right sides of dough over filling. Roll upwards. Wet the end so will stick to the roll.
Fry it on each side for a few minutes, in hot oil, until crisp. Place on a paper towel to drain.
Serve with peanut sauce or sambal (chili sauce).